The radical shifts in craft beer over the past two decades have become downright dizzying. Where craft beer was once defined by an independent fervor for producing full-flavored brews across a wide range of aromas, textures, and tastes, today's glut of hazy IPAs, fruited sours, and pastry stouts have called that initial aim into question. Although nearly 8,000 new American breweries opened in that time span, the true diversity of beer styles has dwindled. It would be shocking if it weren't all too familiar.
From a Push for Variety to a Push for More Profitable Trends
As a beer buyer, I remember having to beg distributors to carry craft beers back in the day. The market was miniscule, and all we had was a niche group of brewers, publicans, beer writers, and enthusiasts to rely on for continued support. We sought to convince wholesalers, importers, retailers, restaurant buyers, and our guests that while small-batch brews driven by ingredients and process were going to be more expensive, they were also always going to be worth it. We were delivering new, high-quality experiences through craft beer.
That initial crew of zealots—those who brewed and served the kinds of beer they wanted to drink, even when profit seemed like it would always be just out of reach—ultimately succeeded. Craft beer went from gathering dust in specialty shops to being de rigueur for every restaurant, bar, and retailer. Seemingly, every neighborhood needed and could support a taproom. Craft beer became big business.
Along the way, many brewers, bar owners, and retailers increasingly developed a narrower focus on what's new and what sells. That shift happened in tandem with others: Drinkers overwhelmed by choice and often disappointed by low quality lost interest in exploration. Meanwhile, breweries—rightfully enamored with the higher margins of on-premise sales—doubled down on taprooms at the expense of distribution.
That's a triple whammy that has robbed craft breweries, bars, restaurants, and bottle shops of the very variety that kickstarted the movement in the beginning. Without a diverse, high-quality selection of beers available across a wide range of venues, we're increasingly impeding our own ability to deliver memorable experiences that keep our guests excited.
We are awash in beer, but it feels like we have a long way to go again.
Getting Back into Beer Bars and Shops
There is a prevailing notion in some circles that the classic craft-beer bar and bottle shop are dying a slow death. The prevalence of craft beer in every kind of restaurant, bar, and retail outlet has reduced the pure necessity of places that focused on curating a broader selection. The rise and rapid ubiquity of brewery taprooms—fully prepared to meet the guest's on- and off-premise needs—also has played a major role here.
As an owner of a brewpub with both on- and off-premise sales options, I absolutely understand the focus on taproom draft and retail can sales. The margins are far better, and the chance to interact with guests on behalf of your brewery is far more immediate. But I'd argue that brewers should want to have it both ways.
By engaging guests in the brewery taproom as well as through the taps of beer bars and the shelves of bottle shops, brewers can maximize immediate profits while also building their brand with a wider audience. Showcasing your offerings beyond the four walls of your brewery provides access to more people who will not only visit your brewery sooner or later, but who will also tout your beer to friends and family via social media and more.
Likewise, specialist bars and shops directly impact the habits of consumers and other retail buyers. Ratebeer scores don't really influence guests anymore; Untappd can, but the latter platform really moves the needle only with a few of the trendiest styles. By working directly with independent, specialist beer buyers—that is, craft-beer bars and bottle shops—brewers can develop relationships and lines of communication that will ensure the beers are showcased properly and that narratives are relayed.
A new cadre of enthusiasts will not only be exposed to your product, but they will fully experience it. The quality of the beer, service, and overall experience will impress and justify the higher price points associated with craft beer.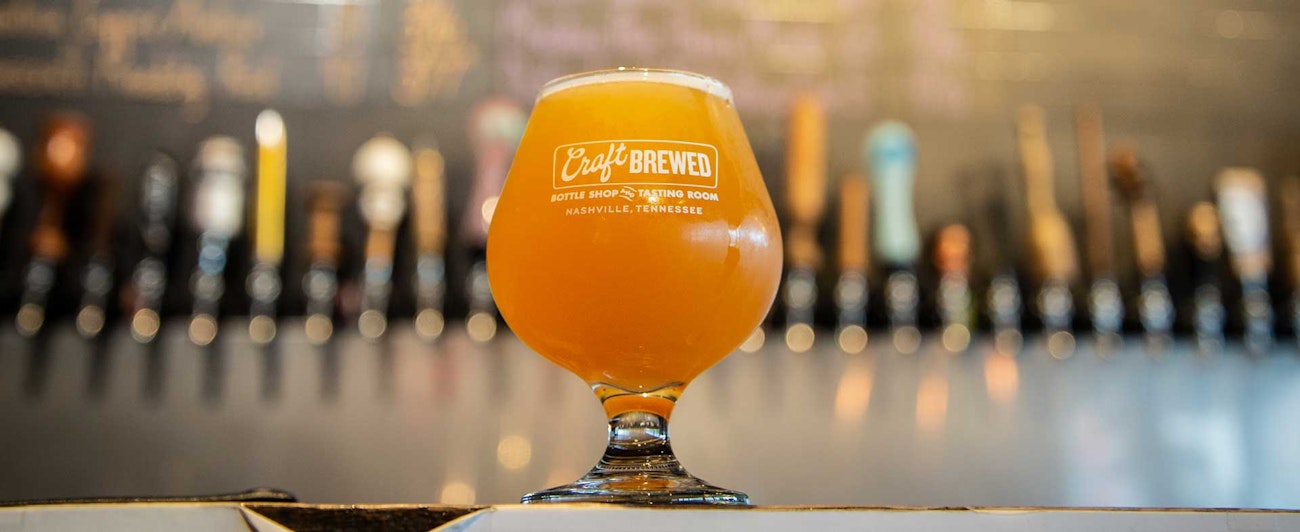 Getting Back into Variety
But let's not simply push the dominant styles on the retailers and, therefore, the consumers. Diversity of selection is part and parcel of the experience that great beer bars and bottle shops—and taprooms, for that matter—need to offer.
There will always be plenty of room for the styles that sell more than others, just as there is at your brewery. However, a varied product mix is key—not all beers on offer can be the top sellers, so having a few slower-moving options that expand your offering can make good business sense. (Besides, many slower-moving styles often have the kind of shelf stability that makes immediate sales less imperative.) The best retail outlets showcase high-quality products across the board, but they also pay special attention to covering a wide range of ABVs, styles, locations, flavor profiles, and price points.
Why? Because with more options, we can make more guests happier, and we can more properly showcase the beautiful, wide spectrum of choice that once was and should remain the hallmark of craft beer.
I'd love to see more brewers not only broaden their offering but also truly engage with what, why, and how they are brewing. With more pervasive styles, the answer to why should never simply be that it will sell. Dig down and consider how you can tailor popular styles to your brewing ethos. What can you contribute to the style that makes it your own? What will help that style stand out in a crowded field, whether in your own taproom or other retail settings? What fuels the passion behind your hazy IPA? Is there a process you're particularly excited about, or are there specifically sourced ingredients that deserve some recognition? (For more on how the answers to these sorts of questions can help sell more beer, see "Behind the Bar: Tell Me a Story," brewingindustryguide.com.)
I'd love to see brewers slow the game down a bit, especially when looking to brew beyond the trendiest styles. Rather than quickly releasing then rotating an ever-expanding lineup of various styles—classic or otherwise—more brewers should pilot-brew, review, edit, and audit their offerings to better refine both process and flavor. Engage with beloved versions of these styles, comparing and contrasting flavor profiles to inform the evolution of your own take. Tell retailers and guests about your inspirations, the lessons learned, the ingredient changes. Even if—to better promote sales in an environment where new offerings rule—each subsequent version of your schwarzbier has a new name and label, you can still gratify the guest with some background narrative on how that specific version came to be.
For their part, beer bars and bottle shops should add depth to their selections, so that both trendy and classic styles have a range of available brands within each category. Getting a beer enthusiast excited about new styles is far more fruitful and rewarding when even a short list of stylistic variants is on offer. Broad menus must run deep.
Craft beer today is omnipresent but uniform. The beer is no longer hard to find, but variety and even quality are increasingly scarce. I would love to see brewers, buyers, and retailers come together and recommit to the high-quality, wide-ranging, flavor-forward goals, so we can craft the kinds of rewarding experiences that kicked off this whole wild ride.
Let's brew and showcase the beers that we love and get back to proselytizing—this time to the initiated and the uninitiated alike.