When Minnesota's Surly Bill became law in 2011, it allowed distributing breweries with a brewpub license to serve pints of beer on-site for the first time. Its passage ushered in a spate of new breweries across the state and also underscored how critical tasting rooms are to a craft brewery's success.
Surly Brewing Co. Founder Omar Ansari championed the law and capitalized on its passage by breaking ground on a new production brewery, restaurant, beer hall, and event center, which opened in late 2014.
Far from the more modest scale of a typical brewery's operation, however, Surly aspired to greatly increase its capacity while also constructing an iconic showplace where beer fans could gather to partake in the beer and participate in the Surly brand.
"The vision was to create a destination brewery not only for the Twin Cities region but also for out-of-state and even international visitors," says Steven Dwyer, senior project designer and vice president with HGA, the architecture, engineering, and master-planning firm that oversaw the brewery's design and construction.
And while only a fraction of American craft brewers are in a position to join the elite club of breweries with multimillion-dollar destination facilities, the ambition and planning that went into the Surly project exemplified a best-practice process from which brewers of all sizes can gain valuable insight.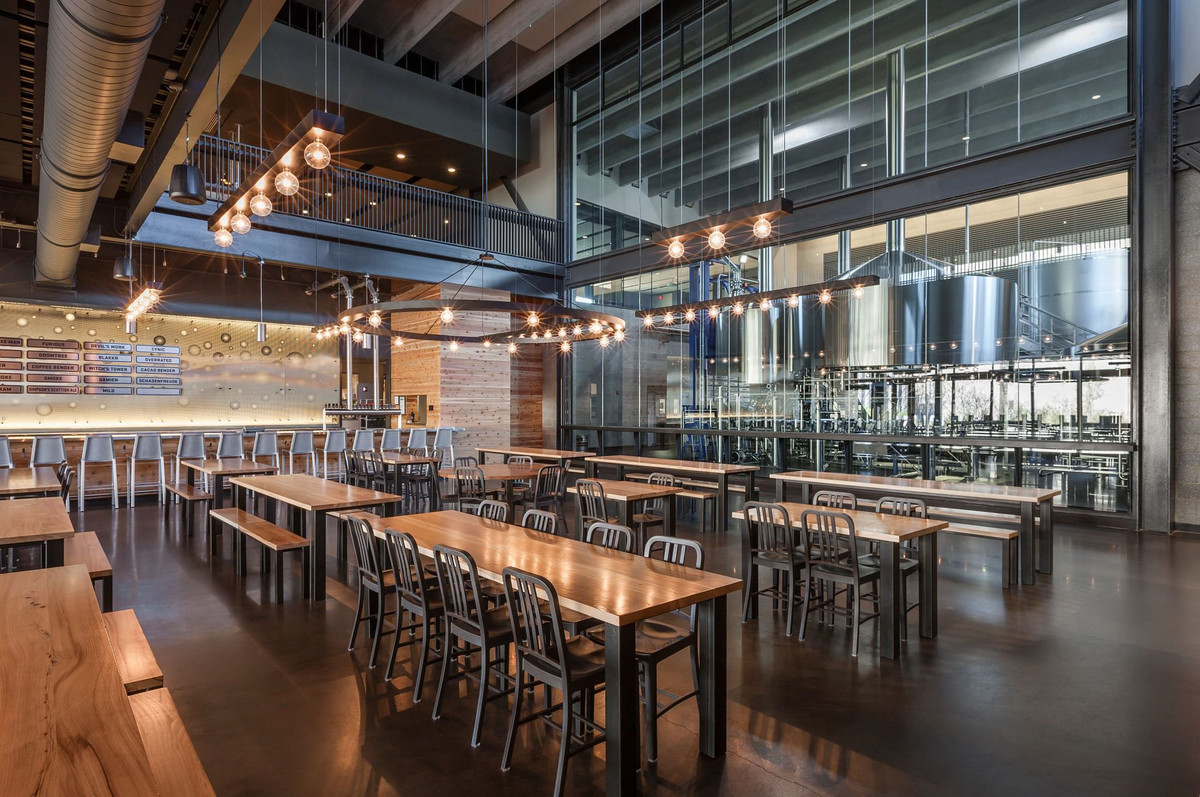 Start with clearly defined criteria.
Before decisions were made on any definite ideas about how the space should look and function, the planners began by defining an overarching vision for the project.
Surly's leadership talked about building a facility that would be for everyone—a "democratic" gathering place for the community, says Dwyer, with distinct yet visually connected spaces. They wanted the brewery to be located in town, near lodging and with access to multiple modes of transportation, including light rail, bus routes, and bike paths. They also wanted the building to not only help connect people with the brewing process and the Surly brand but also with one another.
On the brewing side, maintaining the consistency and quality of the beer while increasing production and efficiency were also paramount.
Municipalities from throughout the region courted Surly, and they looked at almost eighty sites before deciding to purchase a plot of land in a transitional area of Minneapolis. Although the location had seen more than a century of industrial use and would require substantial clean up, the process of first establishing a clear vision for the project helped all involved to see the site's potential.
The site also featured two wells that drew water from the same aquifer as Surly's original brewery in Brooklyn Center, Minnesota, which was a huge plus for Head Brewer Todd Haug.
"My big concern when looking at sites was how we were going to match the water character," Haug says. "We were building a new brewery to brew our flagships, and the water is a big part of that.
"It's amazing how similar the beer tastes," he says of the completed brewery. "It was seamless."
Seek advice from those who know.
When planning their new facility, Haug and Ansari also consulted with and visited many breweries, including 3 Floyds Brewing Co., Victory Brewing Co., Bell's Brewery, and Founders Brewing Co.
"Anyone who had recently gone through a growth spurt like we were experiencing and had built a new facility," Haug says. "One thing about this industry is most people are pretty eager to help and tell you about their experiences—both good and bad."
Rather than focus primarily on equipment and technical specifications, however, Haug and Ansari were after the kind of practical advice that's only gained by doing. What had other brewers and owners learned from the process? What, if anything, would they have done differently? What didn't go as expected and how did they recover?
"We also tried over the past three to five years to outfit Brooklyn Center as a base model for the new brewery," Haug says. "We didn't want to change umpteen things process-wise with the new brewery."
Allow for some give and take.
Although Surly allocated a substantial budget for the project, there were some necessary compromises made during the process to keep project costs from ballooning.
For example, the cost of restoring the brownfield site to a state that could safely support the 50,000 gross-square-foot building and its infrastructure was substantial, even with the help of $2 million in public grants. And there were the hidden costs and inevitable delays that come with any construction project.
"As costs kept going up, we had to react quickly and, with HGA's help, revisit some things we could change that would still get us to where we needed to be but maybe without everything in place," Haug says.
Some of those decisions included dedicating more space for the public areas at the expense of building more offices right away. Plans to outfit the two-acre outdoor garden with furniture and plantings were also scaled back and purchases spread out over time.
Haug and Ansari also installed or fabricated as much of the equipment as they could themselves, which allowed them to invest in higher quality tanks and equipment.
"Omar did an amazing job of keeping the project funded," Haug says. "He bobbed and weaved throughout the process."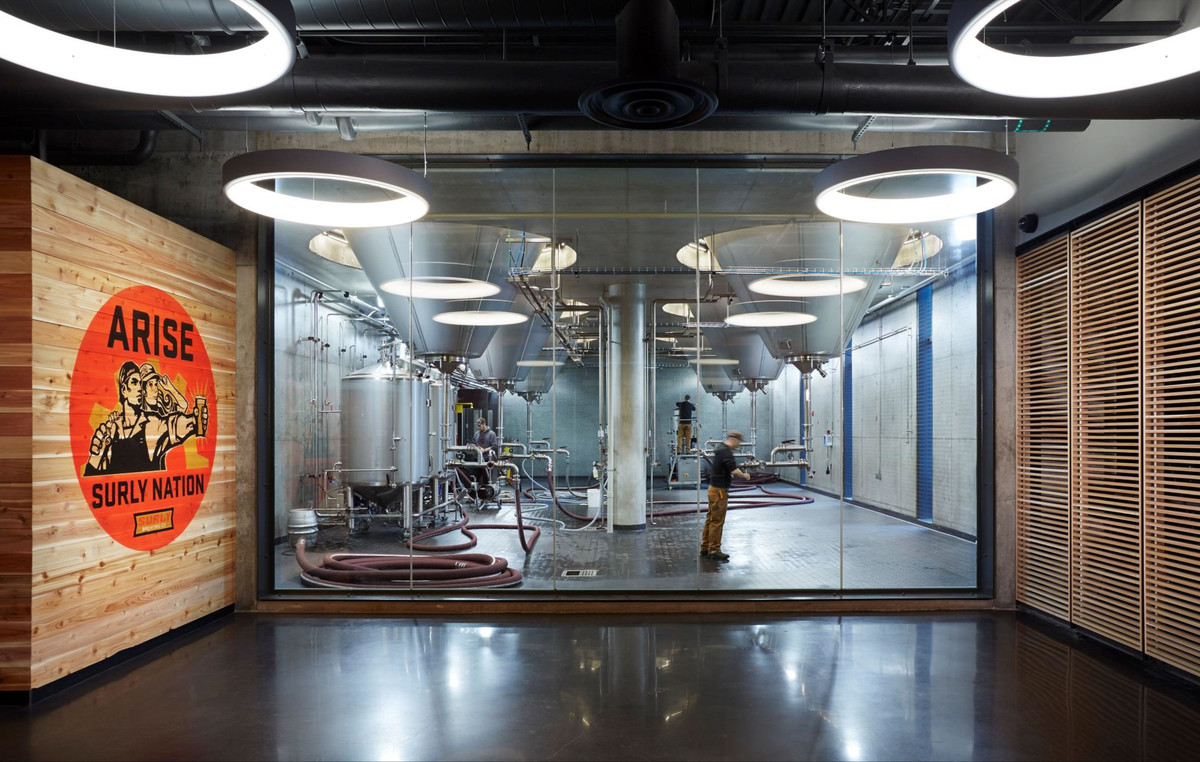 Strive for design that personifies your brand.
When it came to the design itself, planners knew that they needed distinct separation between the public and manufacturing areas, but they also wanted to visually connect the two with "strong moments of transparency," Dwyer says.
"We took an approach that we called the 'reverse mullet,'" he says. "If a mullet is business in the front and party in the back, then this is the opposite."
Whether arriving by bike, bus, train, car, or on foot, visitors approach the brewery through a central entry plaza, which is anchored by a fountain on one end and a large fire cauldron on the other. Corrugated metal and red cedar siding on the exterior lend an industrial touch that's also consistent with the brand. The main entrance is through a vestibule that offers a long, unobstructed view into the fermentation cellar through floor-to-ceiling glass walls. A retail store and restrooms are also located near the entrance.
Visitors then pass through a gallery lined with artwork that Surly has commissioned for its cans and promotional materials before arriving in a large, open beer hall with dramatic two-story window walls that look into the brewhouse on one end and can open onto a large deck and gardens on the other. The upper level houses a full-service restaurant as well as an event center and pre-function spaces, with a large deck overlooking the gardens.
Visual cues also play a role in helping to define and reinforce the experience.
"Surly has a certain edge and a kind of darkness to it, with all the black and dark grays in the artwork," Dwyer says. "The dark paint was meant to be a little theatrical, and when we do introduce color—whether it's red in the restaurant or wheat in the event center or stainless steel in the brewhouse and other places—those elements pop and create an overall ambiance that we feel is consistent with the brewery's brand."
The entire experience is choreographed to immerse visitors in what the designers call the "Surly Brewing Destination Experience," with lots of social interaction and energy throughout.
"When I go there now, it's almost as if I'm going to the state fair or a large concert," Dwyer says. "It's a happening every night."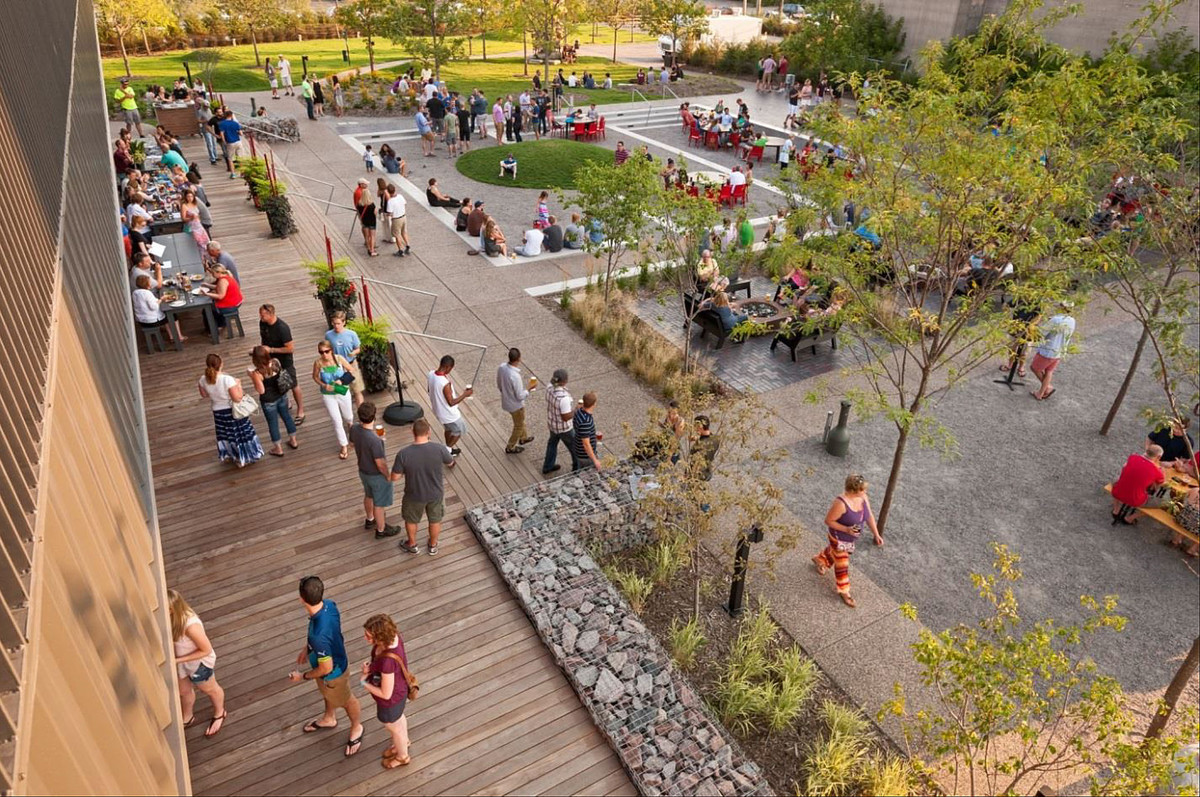 Plan for future growth.
The production side is laid out in a U-shape and designed for maximum efficiency and flow. Raw materials arrive via a dedicated loading dock near the grain silos and mill room. The brewhouse is located in the heart of the building, with fermentation, packaging, and shipping completing the process loop.
The facility is also designed for growth. A few of the walls are non-structural and can be knocked down to make way for a planned second-phase expansion that would increase fermentation capacity by as much as 200 percent and add another packaging hall and additional office space on the upper level.
Not that Surly is looking to dramatically grow its operation again any time soon. The planning and foresight that went into building the current incarnation of its new facility will let Surly comfortably and sustainably grow its footprint for years to come without overextending its reach in order to recoup costs. For now, they're busy making the most of the new facility.
"You don't get to build a new brewery every day," Haug says. "This is definitely the biggest project I'll ever be involved with."