If we accept the existence of the "brewer's beer"—meaning the type that any brewer can love, flavorful yet immaculate and highly drinkable—then we should also consider, as a corollary, the existence of "brewers' breweries." Those would be the ones that seem to specialize in such beers.
If they exist—and we believe they do—one slam dunk for inclusion in the category can be found at 45 Industrial Way in Buellton, California, about 140 miles west-northwest of Los Angeles.
Founded in 2010, Figueroa Mountain's beers clearly have earned the respect of peers. Accolades include eight medals at the World Beer Cup and an impressive 32 at the Great American Beer Festival. (They've earned our respect, too: The Craft Beer & Brewing Magazine® blind panel last year scored Figueroa Mountain Danish Red Lager a 98 of 100, and it became one of our Best 20 Beers in 2022.)
"We always joke that we're the best brewing company you've never heard of," says Jaime Dietenhofer, who founded the company with his father Jim. The brewery's namesake is the 4,500-foot mountain that looms over the Santa Ynez Valley. It's visible from the Dietenhofers' home in Los Olivos, an area much better known for wine.
Yet the locals drink plenty of beer. Figueroa Mountain produced about 23,100 barrels in 2019. While the pandemic years were far from easy, Figueroa Mountain expects to produce about 28,000 barrels by the end of 2023, even as it aims to make more beer for the region. Including the production brewery's taproom, Figueroa Mountain currently has four locations of its own—but those taprooms account for only about 10 percent of the company's sales. The rest goes out wholesale to various parts of the state.
"The goal is to sell everything we have in California," says brewmaster Kevin Ashford. "You should be as close to home as possible, and hopefully your home market is supportive."
Alongside that focus on the home market, Ashford and Dietenhofer say that Figueroa Mountain's pillars of success are a quality-first company culture coupled with an emphasis on approachable, easy-drinking beers.
"It's no secret that we love classic styles here at Fig Mountain, and we're always going to embrace those," Ashford says. "And sure, we're going to explore out, and we'll venture off, and we'll play around quite a bit. But we always know that we can come back home, and we can always live within that world."
Ashford says he often thinks of that drinker who visits a brewery for the first time, looking to try one particular style—maybe it's a lager or a pale ale—"because it's a good barometer for whether the rest of their beers are going to be good." They want to be the brewery that impresses that drinker, whatever the style.
"You could have every bell and whistle at your brewery," Ashford says. "You could have what's gaining the most traction [on] your retail side. You could have your karaoke night one night, you could have this, that, and the other thing that's bringing people in. But if they're only ordering tasters, and they're not drinking through full beers.…
"Our goal is to sell as much beer as possible and make sure the quality is paramount."
The Culture of Quality
Jim Dietenhofer, originally from North Carolina, moved to California after the Vietnam War. He met Judie—Hollywood born and raised—while tending bar at the Mural House restaurant in Ontario, just east of L.A. (Judie, a co-owner of the brewery, credits her success in getting his attention to a "lucky pair of hot pants.") Jim later went into the precious-metals business, using a device that collected silver from X-ray and photographic processes that would otherwise have gone to waste. He collected that silver and sold it as a commodity.
Jaime, meanwhile, knew early on that he wanted to open a brewery, but his parents insisted he get an education first. He studied politics and played soccer at Whitman College in Walla Walla, Washington, and spent a year abroad in Austria before graduating in 1999. He then came home to attend business school at U.C. Santa Barbara.
After earning his master's in environmental science and management in 2002, Dietenhofer founded a company called Garage Envy, focused on renovating home garages—anything from improving their storage capacity to transforming them into wine cellars or added living space. He even helped renovate the garages of celebrities such as Jay Leno and Joe Rogan. A DIY Network show called Garage Mahal, hosted by pro wrestler Bill Goldberg, featured Garage Envy's work. (Dietenhofer sold that company in 2014.)
In 2010, however, the father-son team chose a converted warehouse in Buellton to follow through on what Jaime had wanted to do all along: open a production brewery. And as the company grew, they brought in a young brewer who had experience managing growth.
Ashford came from Heavy Seas in 2013. "It was a great experience for me," Ashford says of the Baltimore brewery where he had worked since 2009. "It was a large production brewery when I started there. We were 15,000 barrels a year, and when I left, we were about 52,000 barrels a year. So, in that four-year stretch, I saw quite a bit of growth. There was a lot demanded of me."
Now, he says, he demands a lot of his own team. "It takes a lot of work," he says. "No matter if you're going from 500 to 2,000 barrels, or from 2,000 to 8,000, or 8,000 to 20,000. They're all significant leaps in any brewery's timeline."
It's one thing to manage growth while keeping costs under control. The challenge is doing it without compromising the product that's driving that growth. It helps when the company has developed what Ashford calls a "give-a-shit culture."
"I think if you're going to be doing something, and you're not going to be putting all of your effort into it, what's the point of doing it at all?" Ashford says. "I think my team—and the extension of my team, through packaging and warehousing—we all share that value of, we need to put everything we have into this because it's what we do every day. And I think we've all rallied around that concept."
In Ashford's view, that culture starts at the top. He describes Jaime Dietenhofer as "obsessively driven by quality," and as an owner who gets it when beer needs to stay in the tank longer or when a cheaper ingredient isn't good enough for the beer they want to make. That helps to motivate the whole team, not just in production.
From a manufacturing perspective, Dietenhofer explains it as a choice: "You can make something that's proprietary and high-end, or you can operate with a commodity," he says. If you take the latter path, always looking to cut costs, you end up in a "race to the bottom." Worse, it affects the culture of the business. "I think you have to be uncompromising on quality, as painful as it may be," he says. "You try your damnedest."
Jim died of cancer in 2019, but his influence remains—on the brewery, and on his son. Jaime says his father emphasized "the importance of relationships and following through on what you're doing. Dependability is something that he was about. He truly cared."
Besides working hard himself, the elder Dietenhofer would talk to everyone at the brewery, including customers from anywhere, valuing those personal connections. "It's not just what that does for your business," Jaime says, "it's also what you're getting out of the business itself. There's a huge value in what you get out of it."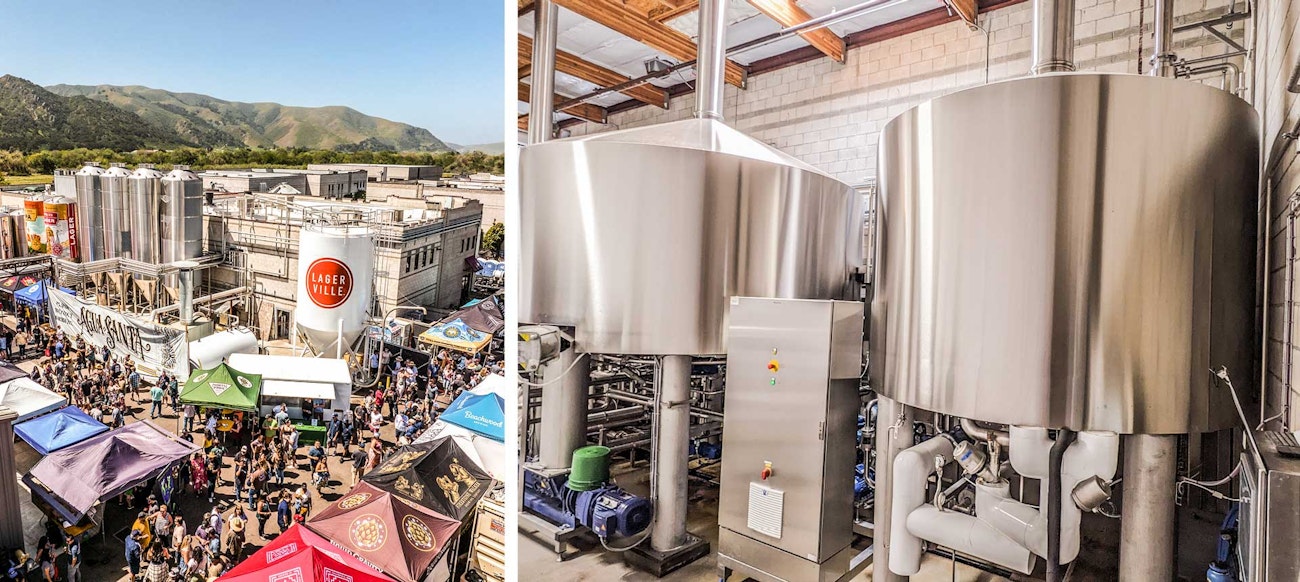 The Test Kitchens
Figueroa Mountain opened its first brewpub in June 2013 in Santa Barbara, followed by taprooms in Los Olivos and Santa Maria in 2014 and, the following year, two more brewpubs in Westlake Village and Arroyo Grande. The Arroyo Grande and Santa Maria locations closed during the pandemic, but the other three satellites remain. There are plans for more; negotiations to take over four brewpubs in the Los Angeles area are ongoing.
From the start, the plan for these satellite locations was not only to serve locals but also to trial new beers for the wider market.
"The goal was always to be a production brewery and have a couple of satellites where ideas could either thrive or die," Ashford says. "They could be creative, and we could learn from them and sell [the beer], or they could be creative and learn from them and trash 'em—depending on the quality of the beers and what the market was telling us to do at the time."
Figueroa Mountain also recently hired Victor Novak, the former Golden Road brewmaster, as their new director of innovation. Ashford says he's looking forward to working with him and learning from him, including brewing with him at their brewpubs. "Victor is a method and recipe master," Ashford says. "He is helping to drive development."
Besides the brewpubs, there's a 10-gallon pilot kit in Buellton that the production team can fire up whenever there's something they want to try. "They know they can go nuts anytime," Ashford says. If they like the results—or maybe they want to swap in a new ingredient to an established beer—they might take it to one of the brewpubs, such as the seven-barrel system in Santa Barbara. "Those are all exploratory breweries," he says. If there's a new hop to try, for example, "Okay, let's brew a single-hop beer and explore that hop varietal. Let's do these additions. Let's play with some new fruits for the sours."
Popular beers can emerge from those brewpub trials, such as Zero to Sexy, a 6.8 percent ABV "golden stout" with local coffee and cacao nibs—a beer that they'd now like to bulk up to a higher gravity and age in barrels. Other explorations include a barrel-aged Baltic porter with toasted coconut and Madagascar vanilla, and a pilot-kit export stout brewed with the shells of locally caught sea urchins.
While those beers are fun for the brewers and for some drinkers, this is not a business whose success is based on the flavor of the week.
From IPAs to Lagerville
At Heavy Seas—still called Clipper City when he started there in 2009—Ashford worked under brewmaster Ernesto Igot, who'd run large breweries around the world for San Miguel. "My initial background was in American IPA and classic lager styles," Ashford says. When he came to work for the Dietenhofers, his experience with lagers was no small part of why.
Yet this is a California brewery, and IPAs reign. As much as Ashford might like to brew lagers all week, "we love to follow what our customers are looking for. We track sales data, and we do it thoroughly."
Their Hoppy Poppy IPA is the top seller. It's old-school by West Coast standards, sporting a touch of crystal malt, but it has plenty of fans and wins medals—most recently gold at the 2023 Brewers Cup of California. "It's a beer style that's going to exist for a long time, even amongst the new contemporary IPAs, fruited IPAs, hazy IPAs," Ashford says. "There's still a place for these beers, and it's still over 25 percent of our sales."
Just below that is another IPA, Point Conception, which Ashford describes as a more contemporary "Californian IPA." Introduced in 2016, it has steadily grown in sales, and Ashford thinks it will eventually take the top spot. Point Conception is bright and pale, leaning into fruit-forward Citra, Mosaic, and Simcoe—as well as Hopsteiner's Sultana. Ashford says they mostly use Sultana as a mid-kettle addition, in whirlpool, and as a dry hop. "It really adds a nice, pungent pineapple," he says, "and even some melon and minor resinous qualities. It's a cool hop that I don't think is getting used enough."
Finally, their third-best seller is—what else?—an imperial IPA. Lizard's Mouth is all two-row at 9 percent ABV and aromatically tropical with Centennial, Citra, Simcoe, and Horizon hops.
After those top three, we get more into what Ashford calls his "wheelhouse"—lagers.
The Danish Red Lager was one of the first beers brewed at Figueroa Mountain, and Ashford says it's "one of my favorite beers to brew, and one of my favorite beers to drink." On his watch, it has evolved from a relatively sweet, heavy malt bomb into a double-decocted, Vienna-style lager that is lighter and drier on the palate. Northern Brewer and Tettnanger hops give it some spicy-earthy bitterness to balance the soft malt.
"We don't think it's overly complex," he says. "We think it's got just enough toast and subtle caramel to keep it interesting, but it doesn't sit sweet on your tongue. It dries out. It's really pleasant." It's also one of their most decorated beers, having won bronze, silver, and gold at GABF in various years.
The Mexican-inspired Agua Santa, meanwhile, gets some flaked maize added on the way to its single decoction. "It drinks almost helles-like, but you can taste the sweet corn a little bit. It's very dry. But the decoction, I think, offers some texture to the beer and some malt intensity that we weren't necessarily picking up in sensory prior to giving it that mash step."
Another potential up-and-comer is Fig Mtn Light. Despite being a single-decocted, all-malt lager—with Weyermann pilsner, Vienna, and Carafoam—it goes from 8°P to 0°P (or 1.032 to 1.000) with an enzymatic nudge from glucoamylase. The result is easy drinking with a surprising amount of flavor for its 4.2 percent ABV and 99 calories per 12 ounces.
The decoction is part of Ashford's goal to pack some more flavor into a light lager, and it's one of the brewery's longer mash regimes. "When we are brewing several of these consecutively, I get some eyerolls coming out of the brewhouse. But the team knows how important it is to do things the right way. There are no shortcuts here."
Since 2018, Figueroa Mountain has organized an annual festival called Lagerville—the next is scheduled for April 13, 2024—inviting other breweries to come and pour their favorites. To mark the occasion, Figueroa Mountain brews a collaboration beer called, simply, Lagerville. The 2023 version was a West Coast pilsner brewed with There Does Not Exist in San Luis Obispo and Bavaria's Maisel & Friends. For that beer, they were able to get some Anchovy hops from Segal Ranch in Yakima. Those hops brought candied melon and lemon-citrus notes that played well with the El Dorado and Mosaic over a single-decocted, Idaho pilsner base.
Segal, incidentally, is the farm that first planted experimental hop 56013—later known as Cascade—in 1968, a pivotal moment in the history of microbrewing. Today, Ashford likens the growing intersection of lager and American hops to one of those pivotal moments in brewing.
"People were drinking Cluster beers wondering what else was out there," he says. "And then you had the Ken Grossmans, the Fritz Maytags, the people saying, 'What about this?' And then you have Vinnie Cilurzo down the line, 'But what about this?' So, I'm waiting for the 'What about this?' moments. Because they keep coming, and we're seeing it change on a daily basis. And Lagerville is just one drop in the pond of that world."
From light lagers to imperial IPAs, the goal at Figueroa Mountain is to offer a range of beers that can satisfy whoever might walk into the taproom or grab a can off the shelf.
"I think any great brewery nowadays is able to offer a spread," Ashford says. "You never know what customer [is] coming in." It could be a seasoned geek looking for the barrel-aged eisbock, but she brought a few friends who rarely drink beer and have never heard of kölsch. "We need to be better about respecting the layman and understanding that it can be over their heads."
That involves training their own hospitality staff, but it also incorporates a top-to-bottom approach to which beers they choose to brew and to how those can be explained to casual beer drinkers. "I think our goal is to make guests feel welcome, in whatever way that is. … We just want to give them the information that they can run with. And let's get that information to them as clear and fast as possible so that they can make those choices."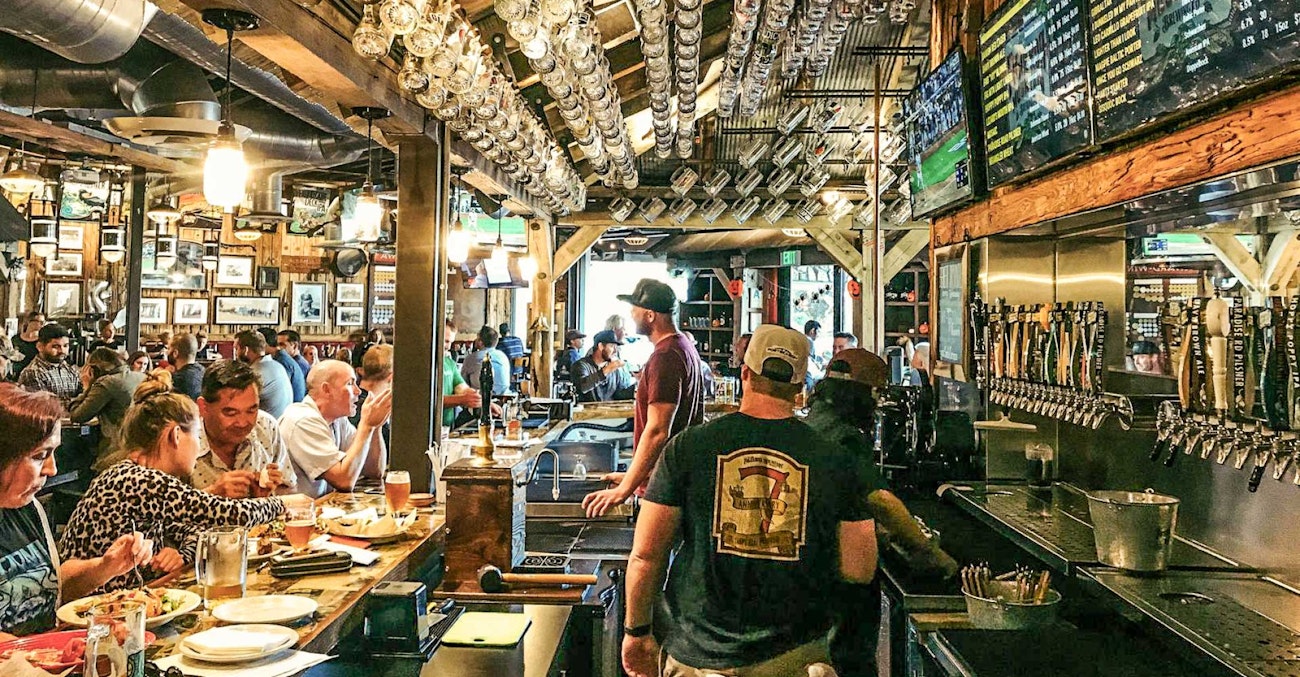 Steady Sailing on the Central Coast
Ashford's advice for smaller breweries seeking sustained success is to know their pillars—those things they can count on when the earth starts to shake and the seas get rough.
There are always going to be creative brewers out there pushing the envelope of what's possible. "But without having any kind of foundation to revert to," he says, "you start to find out you're only becoming what the next big thing is, and you need to keep chasing that, versus having a home base to live within. And if your home base is a moving island that no one can come to, that starts to create some challenges."
For Figueroa Mountain, that home base includes dogged attention to quality and high drinkability. "We're always going to embrace well-rounded beers," Ashford says. "That's a hallmark. We're always going to embrace classic styles, high-quality ingredients, tried-and-true methods, and understanding of brewing science and technologies.
"We love to explore what's new within our own frame, but we're not going to be the brewery that is throwing things at the wall just to see what sticks. We're going to do it methodically, and we're going to consider it within our own way of making beer, 'How do we put Figueroa's stamp on it?' And I don't think that's ever going to stop."