Notch proudly declares that it's been "brewing session beer since before it was cool"—but there is much more to it than that.
For one thing, Notch kept on brewing session beer even after it was cool. Founder Chris Lohring says they don't use the S-word so much anymore, since the coming and going of the session IPA trend more or less knocked it out of fashion. "So, we just talk more in terms of modest ABV and traditional styles," he says.
For another thing, there is much more to these beers than their modest strength—there is a whole experience involved. Whether you're at the brewery-taproom in Salem, Massachusetts, or the one in Boston's Brighton neighborhood, you'll receive service that is reverent to the traditions from which those beers come. This was the first brewery in the United States to import Lukr side-pull taps—now de rigueur at lager-centric breweries across the country. It was also the first to host a Kölsch night, which they repeat every few months—pouring the beer from spigoted stichfass barrels, delivering it via table service, and marking deckels with those little notches that are the brewery's namesake. (Also see "Kölsch Night: Traditional Service Takes Off in American Taprooms," brewingindustryguide.com.)
At Notch there are no TVs, no bar seating, no taster flights, and no buffalo wings.
"Notch is not for everyone, and we realize that, because we have a point of view," Lohring says. "I really love places that have a point of view, where you walk in and it's like, 'All right, I'm going to experience something different. And I am not going to ask why I can't get something that's not here. I have to experience it as it is."
That's not an experience that American drinkers—accustomed to getting what they want, wherever and whenever they want it—always understand. "The hospitality business in the United States has kind of driven that 'customer first, always satisfy the customer' bullshit," Lohring says. "I don't agree with that. I want to walk into a restaurant or bar and have the experience that they want me to have. And I'm going to sit back and enjoy it—or I'm not. But at least it's different."
As brewery taprooms proliferated over the past decade, there have been cookie-cutter commonalities—and certain things that beer enthusiasts come to expect. "If you don't deliver that, they look at you like you're doing it wrong," Lohring says. "'How come you don't have a sour? How come you don't have a double IPA? How come you don't have flights?' Or they have this box they want to tick, and they want to go to each brewery and tick these boxes the same way. Well, what's the fun in that? You're just doing the same thing in a different four walls, you know?
"So, we're not for everyone, and that's okay. But when we do resonate with folks, we realize that we connect really deeply—because we are doing something very, very different."
What that deeper connection translates to, in business terms, is loyal customers and repeat business—in the taprooms, in local bars and restaurants, and in stores.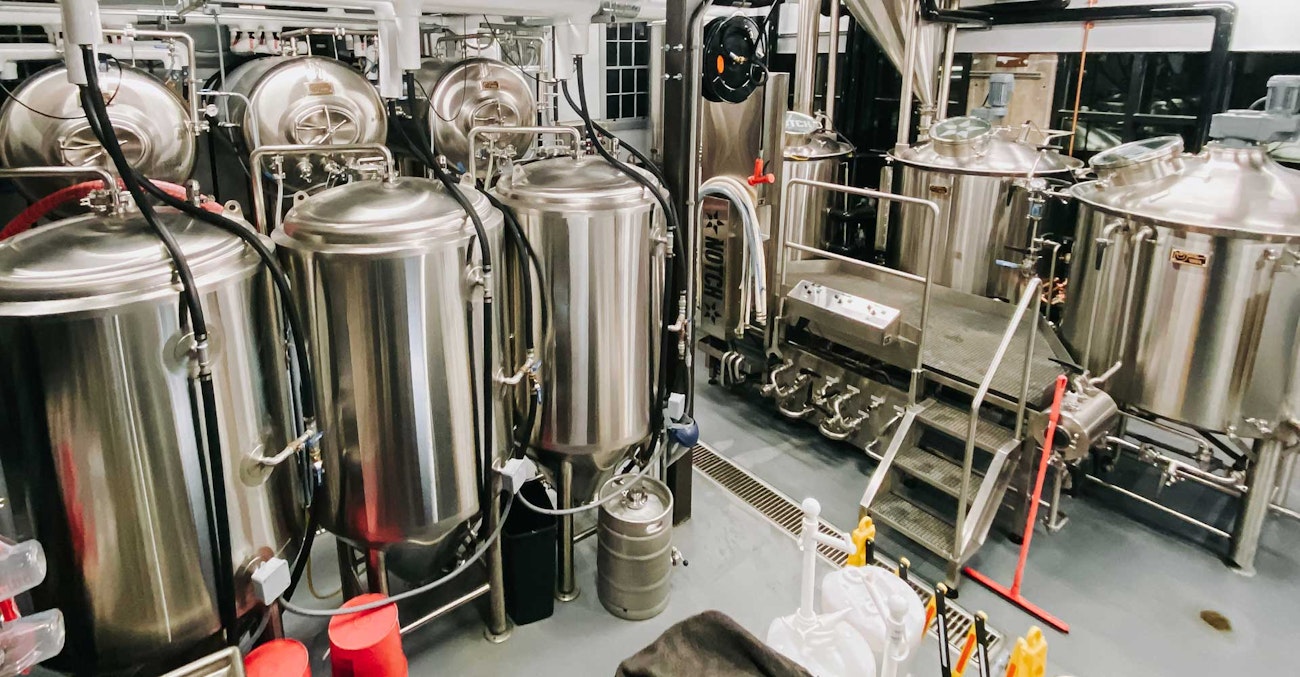 The Epiphanies
If Notch was brewing session beer before it was cool, that's even more true of Lohring himself. He started his career in 1993 as an apprentice at Kennebunkport Brewing, making bitters and learning from British brewers—including Shipyard founder Alan Pugsley. "So, from a very early age, I understood low-ABV beer," he says. "These brewers were very skilled, and at the end of the day they would go up to the bar and drink the lowest ABV on. … 'Yeah, we want to drink two or three, then go home and have a normal evening.' I was 26 at the time, and it was an epiphany for me."
Lohring went on to cofound Tremont Brewery in 1994, in Boston's historic Charlestown neighborhood, where he continued to brew session-strength bitters and other British-style ales. That brewery closed in 2001; production moved to F.X. Matt in Utica, New York, before Maine's Shipyard bought the Tremont brands a few years later.
Lohring says he was burnt out, and he left the industry just as brewers seemed to be increasingly infatuated with strong beers and "imperial" everything. "It was going in a direction I didn't really care for and wasn't interested in." He made use of his time off, going on a pilgrimage that would have a profound influence on the beers he would later brew.
"I had some time to not work for a few months—which was a fucking luxury for a brewer—and I took a trip to the Czech Republic and to Germany," he says. "I'd brewed ales my whole life, so my trips were to the U.K. to see what was going on there. I always appreciated lager, but it was this kind of mythical part of beer that I didn't know about. And Munich—as expected, helles was fucking wonderful. … And there was dunkel, and the wheat beer. The variety wasn't great, but the beers were just amazing. I loved them.
"But then I jumped on the train and went to Prague, and my first stop was the Golden Tiger [U Zlatého Tygra]. I walked in and saw the guy serving off a Lukr faucet—half-liter beers, huge creamy head. I sat down and had a Pilsner Urquell, and I was like, 'Whoa.' That was definitely an epiphany for me, that this 4.4 percent beer could be as flavorful and complex as anything I've ever had. And it was really hop-forward compared to what I'd had in Germany, and that really hit me, too."
Another thing that made an impression was that most people—especially once he left Prague and visited nearby towns—weren't drinking the 12° Plato beer, or dvanáctka, which typically ranges from 4.4 to 5 percent ABV. Instead, the default was often the desítka, the 10° beers that are usually just 3.5 to 4 percent ABV. He thought, "'Wow, okay, here's a 4 percent beer that's complex and flavorful and interesting. And I can drink four or five over the course of an afternoon and keep my wits about me.' And that experience just stuck with me."
Drinking low-ABV lager wasn't a totally foreign experience for him—Bud Light and similar beers dominated the Irish pubs and sports bars of Boston. But if you wanted both light and flavorful, it had to be imported Guinness or Pilsner Urquell, and that was about it. "That's why I started Notch," he says. He thought, "There's something here that's not being addressed in the market right now."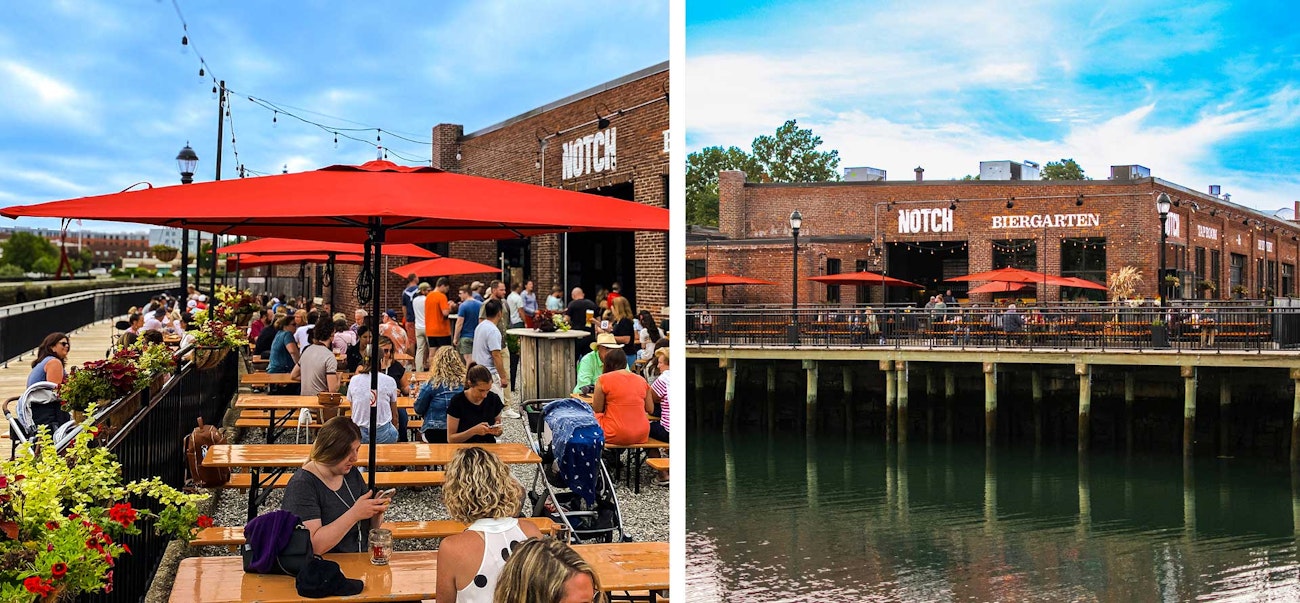 Launching on Contract
When he founded Notch, Lohring knew what kind of brewery he needed to brew the kinds of beers he wanted to drink—and he also knew that he didn't have that kind of cash. "I wasn't going to piece together homebrew equipment," he says. "I needed a certain baseline of equipment to make beers the way I wanted to make them consistently." He also was leery of borrowing a lot to back an unproven concept.
"Brewery growth was somewhat self-regulated, because how many people are going to throw a million dollars at a beer and a brand that hasn't been proven?" Lohring says. "Some people's rich dads would—and that's why we saw a lot of that going on in the industry. But besides that, someone has to prove to other people that this is viable. ... I had to prove it out."
This was also before brewery taprooms were common; he knew he didn't want to run a brewpub with a kitchen. "I was looking at a manufacturing facility to sell beer to a wholesaler or self-distribute directly to retailers in bars," he says. Under that model, given the costs and what he'd need to borrow, he estimated that he would have to brew 10,000 barrels a year just to break even. "And 10,000 barrels is a very difficult thing to achieve."
To put that in context: Of the 9,200 or so breweries in the United States today, only about 3 percent of them produce 10,000 barrels or more a year, according to Brewers Association data. And when you brew less than that, Lohring says, "the margins are terrible."
So, he started the Notch brand by having its beers made in other breweries. "I went to contract because of the [predictable] margins," he says. "I didn't have debt hanging over my head. And if this thing just went belly up, I'd be able to walk away with not a lot of exposure. ... And some people would say, 'Well, you didn't go for it.' No, we didn't, because we didn't have the resources to go for it."
Yet Lohring did have something to prove—and he proved it. Within four years, they were selling about 8,500 barrels per year, "which was very satisfying," he says, "because people told me I would never last a year, and that session beer was bullshit. The guys at BeerAdvocate said it was a ruse, and I had everyone against me. But, you know, something resonated. I was putting [out] beer at a reasonable price. I started putting it in cans, I started putting it in 12-packs." And the beer sold.
Initially, Lohring took his recipes to Ipswich Ale Brewery, northeast of Boston. Over the years Notch beers have also been brewed at Two Roads in Connecticut, Harpoon in Boston and Vermont, and more recently at Zero Gravity in Burlington, Vermont. While contract brewing was and remains a successful strategy for Notch, especially for higher-volume brands, it was always Lohring's plan to set up a brewery that would allow a more detailed focus on traditional process. "Nobody had decoction capability, no one had open fermentation capability, no one had horizontal lagering tanks, no one was going to give me six weeks from mash tuns to package. As a contractor, you aren't provided those things."
What Notch did have, finally, was a profitable brand—and that made it easier for Lohring to get the money he needed from banks and investors. Plus, by the mid-2010s, brewery taprooms were demonstrating that they could also be profitable, thanks to margins collected over the bar.
The Notch Experience
Notch opened its Salem brewery and taproom in 2016, and with it came many opportunities: the chance to serve the beers the way they ought to be served, including the side-pull taps and large, dimpled mugs for Czech-style lagers; the chance for more R&D, to try out iterations and recipes and see for themselves what people liked best, optionally scaling those up at contract breweries; and the chance to better promote the Notch brand, so that people who enjoyed the experience and the beers would look for them in bars and shops.
The brewery in Salem isn't large. The 10-barrel, three-vessel brewhouse allows them to manage multiple decoctions and long brew days. Their second brewery—which opened in July 2021 at the historic Speedway in Brighton—has a seven-barrel capacity and, likewise, was designed with traditional lager-brewing in mind.
As a company, Notch currently produces about 9,000 barrels per year. About 70 percent of that is their higher-volume, contract-brewed brands—namely, the all-Saaz Session Pils and Left of the Dial, a popular session IPA that's an effective counterpoint to arguments that the style was just a passing fad. Heading up Notch's production team are lead brewers Anna Hostetler and Juleidy Peña. Hostetler previously apprenticed at Dovetail in Chicago and brewed at Mighty Squirrel in Waltham, Massachusetts. Peña, originally from the Dominican Republic, cofounded Cervecería Artesanal Uicú there before moving to Massachusetts and brewing at Aeronaut in Boston for three years. "Both Anna and Julie are just crushing it," Lohring says. "They're doing a really great job."
The breweries in Salem and Brighton give Lohring, Hostetler, and Peña the flexibility to make the kinds of beers they want at a smaller scale, selling most on draft through the taprooms while getting some cans and kegs out into the wild. They can produce beers such as the recent Continental Blockade, a Polish-style Baltic porter, or Got the Power of Massachusetts, a rye lager made only from in-state ingredients. It also allows them to produce the Tenner, a triple-decocted, longer-lagered version of their flagship Session Pils, which in the contract brewery gets a step mash and five weeks in the tanks.
"I mean, I don't know how you scale a triple-decocted, open-fermented, horizontally lagered beer that takes seven weeks," Lohring says. "I don't know how that math works. But for us, because we can sell that in cans directly to the consumer and then bleed a little bit more out to wholesale—and we don't make a lot of money at that—it gets Notch out there in a way that's kind of fun, and our core consumer can grab that."
Virtually all the German-style beers get single or double decoctions, while the Czech-style lagers get double (for the 12° pale lager and tmavé) or triple decoctions (for the 10° pale). The double-decoction brew days take about nine hours, start to finish, while the triple-decoction days take about 10 hours. "Over the years, we've been able to refine it and get better at it," Lohring says.
The Czech malt they use is from Raven, a malthouse attached to the Záhlinický brewery, about 170 miles east of Prague. The yeast is a German-type strain that gets them about 70 percent attenuation for most beers, leaving a malt-forward flavor even at lower gravities. They typically ferment the lagers at 48–50°F (9–10°C), drop to 41°F (5°C) for spunding, then lager for up to six weeks at 32°F (0°C). Rather than emulate the water of Plzeň or anywhere else, Notch uses its relatively soft municipal water and molds their beers to it. "Work with the source you have," Lohring says.
When it comes to the Czech-style service—Lukr taps, big foam, and so on—there was some education involved, even for the local experts. "That was a battle," Lohring says, "because every Cicerone in the world would come through and be like, 'That tap's not supposed to be in the beer,' and 'That foam's too much,' and all this bullshit. So, we're there training Cicerones about how they don't really understand Czech lager."
Yet the teaching is worth the effort, he says. "When you have that conversation with the consumer, and you talk them through in a polite and educational way, they really come on board—like, 'okay, cool, I get that.' Because most people who get into craft beer are adventurous and want to learn. So, when they're in an environment where they're discovering something new, they're going to take that out to their friends because they've got this knowledge that no one else has. And that's fun."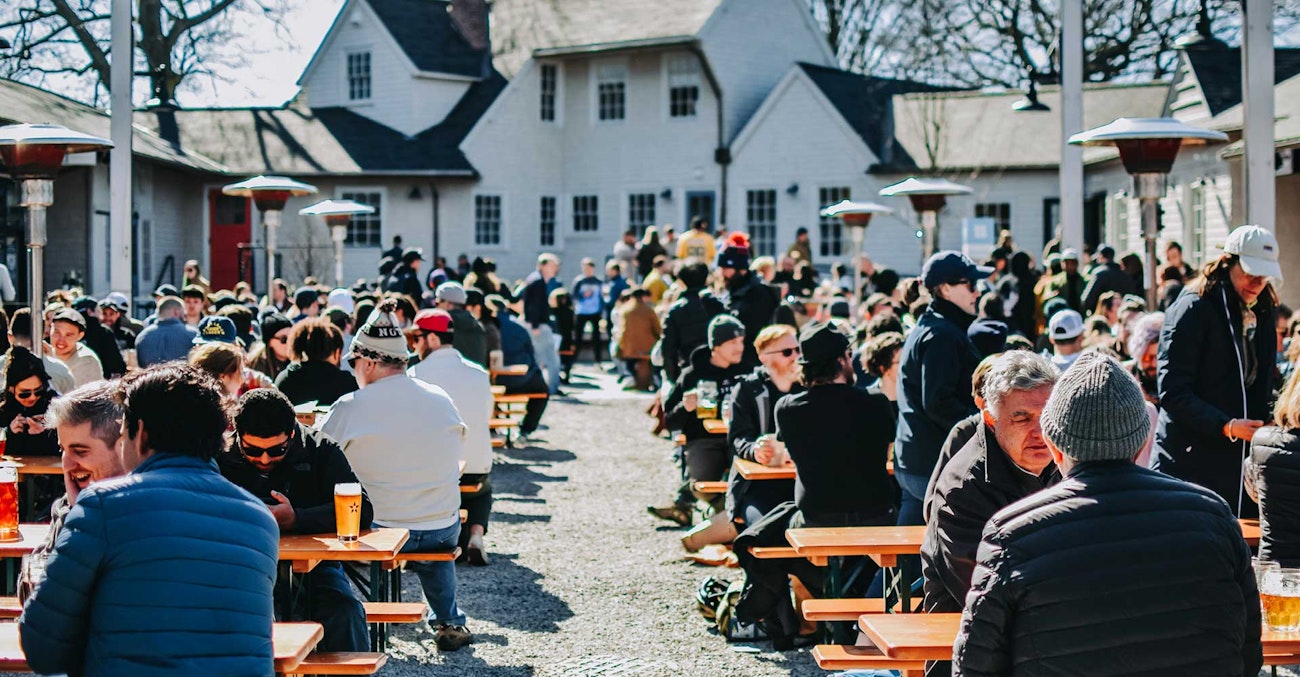 Brave Noise
Brienne Allan started working at Notch in the summer of 2017, working her way up to head of production.
"I saw the battle she had to go through to gain credibility and legitimacy when she walked into a room," Lohring says. "She has great experience in brewing—is one of the best—and she couldn't get some people to think she was doing more than cleaning the floor."
It was in 2021, when they were building out the Brighton brewery, that condescending remarks from contractors inspired her to ask, via her @ratmagnet Instagram account, what kinds of sexism people have experienced—and the floodgates opened, leading to an industry-wide reckoning.
"It was something really important that had to happen in our industry," Lohring says. "I knew there were shitty people in our industry. I've been around for a while; I knew it was kind of a bro culture. It was fairly toxic. I always fought against that and tried to have a more inclusive business."
When her question and the hundreds of responses went viral, making national news and leading to shakeups at multiple breweries, Lohring says it wasn't his place to offer her advice. "When I saw that all happen, I just looked at Brienne and said, 'Just let me know how I can help. I'm just going to step back.'" Meanwhile, he got behind the Brave Noise beer and the movement it accompanied. "The fallout was pretty important, and the fallout's still going on. … I don't think we're even close to where we need to be as far as inclusivity in this industry."
In September 2022, Allan and partner Michael Fava—who previously brewed at Maine's Oxbow and at Philadelphia's Nodding Head—opened their own brewery in Biddeford, Maine. Called Sacred Profane, their brewery is totally devoted to traditionally brewed Czech-style lager, served directly from tanks via Lukr faucets—and they brew only two types: light and dark.
"I love it," Lohring says. "Like we talked about—point of view. You walk into that place, and there's a point of view. You cannot leave that place without understanding what they want to do."
Much like Notch, Sacred Profane won't be for everyone. "And I know this from session beer," Lohring says, laughing. "People walk into Notch and are like, 'What the fuck, everything's below 5 percent. This is bullshit!' Well, when you walk out of here, you know exactly what we're all about."