The only brewery taproom in Livingston, New York—population 3,628—is closed for the winter. When it opens again on March 23, 2023, there might well be a festive burst of energy, as when German beer gardens reopen in the spring.
If you go there, you won't have to choose which draft beer you want because only one will be available—brewer's choice. Most likely, it will be below 5 percent ABV. It will not be an IPA.
To say that they do things differently at Suarez Family Brewery might be understating the case.
Dan Suarez and Taylor Cocalis opened their business in 2016. It didn't take long for it to become one of the best-regarded breweries in the country—among fellow brewers, certainly, but also among discerning drinkers willing to drive from New York City or Boston to drink pilsner, pale ale, saison, or the occasional mixed-culture fruit beer.
The days when Suarez and Cocalis packed a van full of beer and drove two hours to the city to self-distribute are mostly gone. Nor do they work with distributors—yet a few of the best beer bars in New York, such as Tørst and The Grand Delancey, still send people out to Suarez to fetch beer. Otherwise, about 85 to 90 percent of what they produce these days is sold out of the brewery, including a bit of mail-order business. They've produced only about 1,400 barrels annually over the past few years.
Sure, they could cast the net more widely. They could offer more choices and more pizzazz. They could brew some juicy IPAs. However, the couple say they are committed to offering a different kind of experience than you would find at other American brewery taprooms.
"Fundamentally," Cocalis says, "I think a lot of brewery businesses operate as a formula these days—and that formula has resulted in a standard 'brewery experience.' I would say that we operate more on faith than formula. I don't mean that in a religious way, but more that [if] we trust [in] following our internal compass … people will respond favorably."
Following their instincts on how things ought to be done often runs against the conventional wisdom on how to run a profitable brewery and taproom. Consider:
Suarez has long preferred to brew relatively lower-strength beers, mostly below 5 percent ABV; in six years, only a couple of beers have reached the giddy height of 7 percent.
There are no IPAs, hazy or otherwise.
Since April 2022, the taproom has offered only one beer at a time on draft—and that's whatever beer Suarez and his team decide tastes best right now.
They sometimes keep their lagers in the tanks for three or four months, when they can get away with it, because Suarez believes they taste better that way.
They've eliminated tips from the taproom and put their team of five people on salaries.
They've shut down their taproom (called simply The Tap) until late March because they want to separate the experiences of The Tap and The Shop, to do each of them justice.
There are craft breweries, and then there are craft businesses. The only meaning of "craft beer" that ever made sense was the stuff from brewers who just make what they want to drink, having faith that people will want to buy it—and that's exactly what Suarez does. As a couple, they are treating the whole business—they like to use the word "holistic"—exactly the same way. If they shape the brewery like they want it—even running against the grain of the standard brewery-business formula—they believe that people will come.
"We will never be mainstream," Cocalis says, "but we have faith that enough people will be genuinely connected to what we offer. And that connection holds so much value. It is priceless."
Mom and Pop
Taylor and Dan met at a cheese shop in 2007. She was in New York after traveling to Italy to finish her master's degree in food culture and communication. He was living in Brooklyn and getting seriously into homebrewing. They both worked at Murray's Cheese, and they grew close.
There were still only four breweries in New York back then, and Suarez was knocking on every door they had, offering to scrub out mash tuns or help with anything at all. He found Sixpoint to be the most welcoming, offering feedback on his homebrews, and they eventually offered him a job. Soon, he was brewing variety on their pilot system in Brooklyn, even as they were growing via contract brewing at Lion in Wilkes-Barre, Pennsylvania.
It was through Sixpoint that Suarez met Shaun Hill, who in 2010 was busy setting up his own brewery in Vermont. The two connected, and Suarez went there to help Hill set up the brewery. By February 2011, Hill had hired him as assistant brewer—Hill Farmstead's first employee. They formed a strong collaborative relationship; their travels to Belgium also strongly influenced Suarez's idea of how a small, family-run brewery could operate at its own rhythm, without being driven to grow quickly or chase the latest trends.
"I have a deep reverence for the small, antique brewing culture of Europe," he says. "I don't want to mimic everything they do in Europe, but something that really has made an impression on me is the small family brewery in a little, non-populous area that appeals to a very small market—the hometown beer of a very small area. … It's highly regional and special to a place."
The couple moved to Vermont in 2011, and they enjoyed rural life there. The decision about where to start their own little country brewery became easier after Suarez's brother Nick and sister-in-law Sarah set up the highly regarded Gaskins restaurant in Germantown, New York, on the Hudson River. Suarez helped install the draft system. Soon, they had spotted an intriguing vacant building that had once been a lamp factory.
Since 2016, that red-brick rectangle just across from a cornfield has been the home of Suarez Family Brewery.
They call it a mom-and-pop operation, and that's accurate. The pair have owned the business only a month longer than they've been parents, and they keep the crew small. The family atmosphere is genuine, and the couple remain fully involved in the day-to-day.
"We're the opposite of every other place," Cocalis says, "because every other place is, 'Well, let's just hire more people.'" Instead, they try to ask, "How can we do what we do without hiring more people? Because once you hire more people, then certain jobs become just managing other people, instead of being able to do the work that we like to do."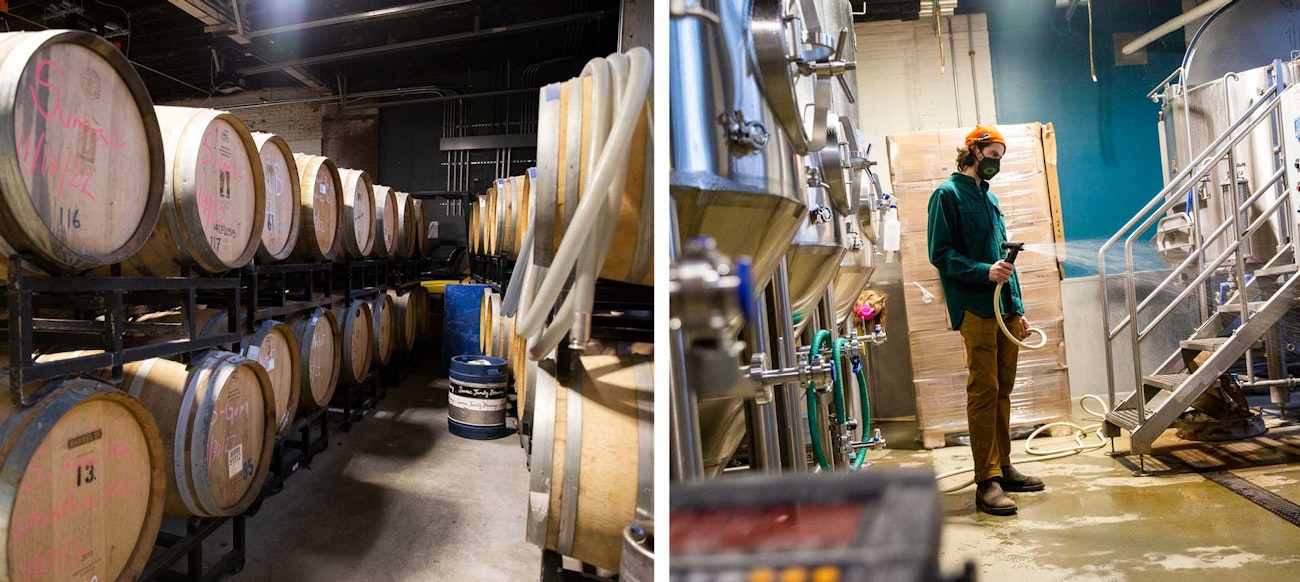 Crispy Little Beers
The work that Suarez likes to do is brew, and he has a particular fondness for characterful yet easygoing lagers.
The visual of a glass of lager from Suarez Family Brewery is immediately endearing—an elegant willibecher filled with 25 centiliters of golden liquid, with extra space for a tall, pillowy cap of foam, the hand-drawn Suarez Family logo scrawled on the glass. That allure helps to attract fans, but it wasn't always easy. However, a funny thing has happened over the past few years: Craft lager got cool.
"When we were planning the brewery, it was absolute lunacy," Suarez says. "Nobody was brewing lager." The lone exception among small breweries was Brooklyn's Threes, which opened a year before Suarez Family and had a flagship pils. "It was rare. And I was starting a brewery and wanted to make lager because that's what I like to drink."
It was difficult to sell for the first year or so—at first, New Yorkers didn't want to pay craft prices for pilsner—but the buzz didn't take long to build. Today, the unfiltered, German-inspired Palatine Pils is their top seller. "In our business plan, it was like 50 percent lagers, 25 percent pale ales, and then 25 percent mixed-ferm," Suarez says. "And I would say we're about at that ratio now."
He is naturally drawn to lower-strength classic styles, including pale ales, saisons, milds, and stouts. (Lately, he says, he's often drinking Guinness.) The brewery also is known for its mixed-culture, oak-aged beers, often featuring local fruits, herbs, or other botanicals—peaches, rhubarb, lemongrass, berries, cherries, and more.
Yet Suarez's passion for tinkering with lagers continues. Recently, that's included Sensate, a "smoked" helles inspired by Schlenkerla Helles Lagerbier. As with that beer, the smoky character comes not from smoked malt but from the yeast slurry, re-pitched from their own dark smoked lager, Stands to Reason (another Bamberg-inspired beer that does, in fact, feature smoked malt).
And, even today, there is nary an IPA in sight. "That would defeat the whole purpose for me," Suarez says. "So yeah, we'd be able to sell it all—that's obvious. But, you know, it kind of goes against why we do this in the first place."
Limiting the draft options at The Tap also was an experiment. While it runs directly against the standard American approach of offering as many choices as possible—and, inevitably, a few people are disappointed when they try to order a flight—Suarez and Cocalis say the vast majority of their customers have enjoyed that change.
"I love everybody drinking the same thing," Suarez says. "Also, just taking the choice out of it from the consumer standpoint because we put on what we're excited about. We put on the best beers. … We give a long time to all our lagers, so we can taste in the tank if something is going to be really good. And then: 'Oooh, let's fill a bunch of kegs of this for The Tap!' And just making it less about beer and more about the holistic experience—the social aspect and the vibe. … But there's no choice or anxiety about it."
Also, like a Franconian beer garden that serves only kellerbier, there is an old-fashioned kind of hospitality to offering only the best thing they have. "If you go to your friend's house for dinner," Cocalis says, "you're eating what your friend's making for dinner. And there's so much about all the operations that we have here, whether you go to The Tap or whether you go into The Shop, it feels a little bit like you're going into someone's living room."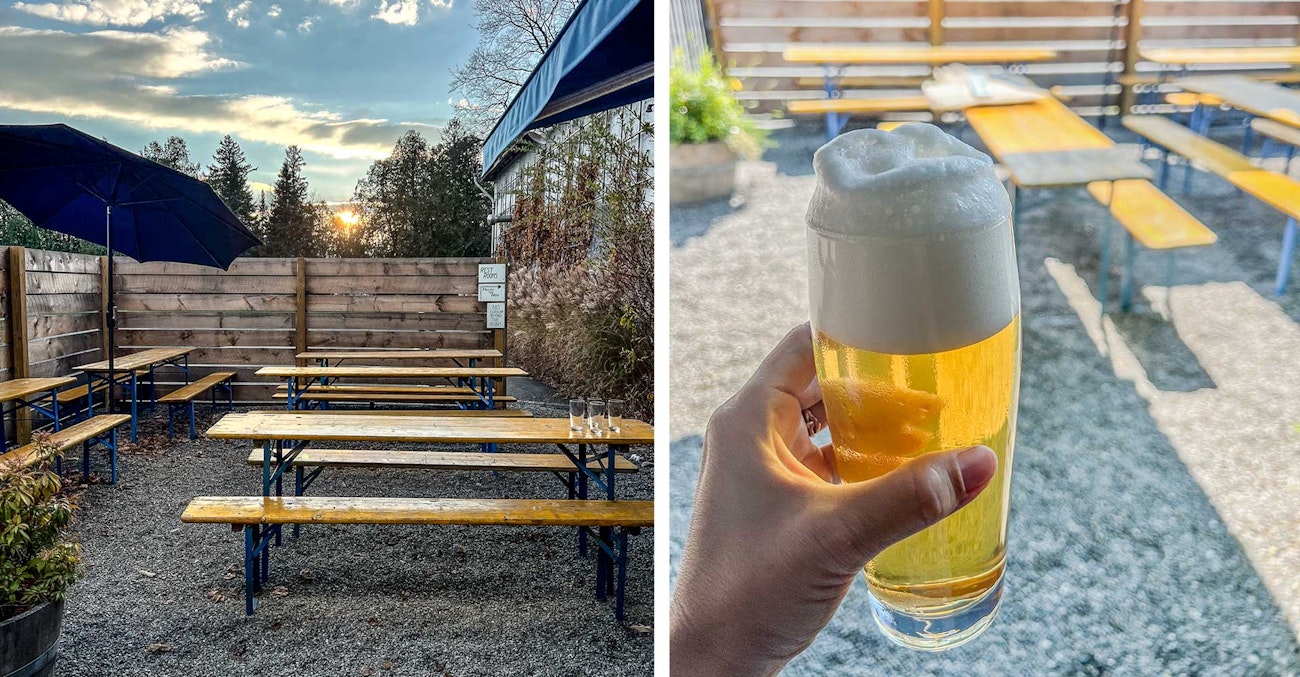 Keeping the Faith
There's another word that Cocalis says she likes to consider when they make business decisions, and that word is "enough."
"What is enough?" she asks. "We live in this capitalist culture where it's, 'Okay, more, more, more! Growth, growth, growth!'" Yet their whole business is an experiment in a different way. "How can we triangulate to find the space where we're hopefully doing work that we enjoy, and we're sharing it with people who appreciate it? And the people who are working here can have both a life inside of work and outside of work? And how can we operate in a way where we're producing just enough beer to be able to make that work, and we're open just enough days of the week to make that work?"
Many decisions that altered or simplified the business were COVID-driven—and if those changes stick, it's because they like it that way. Moving the business forward from 2020 at times feels "painfully slow," she says. "The pandemic years have been a challenge, but I keep resisting the strong urge to 'go back.'"
Those changes have included eliminating tips, moving the crew to salary, reducing wholesale beer sales, getting a license to ship by mail order, and running The Tap with just that one beer on draft.
Selling beer through the mail in New York started as a "pandemic privilege," and beginning in March 2020, they could sell more than 300 cases in about 20 minutes. It was a lifeline, helping the brewery in terms of revenue and moving inventory. That initial flurry inevitably calmed down, and in June 2021 the state declined to renew the executive order that allowed those mail-order sales without a license. It took nine months to reorganize, apply, and successfully get a license; these days, the brewery sells about 50 cases per week via mail order.
Another development: Another Moon. Suarez's first hire in June 2016 was Matt Moon, and now he is brewing his own beers—chiefly saison and bière de garde—at Suarez Family Brewery under the label Another Moon, through an alternating proprietorship arrangement.
"It's been fun to watch it all unfold—seeing the decisions he makes, and the ways in which he engages in the community," Cocalis says. "I am learning a lot from him and just appreciate the creative energy he brings to it. It's also been interesting to see how his work at [Suarez] has changed as a result. Just different levels of awareness about the hidden things that Dan and I do—regulatory, ordering, scheduling, maintenance, etcetera. It just feels like there's been a shift, where he's become an even more integral part of the brewing operations since he got Another Moon up and running."
The next big shift, Cocalis says, is to separate The Tap and The Shop into different visitor experiences. Essentially, they don't want their taproom experience to include a stock of packaged beer, and they don't want their shopping experience to include a bar. "We've been eager to separate these for a long time, as they never really belonged together," she says. "We want to do justice to each experience because they have wildly different service needs."
Shutting down The Tap this winter is part of that process, as they focus on operating The Shop in a section of their original indoor tasting room. In the meantime, she says, they'll renovate their back building to expand The Tap into a contiguous indoor-outdoor space. "That way, we can use the six-plus years of experience to really build out a space that better serves the people who work here and the people who come through here."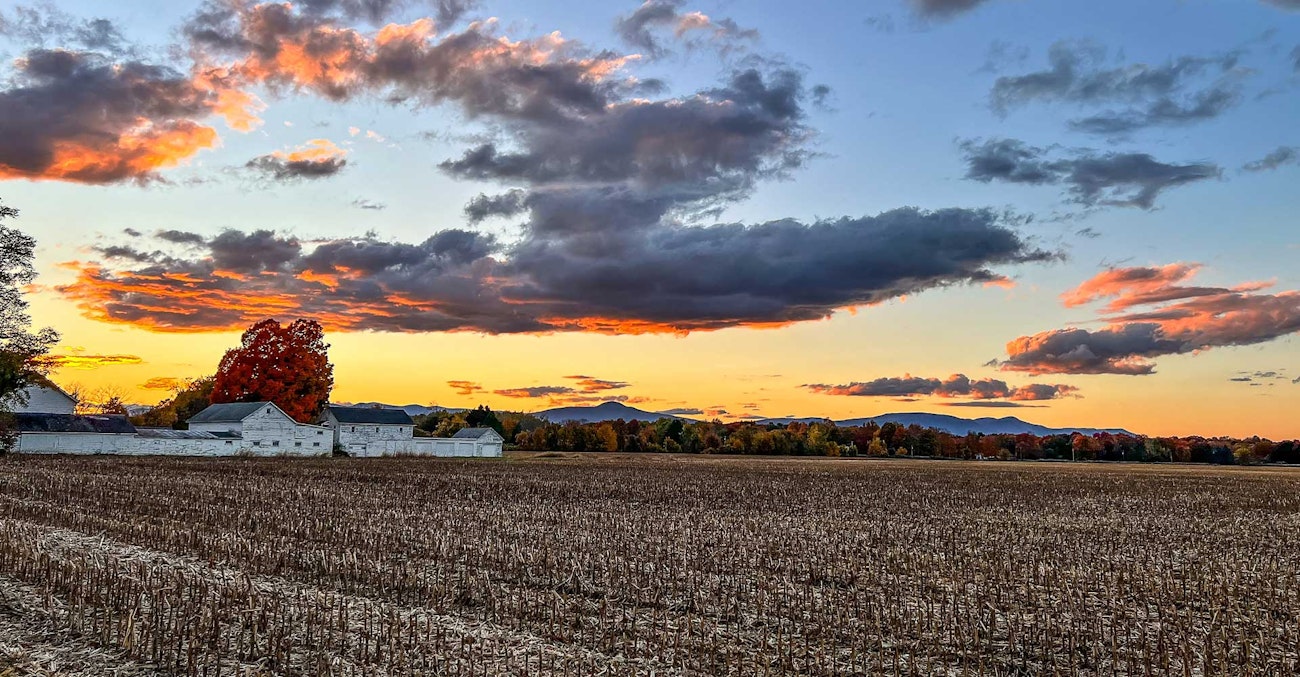 There is some vitally important context to their incremental, deliberate pace of shaping their business: family. Their first child, Enzo is six, about a month younger than the brewery. Their second, Mira, is two-and-a-half, born less than two weeks after the pandemic closed the tasting room, when they shifted to drive-through and packaged beer to-go. They even took parental leave—both of them, at the same time, for few weeks—while the crew kept the business in order.
Everything since then … well, what's the rush? After all, what are the things that matter most?
"It's been a slow process," Cocalis says. "And we hear the calls of all of the kind people who miss the original tasting room and are dying for it to make a return. We understand what a special place it held in a lot of people's hearts, and we appreciate everyone's patience along the way.
"When Mira was born, we were much better about slowing down, taking the time that we needed—avoiding overextending ourselves and burning out, so that we can conserve our creativity for this project. That is the intimacy that you get when you experience Suarez Family Brewery. For better or worse, we are not going to be hiring a huge staff and outsourcing all these big projects—which means that it takes more time but that hopefully it is worth it.
"In today's culture of speed and unlimited choice and comfort and convenience," she says, "there's always that little voice that makes you wonder if we will become totally irrelevant, but we're keeping the faith.
"We can't be everything to everyone—but if we can be something special to just enough people, it's all worth it."