In Brooklyn's Williamsburg neighborhood, Talea's brewery and taproom practically shines on its corner, painted white on the bottom floor of an otherwise red-brick building. The interior is bright, too, with tables and benches of pale wood surrounded by picture windows and a smattering of thriving houseplants.
Really, it looks more like a café than a brewery—and it opens at 9 a.m., with coffee, tea, and pastries. On weekdays, people with laptops tend to hang around and work, use the wifi, have an occasional snack, and transition at some point from coffee to beer before heading home or out for the evening.
On Sunday mornings there's an event called Jazz Baby, where a musician works with toddlers to interact with, play, and dance around to jazz music. The brewery boasts plenty of stroller parking, and there are even "stroller specials" on Tuesdays, with discounts on snacks and flights—but only if you're pushing a wee one around.
In the afternoon or evening, however, you're likely to see groups of twenty- to forty-something women meeting there to taste their way through colorful flights, sharing sips and opinions about what they like best. In fact, according to responses from the brewery's rewards program, about 70 percent of Talea's patrons are women.
There are many different metrics for success. For example, Talea brewed about 1,500 barrels in 2021, 4,300 last year, and is on track to brew as much as 8,000 barrels this year. They opened their second taproom in 2022, in Brooklyn's Cobble Hill neighborhood, and their plan is to open their third one in the West Village, Manhattan, later this year. Word is spreading—national news outlets have covered their story several times—and their brand is along for the ride.
However, the feat that appears to evoke the most pride in cofounders LeAnn Darland and Tara Hankinson is the crowd they see in their taprooms.
They share an especially fond memory from the brewery's early days in 2021: A group of eight young women, apparently in their 20s, were visiting in the afternoon. "There was this woman wearing this tiny strapless top that was covered in white feathers, and heels," Hankinson says. "I was like, 'We've freakin' made it!' That girl thinks it's cool to come to our place, on a Saturday? She looks like she's going out—and she's drinking a flight of sour beers. This is so amazing for us to see that that person would [come here]. There are so many places that don't resonate with me, and the fact that our space resonates with that customer, and they brought a group of friends?"
Two years since opening, similar scenes have become commonplace. "This is what our experience is like," Hankinson says.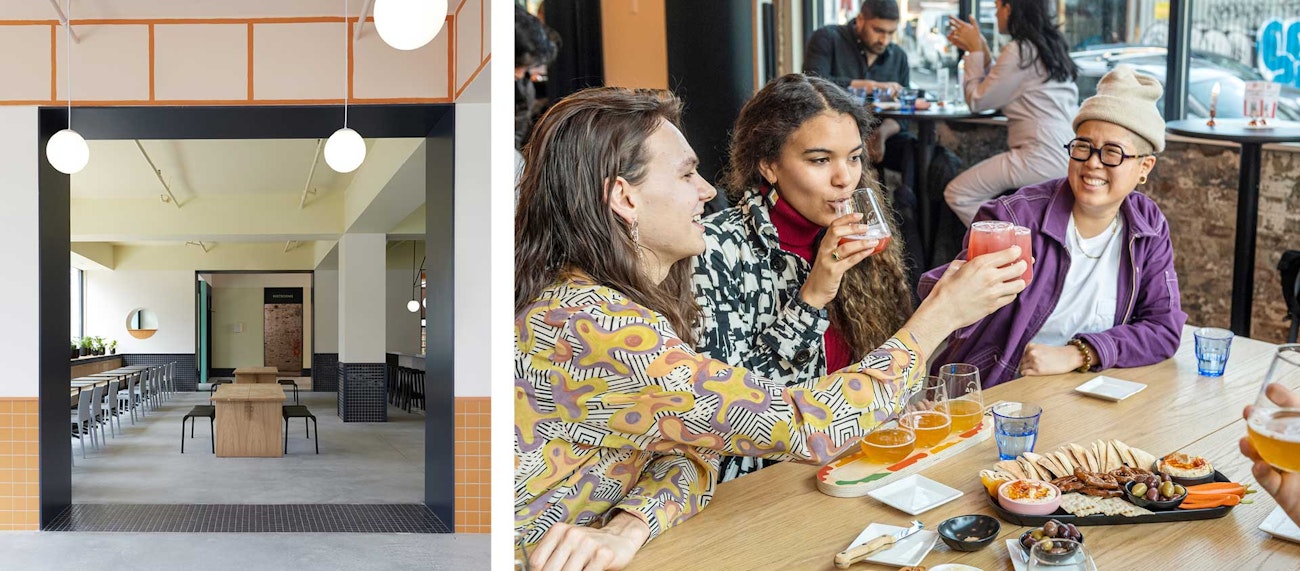 The Origin Story
Darland and Hankinson describe themselves as "avid homebrewers with MBAs," but that's a common enough blurb in this industry. It doesn't do much to explain the distinct trail that they've blazed.
Instead, we could start with the Navy—or the Playboy Club.
Originally from Ohio, Darland studied economics at the Naval Academy in Annapolis, Maryland, and earned a master's in finance at Johns Hopkins in Baltimore. She then became a signals intelligence officer in the Navy, stationed in Hawaii and then San Diego, doing an occasional deployment on a destroyer. The base in San Diego is on the Coronado peninsula, also home to Coronado Brewing—and that's what first stoked Darland's interest in craft beer. "My favorite style was, and still is, very hoppy West Coast IPAs," she says.
After the Navy, Darland moved to the Bay Area and went into corporate finance, working three years at Google. "Going from the culture of the military to the culture of Google was really eye-opening and a great experience," she says. "There are a lot of practices around investing in your employees—giving them the tools to succeed, giving them the freedom and ability to be creative in their roles." (Later, she and Hankinson would incorporate what Darland calls a "tech-centric employee benefit mentality," where employees get some stock in the company and the freedom to pursue other studies, such as Cicerone certification.)
As much as she appreciated the Google culture, Darland says she had no love for search algorithms. She was on an eight-day backcountry hike through the Adirondacks when she realized—at the age of 30, via those meaningful campfire chats with friends—that she wanted to work with something she loved: beer. She then got into homebrewing while taking night classes to earn her MBA from UC Berkeley.
She also went to work for a local e-commerce start-up called Hopsy. "At the time, it was just a growler delivery service around the Bay Area," she says. "I took a pretty significant pay cut from Google to join Hopsy as their head of finance. But I wanted that start-up exposure, and I wanted to be able to learn a little bit more about the craft-beer industry without just starting in a cellarperson role."
Hopsy moved into selling countertop draft machines and delivering mini-kegs that fit into them. The start-up got an infusion of investment from Heineken and moved to New York, and Darland moved with it. As Darland grew her team there, Tara Hankinson's resume was one of the first to cross her desk in 2018.
"So, it was another woman who was homebrewing and had an MBA and eight years of a more traditional corporate career," Darland says of Hankinson. "And she was also willing to take a significant pay cut and take a chance on this unknown beer company because, like me, she was passionate about craft beer, and very entrepreneurial."
Hankinson is a New Yorker with a family background in hospitality and wine. Her parents met in the late 1970s at the Playboy Club—her mom was a bunny, and her dad tended bar there while on a winter break from college. (Her grandfather was a professional lounge pianist who helped get him the job.) Her mom got into restaurant management while her father got into wine importation and became beverage manager at the Park Lane Hotel. Later he became an attorney, but Hankinson grew up around wine.
"Their stories about going to wineries were just as much about the people making the wine as what it smelled like, and all the quirky little things that happen when you go to a makers' space," she says. "I grew up with an appreciation for that and a love of cooking and hospitality. At that point, what hospitality meant to me is just hosting people in your home, thinking about what that person wants or needs, thinking about all the little details around it."
Hankinson started her career in the nonprofit world, but it didn't hold her interest. She started taking wine courses and soon was working on her MBA at NYU, focusing most of her assignments on wine- or hospitality-related projects. After graduating, she had a job lined up with a consulting firm, but she first went to work for the summer—for minimum wage—at the Wölffer Estate Vineyard in the Hamptons, just because she wanted to learn the business.
Ironically, spending the summer at a winery was what got her into beer.
One day that summer, she was at a restaurant having lunch with her boyfriend—now her husband—and decided she wanted a beer, except she wasn't that familiar with the brands. "I realized I'm just going to go with a glass of rosé because that's what I'm comfortable with, that's what I know. As a consumer, I felt way more of a connection to that glass of wine than I did to the beer.
"So, I also started thinking about [how] there were so few women in wine … but there are even fewer in beer. It sort of started adding up to me that there might be an opportunity there. Wölffer is also a very lifestyle-focused brand, and I think that's something that was missing for me in beer. My lifestyle wasn't reflected in the values that craft breweries were espousing."
Hankinson joined Darland at Hopsy, and soon the pair realized they had similar ambitions to start a brewery.
"We met in April," Hankison says. "By July, we had had one drunk night where we're like, 'We're gonna do it!' But we seriously were going to do it. … We are very different, but we are very similar. We have a big overlap on the Venn diagram of things that motivate us and make us tick, but we also have very complementary skill sets. Meeting each other was the catalyst."
Within three months, they had formed an LLC. Creating a brand and beers that appealed to women was their plan from the start. They named their company Talea, a mashup of their first names. By April 2019, a year after they met, Talea had released its first beer—a soft, hazy, fruit-forward IPA called Sun Up, initially contract-brewed at Torch & Crown in the Bronx, before that brewery moved to Manhattan. For months, Darland and Hankinson hand-delivered the beer themselves to accounts in New York.
Their goal was to prove the concept and raise $1 million for their brewery within six months. They did it in four, relying entirely on friends, family, and angel investors while leaning into their story and embracing it—a brewery founded by women and aimed at helping women feel more at home in the beer aisle and in the taproom.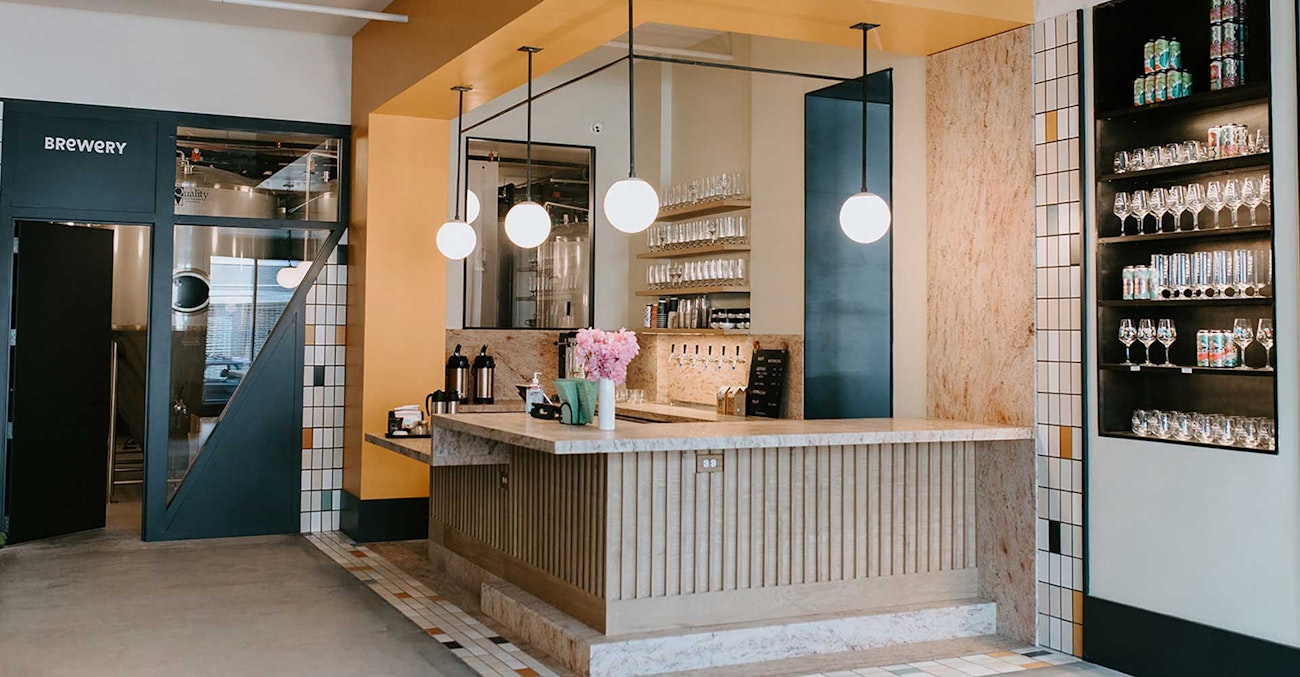 "Easy to Love" Beers
Talea specializes in easy-drinking, low-bitterness, fruit-forward beers—approachability is key.
The brewery in Williamsburg is a three-vessel, 20-barrel system; they have thirteen 40-barrel fermentors plus two brite tanks in the cellar. Darland and Hankinson plan the schedule, while coming up with new beers is collaborative. They're happy to leave production to head brewer Eric Brown and his team, Greta Hucek and Josh Velez.
"We've never pretended to be professional brewers," Darland says. "I was a pretty terrible homebrewer—I don't think I ever cleaned everything well enough. … But we have a very talented brewing team, and we're releasing about two to three new beers every week."
Talea does a healthy business in flights, and for many casual visitors, they're part of the attraction. They're not cheap—$22 for four pours of four ounces each, or add a fifth for $5—but there is more labor involved, and there is obvious appeal in the rainbow-like arrays of sampling glasses. Do you go for the Sour & Fruity flight, featuring the Watermelon Wheat and three sours flavored like strawberry lemonade, pineapple-papaya punch, and banana split?
That last is part of their Tart Deco series of fruit beers. "It's what we call the Talea Challenge beer," Darland says. "So, anyone who walks into this space and says they hate beer, they don't want beer, 'Let me have a glass of wine,' we'll convince them to first try a Tart Deco." The banana-split beer, she says, is "brewed with a decent amount of milk sugar. So it's pretty tart; it's a little sweet. It's like, 98 percent of people like those flavor profiles."
Hazy IPAs can be crowd-pleasers, too, but they also help to pay the bills, getting them into New York accounts that can always sell a locally brewed hazy IPA. Meanwhile, they're happy to be known for those tart, juicy fruit beers. "That was the idea," Hankinson says, "to get those fruit-forward, low-in-bitterness flavor profiles that are more akin to a cocktail or a glass of wine, or that are inspired by drinks outside the hazy IPA realm."
They are comfortable thinking about their products in this "fourth category"—not quite beer, wine, or spirits—that blurs those lines in favor of easily recognizable flavors. For example, for women's history month in March, the women of Talea came up with a spicy margarita–inspired beer—featuring habañero and even some smoked malt to evoke mezcal—checking in at 7 percent ABV.
Because this flavor-forward approach has been successful, it necessitates a certain way of thinking about new beers. If we brew a lager, for example, what's a Talea lager taste like?
Interestingly, their top-seller isn't one of those fruit beers, nor is it their flagship hazy IPA. The No. 1 is now their Italian-style pilsner, Al Dente, dry-hopped with Saphir. Darland describes aromatic notes of rosemary focaccia. "It does pair well with so many different kinds of foods, and it's so much more complex than just a plain pilsner. … Right now we're brewing and packaging about 40 barrels of that every week. And yeah, it's delicious."
They say they don't want Talea to become a brewery that brews every style—"because," Darland says, "if you brew everything, are you brewing anything really well?"—but they don't mind balancing the fruit beers and fruit-forward hazies with some lagers and other classic styles. For example, they also brewed a Guinness-inspired, 4.2 percent ABV oyster stout, using shells and all. The proceeds are going to the Billion Oyster Project, a nonprofit working to restore oyster reefs in New York Harbor.
There's another benefit to brewing the classics: "It keeps things interesting for our production team," Darland says. "It keeps them learning and engaged. So, we're just kind of rolling with it right now."
Meet Your Market Where They Are
Clearly, a Talea taproom isn't a cold industrial space where you have to find the counter, try to figure out what all those words mean, guess how that might translate to what you're going to drink, and hope for the best. Ideally, there's no need for translation.
Hankinson says they aim for more of a "traditional hospitality model," with people to greet you and printed menus with today's flights. "It's really important to us that anyone with any level of beer knowledge comes through the door and feels like they can be empowered to make decisions about what they're drinking, feels comfortable, feels included."
They also love their role as a daytime spot for parents with small children. "We get a lot of comments for having the best changing table in Williamsburg," Hankinson says.
Part of how they've built their initial following is by offering tastings at unconventional places and events. Among others, they've set up tastings at the corporate headquarters of SoulCycle, Elle magazine, and a women-focused co-working space called the Wing.
"Women are underrepresented in craft beer in every facet," Hankinson says. "Underrepresented in the production teams, underrepresented as owners and operators, and underrepresented as drinkers." They estimate that about 30 percent of craft-beer drinkers in New York identify as female. "So, if we can actually go where these female consumers are and get them to try the beer, educate them, and create a brand that attracts that customer, we think we can get traction."
At many of those events—such as one at Chief, a club for women senior executives—the people they met were much more used to drinking wine "We found that when people actually tried it," Hankinson says, "they would say things like, 'I didn't know a beer could taste like this. I've never had a beer like this.'
"So, it seemed to us that our hypothesis was validated," she says. "It wasn't actually the liquid that was the problem, it was the way it was being presented."
For now, their plan is to dig deeper into the New York market—but longer-term, they can also see that there may be wider appeal for their approach. "We hear it all the time, that X city needs this. 'I'm visiting from Denver; we don't have anything like this.' 'I'm visiting from Chicago; we don't have anything like this.' So, we think the appetite is there, and the opportunity is there.
"And we do think that being two female founders—of the 9,000 breweries today, [fewer than] 3 percent are owned exclusively by women—is a key component to our success and being able to speak genuinely and authentically to our target customer."
That also comes from their team. About two-thirds of their total staff of 65 people identify as women. Among their 20 full-time staff, 17 are women.
When asked how more breweries might do a better job of appealing to women, the two cofounders have a blunt answer: Include women in your ownership and leadership teams.
"That has to come from a place of authenticity," Hankinson says. "It's difficult to attract customers if you don't have those minds represented at the table."