Get out your beer-experience bucket list and scribble in a new one: a brown ale, a carrot dog, and some bowling at Wild Fields Brewhouse in Atascadero, California.
It's located in a former bowling alley. The original lanes are long gone, but Jacque and Ryan Fields installed some mini-lanes as well as some air hockey, arcade games, foosball, giant Connect Four, and a romp zone for toddlers.
That carrot dog—aka the Brewhouse Bahn Mi—fits the all-are-welcome ethos as one of several vegan options on a menu that also ranges into carnitas nachos and "redneck charcuterie." (Naturally, there's a kids' menu.)
However, those are all just welcome bonuses. The beer is the linchpin of the pilgrimage. Among the 20 taps pouring house beers, there are likely to be at least two brown ales, a Mexican-style lager, and a Scottish-style ale—and all four of those were medal winners at the 2022 World Beer Cup. Not just medal winners, in fact—all four won gold.
Then, at the recent Great American Beer Festival in Denver, three of those beers won gold again, propelling the Wild Fields team to Brewery and Brewer of the Year honors in the 501–1,000 barrel category.
That run of four at the World Beer Cup was a nearly impossible feat that no independent brewery had ever accomplished. Firestone Walker almost pulled it off in 2018, with three golds and a silver. Miller Brewing appears to be the only other company to take home four golds, among a haul of seven total World Beer Cup medals for various mass-market lagers in 2006.
Yet if we're comparing Wild Fields to a global giant or even to their accomplished neighbors in Paso Robles, consider this: Founded in 2020, Jacque and Ryan Fields' brewpub produced only 600 barrels of beer last year. This year, their goal is 900.
No doubt, some of that beer has been enjoyed by those who've heard about their success—including no small number of fellow brewers.
"It put us on the map," says Jacque Fields, the brewery's CEO. "We are right off the highway. Now, people are more aware—they've seen the sign for Atascadero, and they've just gotten off. Like, 'We knew you were in Atascadero, so we just pulled off the freeway as we were passing through.' It's been fun.
"We always dreamed that that's what this place could do. We definitely needed it after a shitty two years, just like everybody else."
The Path to Launching a Winner
Wild Fields opened in late 2019, about five months before the pandemic hammer dropped. That opening was a long time coming, and the Fields' road to get there began more than a decade earlier.
Before she was old enough to legally drink beer—and even before Beachwood BBQ was brewing any—Jacque Fields was working there, serving food and drinks and gradually absorbing an education in craft beer. She went on to get a more formal education in community engagement at the University of California Irvine—where there was a craft-beer bar, the Anthill Pub & Grille, right on campus. While there, she even wrote a research paper focused on that pub about how craft beer can foster social engagement. After college, she put her degree to work for Big Brothers Big Sisters.
Ryan, meanwhile, had graduated with a physics degree from UC San Diego, but he wasn't interested in pursuing a related career. "I was missing passion in my life," he says. A fateful moment came soon after graduating, when he visited The Lost Abbey taproom in San Marcos.
"Kind of just the right place at the right time," he says. "I was late because my MapQuest directions that I printed out weren't doing me justice." When he got there, cofounder Tomme Arthur was at the bar drinking with his team, so he joined them. They hit it off, and at one point a bartender suggested that Ryan should work there. Arthur said, "You know, we could use another bottling-line person." Ryan sent in his resume the next day and got the job.
Almost immediately, he knew he wanted to work in the industry. After a year of working hard and learning anything he could from Arthur, he became a lead brewer. While there, he also met people from Beachwood—including Jacque.
Not long after that, a head brewing job at Pizza Port San Clemente opened, and he went for it. "I mean, who wouldn't want to be a head brewer at a Pizza Port?" he says. "It's kind of like the ultimate job, especially when you're working your way up through the industry."
Ryan and Jacque lived together in San Clemente, where he brewed for three years. Then one day he heard that Beachwood Brewing was starting up its Blendery—and Ryan missed working with Belgian-inspired, mixed-fermentation beers like he had at The Lost Abbey. He asked about it, and soon Beachwood founder Gabe Gordon and brewmaster Julian Shrago had hired Fields to help spearhead the Blendery, "which was just an awesome experience to be able to do that," he says.
By then, however, he and Jacque already were thinking about a longer-term plan. They were expecting their first baby and considering, at times, whether to move back near Ryan's hometown of Templeton, just north of Atascadero, "to raise our kids and do the family thing," he says. "So, I told them from the beginning, 'I'll give you five years. That's as long as we can live in L.A. County.' … We knew we wanted to land up here."
Jacque was still with Big Brothers Big Sisters, but the community engagement she missed most was the kind that Ryan and their friends had at the Blendery. "I would get really jealous of Ryan and all the people he got to see and talk to and meet every day." She went back to tending bar, but soon another opportunity beckoned: Her experience made her a good fit to become executive director of the Orange County Brewers Guild. Suddenly, she was more connected than ever to the industry she had missed—and she was learning more all the time about the wants, needs, and obstacles that face local breweries.
Meanwhile, Beachwood Blendery was winning medals on Fields' watch, culminating in gold at the Great American Beer Festival in 2018 for the gueuze-inspired Funk Yeah. By then, however, Ryan and Jacque were ready for their own dream to take firmer shape. "After having kids and just building other people's breweries and working really, really hard," Ryan says, "we're like, 'Why don't we just do this for ourselves instead of for someone else?'"
"And they all told us we were crazy and not to do it," Jacque says. "We did it anyway. Because we're special."
The Little In-Between Town
Atascadero, population 30,000, is practically the midpoint between Los Angeles and San Francisco—you can't get more Central Coast than that. It's also a midpoint between nearby Paso Robles and San Luis Obispo. Jacque describes it as a "bedroom community" with lots of families—and that's who they knew they wanted to welcome. "Our concept is to bring people together, regardless of beer," she says.
While working in Orange County, the couple already were thinking of moving to the Central Coast. However, the trip that sealed that deal was in April 2018, when they drove to Atascadero to pour Blendery beers at the first annual Central Coast Beer Fest. They couldn't help but notice that the city was offering the fest a free venue while helping to cover security and marketing for the event.
"Okay, Atascadero," Jacque says she thought at the time, "you seem really excited about beer." She made an appointment with city officials to ask about zoning and explain their plan for a family-friendly brewpub. "We were looking for the right partners. Your city is important—they're very important. They can make your life really hard if they want to. Luckily, their development director was super excited about our concept."
Atascadero already had some experience with breweries and knew that a brewpub could be a draw downtown. "This is our general plan," the official told Jacque. "This is where we're headed downtown. And here's this landlord's number; we would love to have you here."
The next day at the festival, they already were asking themselves, "Is this for real? Is this where we're going to end up?" Jacque says. "So, we just started poking around, [asking] folks at the festival, 'What do you like to drink?' Because we were only serving sour beer with the Blendery. 'What's your favorite style?' And people were like, 'I love red ales and brown ales,' and they were open to trying his sour—not pooh-poohing it, and not being pretentious."
They both felt it: "I think this is the place."
Two weeks later, Jacque says, they came to see the location for themselves—a former bowling alley where Ryan had bowled in his youth. "And pretty much everything just ran full steam ahead after that."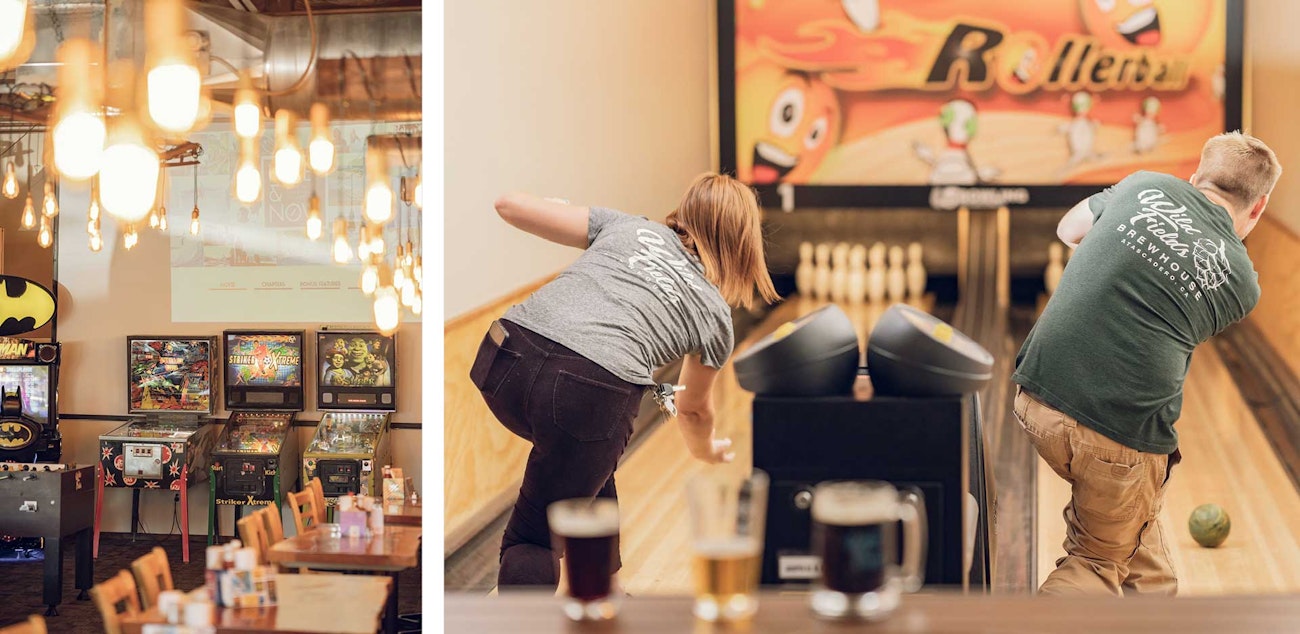 The Winning Approach
No small brewery expects to win four gold medals at a major competition, ever. Yet neither does it happen by accident. Behind the success of Wild Fields is a methodical, meticulous approach to quality and—when it comes to entering competitions—a bit of strategy.
The brewery's first major medal came in 2021 at the Great American Beer Festival, where its malt-forward, easy-drinking Pine Mountain Monolith won gold for English-Style Brown Ale. Named for the mysterious art installation that made national news in 2020, the same beer won gold again at the World Beer Cup in Minneapolis.
A second brown ale won gold there: the hoppier, more American-style Three Bridges. So did Atascadero Beach—a Mexican-style lager brewed with flaked corn—in the American-Style Cream Ale category, and finally so did the Scottish-style ale Magic Swirling Sip. Notably, Pine Mountain, Monolith, Three Bridges, and Magic Swirling Sip are the trio that repeated their golds at GABF.
There are common threads to these beers, but plainly the most important one is Ryan's careful approach to brewing them. He also gives ample credit to Arthur at The Lost Abbey and Shrago at Beachwood for teaching their approaches and shaping his own. "I think it starts by getting to learn how to brew from some of the best people in the industry," he says.
Here are some of Ryan's main areas of emphasis:
Every Wild Fields beer gets a 90-minute boil, to promote clarity and help get rid of DMS precursors. "I've never seen any negative effects from boiling longer," he says.
Almost all their beers get hops in the whirlpool for extra flavor and a smoother contribution to bitterness.
High attenuation is a big priority. "Everything we do is definitely on the drier, crisper side—and evidently that just tends to work well at the judging panels."
Water profiles get an intentional, detailed approach. "I think that water chemistry is what takes a good brewer and makes them a great brewer," he says.
He mainly uses just two yeasts: an ale strain—"Cal Ale is a workhorse and does what we need it to do," he says—and a lager strain, Wyeast 2124 Bohemian Lager. That's basically it.
Clarity comes from cold time in the brite tank and some Biofine, not from filtration. "We're not in a rush to pull beer through our brite tanks, at least at this point," he says. In the brewpub, thankfully, "we're not in a huge rush to produce massive amounts of beer."
He works to minimize oxygen at every stage. "Everything we can do to prevent oxidation, we'll do."
When it comes to entering competitions, however, there is even more to it than making clean, great-tasting beer that finishes dry and looks great in the glass.
In part, Ryan and Jacque say their focus on brewing classic styles for the locals gives them an edge "because … what really wins medals is brewing beer to style," Ryan says. "It doesn't really matter how good the beer is if it's not fitting exactly in that style category." He says that includes everything from understanding the history of the style to what flavors are being described in the guidelines—knowing, for example, that your Mexican-style lager should match judges' expectations for the flavors of an American cream ale.
"We like to have fun and do some experimental or newer-age stuff," Ryan says, "but for the most part, our focus is more on traditional beer." That helps at competition, in contrast to categories that may be trendier and more competitive, or those that are simply more open to judges' interpretation. "It's pretty obvious what an English brown ale is," he says. "There's not a lot of deviation there."
However, he says, their embrace of traditional styles is first and foremost for their local customers.
"It started with our mentality about beermaking for here," Ryan says. "And then it just translated into [competition] easily. I'm able to make two brown ales, a Scottish ale, and an oatmeal stout and all that back-to-back because I know we'll be able to sell them."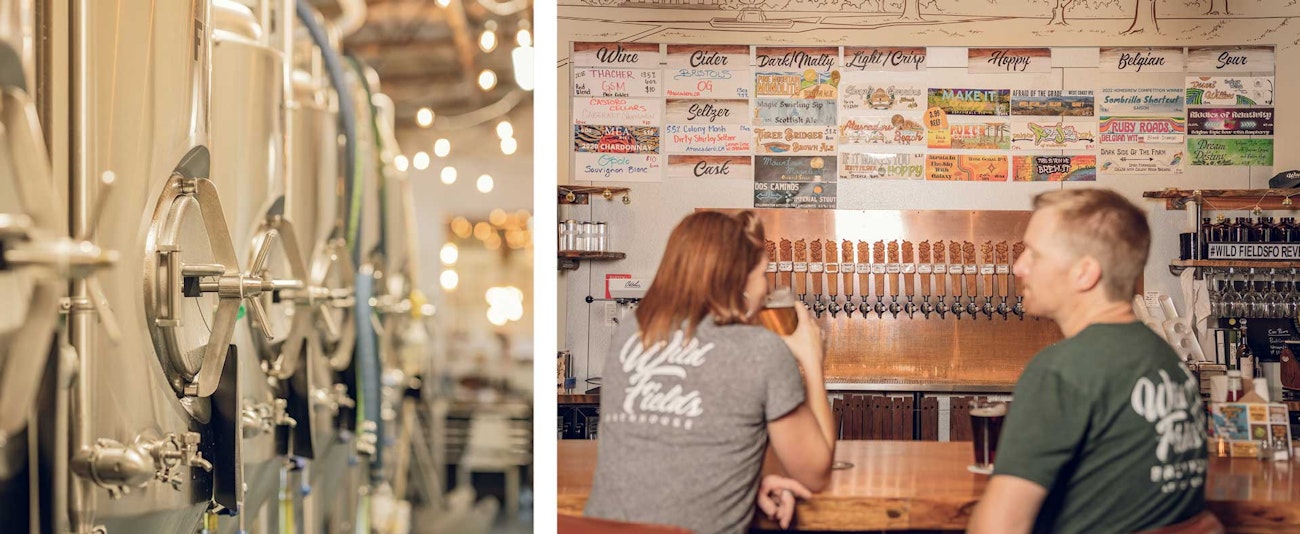 The Day the Impossible Happened
For now, there are only two people on the production team at Wild Fields: Ryan Fields and assistant brewer Kayla Morrow. Like Ryan, Morrow is a local; she grew up in Atascadero, and she's one of two employees—along with kitchen manager Jon Aguilar—who's been with Wild Fields since Day One.
In May, Ryan stayed home with their two young kids and their business while Jacque took Morrow with her to the Craft Brewers Conference in Minneapolis—and to the World Beer Cup awards ceremony. "I got to take her to the conference, which was so cool, and so eye-opening for her—I remember my first time doing those things. And I told her, when we were getting ready for the award ceremony, 'We're not here for us. We're here for our friends. It's not about us. It's about our industry just kicking butt—so, we're not sad at all, whatever happens when we walk out of here.' Good expectations to have, right?
"And then when Atascadero Beach won, we were just bawling and hugging. We're like, 'That just happened. This is happening.'"
She called Ryan and said, "I'm going to go get your medal now."
He replied: "It's our medal."
"So, that was enough for us," Jacque says. "Kayla and I, we were so stoked. And then the next one was Pine Mountain Monolith. And that was rad—'Oh my gosh, another beer.' … At that point I was texting, 'Is this real life? What is happening?'
"And then it was Magic Swirling Sip."
They were sitting with Jill Davidson, Pizza Port's senior sales manager, and some other friends. "Everyone was like, 'You're going up there again?' And I was like, 'No, no, no we're not.'" Because none of it seemed real to them. Meanwhile, there were beer samples lined up for folks to enjoy; Jacque and Kayla did a hard seltzer shot after each award, assuming that there would not be another one. After the third, Jacque's bladder was full.
She and Morrow were saying, "Hey, we're done. Clearly, we're not getting up there again." As Jacque was making plans to go to the bathroom, they announced the fourth medal.
"'This can't be. What is this? What is this world?' So, Kayla and I—we honestly can't. I have to go pee. So, I go to the bathroom. We know the way in the back door to get [the award]. We go and get the fourth one." Her thoughts at the time: "This is not happening. They must have made a mistake. I don't know what to tell these people."
Afterward, Morrow and Jacque went out to the lobby and just sat on the floor with their medals, trying to come to terms with what had just happened.
Morrow, born and raised in the town where she had helped brew these beers, asked, "Did we just put Atascadero on the map?"
"Yeah," Jacque said. "I think we did."