Augie Carton, the founder of Carton Brewing Company (Atlantic Highlands, New Jersey), thinks of contract brewing in culinary terms. "I approach everything from a culinary perspective, the way chefs do. It's cooking when we are making beer. The great chefs can walk into any kitchen and make a great dish when they know the limitations. I have nothing to hide about working in someone else's kitchen."
Why Contract Brew?
Sleeping Giant Brewing Company is a large contract-brewing facility in Denver, Colorado. According to President Matthew Osterman, the majority of their successful contracting customers turned to contract brewing when they found themselves out of capacity, wanting to package, wanting a dedicated contract-only brand, or wanting to operate a taproom only.
Out Of Capacity
The most common case in which breweries have found success in contracting involves growing capacity and/or brands. For instance, Carton Brewing contract brews what they call "fridge beers" at Two Roads Brewing Company (Stratford, Connecticut) in 300-barrel batches. They have chosen six specific beers with more shelf stability that are designed to be brewed at that scale with the purpose of being the consumer's everyday beer. This strategy frees up their 15-barrel brewhouse to produce some of the more specialty and high-end styles.
Contract breweries can also be a bridge to geographic expansion. Says Carton, "We started our brewery to serve our neighborhood. Our neighborhood has since grown to our state." Contract brewing was the quickest, most efficient way for Carton Brewing to expand their distribution while they look at expanding their brewery (they have now been looking for four years).
Contract breweries view it as a successful partnership when they can help you grow to thousands of barrels, positioning you for brewery expansion or even acquisition.
Let's Package and Distribute
Another case in which breweries have found success in contracting involves moving into distribution or moving away from the limitations of mobile packaging. Making the move to packaging means a capital investment to put in high-quality packaging equipment, storing the packaging materials, and hiring someone with the technical abilities to run the equipment. The risk of doing so with a $300K+ packaging operation is not something that a lot of breweries are interested in taking on, and contract brewing is a great way to test the market with a packaged product.
Contract-Only Brand
Yet another case in which breweries have found success in contracting is when the brewery wants a dedicated contract-only brand. Sleeping Giant brews a couple of contract-only brands, and from Osterman's perspective, it's a question of whether you want to be a taproom/bar and part of your community or whether you want to sell beer as a distributed brand. "If you have $1M and you want to, build a brewery," he says. "Or you can spend $0 on the brewery and spend $1M on marketing. Good beer doesn't get the trick done anymore. You used to be able to have good beer or good marketing. Now you need both."
The approach Jeremy Cowan of Schmaltz Brewing Company took was more grass roots–focused when he got started. "My idea was so simple—just make one or two beers—but it didn't really work. We never got the volume up enough. I needed four beers and much more interesting beers when increasing prices and margin."
Taproom Only
A much less common (or successful) case in which breweries have turned to contract brewing occurs when the individual wants to operate a taproom only with no onsite brewing. In this case, if you work with a traditional contract brewer, batch size and volume are going to be a challenge. This model really only becomes feasible if you have a close relationship with a nearby brewery. The upside to doing a taproom-only model with contract brewing is your cost of inventory should be about 65 percent (about $110/keg vs. $170/keg) with some upfront capital costs (keg inventory, ingredients, branding/marketing). It's a feasible way to test your market for an additional brand or a house brand. You also have the upside of having something that no other bar in town will have.
Choosing Your Brewing Partner
A contract brewery's assessment of a good partnership is similar to that of any investor evaluating a company. As a contract brewery, they won't make money on the first couple of batches with all of the upfront legwork to get your recipe perfectly dialed in, so it's an investment by the contract brewery to work with you. Some of the questions they are going to ask include
Who is the team behind the brewery?
What beer has been brewed to date?
How fast are those brands selling?
Why are you coming to a contract brewery?
What is your sales infrastructure to sell this additional beer?
Once satisfied that it's a fit, the contract brewery will develop a plan with you to ensure your success within a certain margin of error. It's worth noting that some contract brewers don't ask for a contractually binding agreement for barrels brewed. That means that if you tell the contract brewery that you will make 5,000 barrels next year and you make only 2,000 barrels, you will not be charged for the other 3,000 barrels. The contract brewery will, of course, want to work with you to align reality and your projections, but all of the risk is on the contract brewery.
Depending on your objectives, there are tradeoffs between going to a commercial brewery and going to a contract brewery. According to Sleeping Giant's Osterman, the two primary benefits of going to a contract brewer over a commercial brewery for contracting are:
Competition for resources in the brewery. In a contract brewery, the brewers making your beer are not competing with you for tank space, brewhouse space, packaging, or any other resources.

Ownership of the brand. Brewers are passionate about their product. When brewers join a commercial brewery, they give a lot of TLC to their beer and may not hold that same passion when they are brewing someone else's beer. In a contract brewery, the brewers understand that they will not become the face of a brand.
There are exceptions to every rule, but having been on both sides of the equation, Osterman says, "My personal experience is that you can't successfully contract at a traditional brewery that has its own brand. The conflict of interest is too great. Obviously, you can do it, and people are, but it's a challenge."
Although it may be a challenge, if the traditional brewery shares your commitment and brewing philosophy, the relationship can be excellent. For instance, Carton Brewing trusts Two Roads to make their beer since they have a similar methodology, commitment to quality, and countless batches under their belts of similar styles. Schmaltz's Cowan adds, "Two Roads is a wild success story because they are experts in the field. They are setting the standard for brewing for yourself and contract brewing for other people."
Since building their new 35,000-barrel facility, Schmaltz has been contract brewing about 75 percent of their capacity and brewing house brands for the other 25 percent. Cowan contract brewed his brands for fifteen years at other breweries, so he's seen the struggles of contract brewing at other facilities. That experience positioned him to construct a brewery that could handle contract brewing.
He notes that with a larger batch (100 barrels instead of 10), yields and efficiency are significantly better. In addition, with most contract breweries, you also get access to equipment and data you would otherwise not receive on your own equipment. From lab equipment to on-tank monitoring equipment, you can better track, analyze, and improve your beer.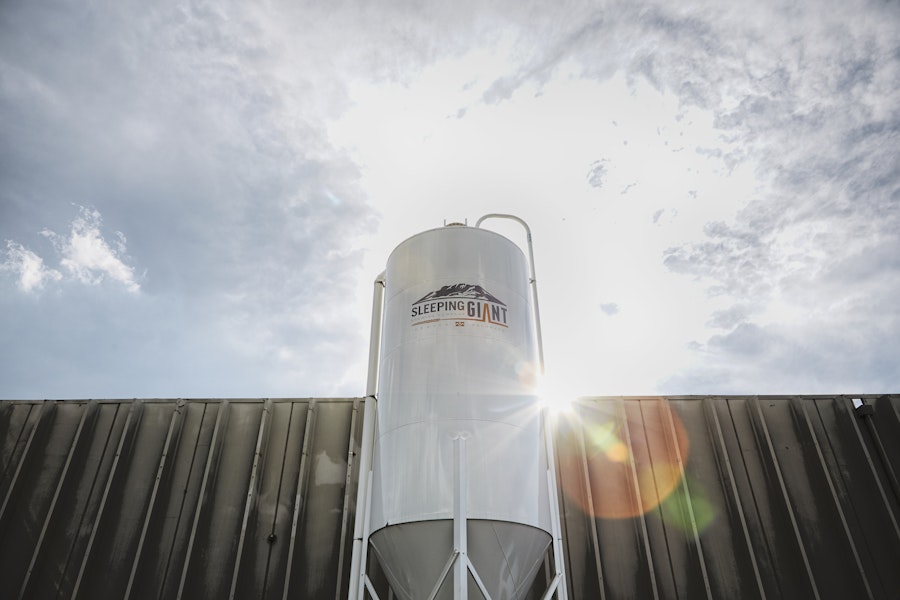 Pricing and Volume
As you explore the contract-brewing option, be aware that different contract and commercial breweries structure their contract pricing differently, and a number of factors can modify the price of a given batch (ingredients, tank time, packaging type, volume).
The relative consensus is that $180–$250/barrel fully packaged is a pretty standard range for common beer styles. According to Sleeping Giant's Osterman, "A 30 percent profit margin for the brewery is the target" when they work with their contracting customers. Obviously, there are some factors that make that more possible, the biggest of which is the sale price at the retailer.
While locking in a specific cost is difficult, most contract breweries are happy to share that the annual minimum commitment they ask for is 2,400–3,000 barrels/year, with a minimum batch size of 100–200 barrels. The minimum length of the contract varies by the contractor but is at least two years. There are special circumstances where that length may be waived, but that provides a good baseline.
Start Small
So, should you contract brew? Not right out of the gate. A wide array of reasons can make a brewery not a good fit for contract brewing, and most of them relate to the size of the brewery. Tim Schoen, CEO of Brew Hub (a large contract facility in Lakeland, Florida), estimates that he has met with 300 breweries to arrive at their seventeen brewing partners. Not every brewery made the cut for one of several reasons:
There wasn't enough volume.
The beer quality wasn't high enough.
The brand and sales infrastructure didn't support the growth.
The brand trajectory wasn't there for a sustainable long-term partnership.
"My only advice is to not start a beer company, not start a brewery, and not try to grow your brand much. The biggest opportunity is to stay as small as possible and sell it for as much as you possibly can," says Jeremy Cowan when asked about tips for those looking to use contract brewing to scale up into distribution. "A homebrewer starting a brewery with no experience should not focus on wholesale or retail. The structure of the system in place is not built to support the small/medium-size breweries. Limit your geographic footprint [to begin with]."
When asked about the right stage for new and growing breweries to engage with a large contract brewer, Brew Hub's Schoen says, "Get your funding, figure out your location, get your foundational stake in the ground, make your beer with your small system, get it right, get a following, and next up a distributor will call you and connect all of us to help you grow."