Between running daily operations at DC Brau and cooking dinner for three kids, Brandon Skall welcomed a break to talk hard seltzer. The CEO and cofounder of the Washington, D.C., brewery says the reason they decided to start producing Full Transparency (pictured above) in late 2019 may not be what you'd expect. The prime motivator wasn't the temptation to chase the financial success of brands such as White Claw, Truly, or Bon & Viv.
The Why
For Skall and his team, health challenges were the impetus.
"The first time I brought it to the table, there were a few things going on," Skall says. For one, fellow cofounder Mari Rodela—the DC Brau's chief community and culture officer and the spouse of cofounder and president Jeff Hancock—had discovered that she was gluten intolerant. Skall, meanwhile, had his own concerns. "I, myself, swore to change my lifestyle and relax on the amount of alcohol I was consuming," he says. "I had a pretty serious change in my health. A while back, I decided if it's not now, then never. I lost 60 pounds, made some life changes, and seltzers fit in—a little more so than beer. I still drink beer all the time, but obviously in moderation.
"I wasn't just jumping on like it was just a trend," he says. "I had to do it."
There was similar motivation at Fonta Flora, based in Morganton, North Carolina, where the Topsy line of hard seltzers launched in mid-2019. Already with a reputation for the methodical use of fresh and locally sourced ingredients, head brewer and co-owner Todd Boera and team are applying the same principles to Topsy. But it was a common health condition that gave them a nudge.
"We started exploring hard seltzers because the wife of one of my business partners is gluten-free and was buying a lot of them at the time," Boera says. "I remember him being shocked by how expensive and bad they were. We wanted to get to know the process a bit more and to see if we could make a hard seltzer that actually tasted good."
To do it their own way, they had to research and tinker. "As one of the first small breweries to explore hard seltzers, we had to figure a lot out on our own," Boera says. "Specific yeast strains for making hard seltzers had emerged, making the process a little more navigable. With that, we initially explored a wide variety of techniques until we landed on a finished product we were proud of."
Being larger enterprises, Atlanta's SweetWater and Longmont, Colorado-based Oskar Blues approached the move into hard seltzer from more pragmatic perspectives.
SweetWater had a momentous 2020, and the launch of Hydroponics "hard and heady" seltzer line early in the year was in some ways only a prelude. Since the seltzers get fruit-forward terpenes to mimic the olfactory notes of cannabis—much like their G13 series of beers—the recent acquisition by the Ontario-based cannabis giant Aphria for $300 million appears seamless.
But what made them initially consider new bubbly?
"The consumer landscape has been rapidly evolving and gravitating toward a healthier mindset, which has affected their beverage choices," says Brian Miesieski, SweetWater's VP of marketing. "Nonalcoholic seltzers and sparkling waters have exploded and become a regular part of consumers' repertoire, so it makes sense that they would also want hard-seltzer options. Entering into that space was a new venture for SweetWater, but we knew if we could do it right with a top-quality product and keep it on brand and true to us, our fans would love it."
Iconically recognized as being the first craft brewery to can their beers back in 1997, Oskar Blues again showed a knack for early adoption by launching its hard seltzer, Wild Basin Boozy Sparkling Water, way back in 2018.
"When Wild Basin was first conceptualized, the hard-seltzer market was just starting to take off, and we identified an opportunity to create a craft version," says Lauren Carroll, Wild Basin's brand manager. "Our Longmont facility underwent big changes when we added Wild Basin to our year-round offerings. We also saw an opening to offer artisanal flavors, like Lemon Agave Hibiscus and Melon Basil. We've always targeted the typical seltzer drinker, with a skew toward the more active, outdoors-inclined person. While that will always be our core, we, of course, always hope to broaden our audience."
The Results
In one way, each of these breweries played it safe, staying within the 100-ish-calorie, 5-ish percent ABV zone that has elsewhere been widely successful. But each situation is unique, and 2020 threw up obstacles for everyone. It's only in retrospect that getting packs of hard seltzer onto shelves in time for lockdown hoarding looks like a genius move.
In a spirit of openness that matches the name of the beer, Skall says that adding Full Transparency to the DC Brau lineup literally helped keep the lights on this year—especially as the pandemic greatly compromised sales. "We didn't know what to expect when we launched it, but I can comfortably say that if it wasn't for seltzer, I don't know where we would be right now. With all of the turbulence this year and everything that happened …"
After pausing to reflect, he continues: "As a local brewery, about 50 percent of our distribution was to local bars and restaurants in Washington, D.C., and the [metro area]. We lost half our business practically in one night back when the [pandemic] began. Without seltzer, it would have been a very different year, and it's about 30 percent of our sales right now."
DC Brau started with two conventional flavors—Black Cherry and Mango—and then took it farther with P.O.G. (passion fruit, orange, guava) and Raspberry Limeade. As things progressed, one of the brewers suggested an "Orange Crush," emulating a popular cocktail renowned in nearby Ocean City, Maryland. That one has done so well that a variety pack of four different Crush interpretations will soon hit the market.
At Fonta Flora, Boera says that both new and longtime customers were very receptive to Topsy. "Our artisan approach was a very welcomed reprieve from the fake flavors that were dominating the market," he says.
However, he had reservations about what the brand would mean for the brewery's reputation, which he had worked hard to build.
"To be honest, though, the original marketing strategy for Topsy was kind of disastrous," he says. "We were a bit apprehensive about branding it with the Fonta Flora name—a name we had worked so hard to become synonymous with high-quality, agriculturally focused beer. In a way, we were legit worried what other brewers would think about our foray into the fad," Boera says. "As if people weren't going to put two and two together? Looking back, we wish we [had] tied it to our existing Fonta Flora branding, which is something that we still might do."
Even then, it's still about retail shelf space and taking on strong competition. "Competing with large seltzer brands and their price points has been a big challenge," Boera says. "Also, we self-distribute in North Carolina and, as of now, are not in large grocery-store chains. So it has been a bit challenging to only move the Topsy brand through more 'mom and pop' retail outlets."
Thinking outside the box—a Fonta Flora specialty—has helped move the product. "A win for us has been the addition of slushie machines, to become one of the first taprooms to offer our own hard-seltzer slushies. As we never wanted to put beer in a slushie machine, Topsy was the perfect vehicle for us to offer these chilly treats to our customers."
Even with the opening of their stunning nine-acre Whippoorwill Farm brewery in Nebo, North Carolina, Fonta Flora stays true to its boutique mentality with the Topsy line—using experimental fermentation and fresh local produce, including merlot grapes for their Rosé version.
In Longmont, Oskar Blues' success with the Wild Basin line has led to its own production space and a new mix-pack machine. More facility upgrades are planned in early 2021—a dedicated 2,000-square-foot cellar and an additional 2,500 square feet for pasteurization, blending, and flavoring. "Our committed Wild Basin staff works overnight shifts to keep the seltzer flowing," says Carroll, the brand manager.
Likewise, in Atlanta, SweetWater also has big plans for Hydroponics.
"The big wins are that we've been able to keep SweetWater consumers who wanted a hard-seltzer option within our brand family plus bring in new consumers who just love hard seltzer," Miesieski says.
The top sellers are Black Cherry and Mango, while the taproom is the ideal place to try out new flavors.
"Our taproom serves as the best focus group we could ask for," Miesieski says. "With 24 beers on tap, we get live feedback on brands in the market, and we get to test out new innovations and continuously improve upon them."
Unusual flavors and twists are an important way to keep drinkers' attention in an increasingly crowded space. "The challenge for everyone in the business is the proliferation of hard seltzers in the market, from White Claw and Truly to the thousands of craft breweries in the game," Miesieski says. "Competition is fierce, and there's only so much room for brands."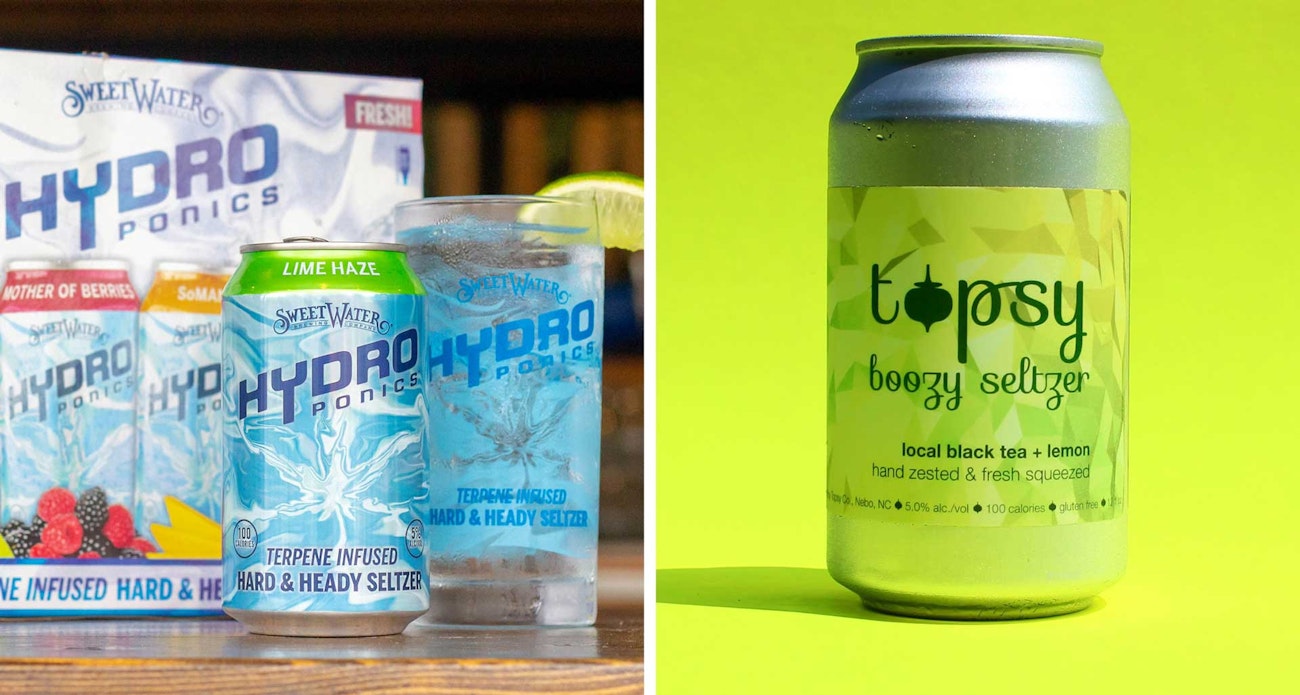 The Advice
Given the plain fact that there are all sorts of players in the hard-seltzer game now, from tiny to multinational, what might prospective players want to consider before they enter the arena?
At Oskar Blues, Carroll suggests the seltzer adventure is just getting started as more entrants will inevitably take it in new and unexpected directions. "Yes, just like in beer, when craft brewers engage with the hard-seltzer space, the environment becomes more dynamic, the concepts become more interesting, and the liquid reaches the highest possible quality."
SweetWater's Miesieski—by way of summing up the pressure to jump into the fray—quotes their CEO: "As our 'Big Kahuna' Freddy Bensch says, 'If you're not innovating, you're dying.'"
In D.C., Skall strongly encourages breweries to consider expanding their product portfolio. "Seltzers have proven to not be a fad or a trend," he says. "It's a new beverage category that has emerged, and that doesn't happen often. The 'lifestyle' character that comes with seltzer makes it a bit different. Within the next couple of years, more and more people are going to make seltzers, and if you own a brewery and don't consider it, I think you are making a mistake."
As brewers, he says, "we have all the equipment we need to make it, and it is another source of revenue. Right now, with all that is happening—including COVID-19—we need to explore other opportunities in order to survive.
Fonta Flora's Boera doesn't hold back, either.
"I recommend folks really think about what they want out of their business and their beverage portfolio," he says. "For us, we have actually found a good bit of joy in creating these spritzy little hard seltzers. It's been a really fun and delicious challenge for us. Just manage expectations accordingly. If the goal is to take over some White Claw market share, you might be a bit disappointed.
"However, having a unique, house-made, gluten-free option for your customers can be a popular and rewarding thing," he says.
"Just try not to put a bunch of garbage ingredients in them. The big boys already have that part covered."