Any beer drinker who has hung out at a bar during the day has likely experienced the familiar sight of stainless-steel kegs being loaded off a delivery truck, transferred to a handcart, wheeled past the bar to a cold box (hopefully), and deposited with an unmistakable thunderous metal clang. It's just the way it is for draft beer in the United States, or at least that's largely been the case for decades. More and more, however, that clang is replaced by a softer thump as brewers across the country look to incorporate one-way kegs made from plastic into their distribution arsenal.
Companies such as Petainer and KeyKeg have made strides across America in recent years, pushing a dispense method that has long been popular in Europe and other foreign countries.
"Many breweries start using PET kegs when they begin transporting their products over longer distances, both domestically and overseas, because [the kegs] cut the logistics costs in half and also provide excellent product-quality protection," says Nigel Pritchard, group commercial director for Petainer.
At Firstone Walker Barrelworks, single-use kegs just make sense, explains Master Blender Jim Crooks. In the past, the brewery used leased kegs, and as a quality-control worker, he was often distressed by some of the kegs that arrived, still dirty, smelling of bacteria, and filled with gunk.
The brewery now has its own kegs, and even with proper sanitation in use, Crooks worries about sharing kegs among many of the wild and sour ales coming out of Barrelworks and, say, Pivo Pils.
"I wasn't going to put our beers through the kegs and then send them back, and having our own fleet, with all the other equipment needed, was a big expense and not an option," he says.
So, Barrelworks looked to Europe and realized that one-way kegs were a viable option for the beers they were making.
"What we loved is that there's no cleaning involved," Crooks says. "The only thing you have to do is evacuate the CO2 that's in the tip of the bag, and the whole thing is irradiated, so it's sterile and there's no question about quality."
Lindsay Lassooy, a senior business creator for KeyKeg, a one-way keg manufacturer, says that the company has seen growth in the United States over the past several years following the implementation of a production facility in Illinois that opened two years ago.
She points to several factors to explain why brewers here are embracing a packaging that has long been used with overseas brewers. The first is cost. When it comes to sending to export markets, as more and more brewers are doing, sending a one-way package makes sense. For home markets, there's no worry about the start-up costs with stainless or waiting for empty kegs to be returned from bars and distributors. KeyKegs are made of plastic and therefore lighter to ship and are also recyclable.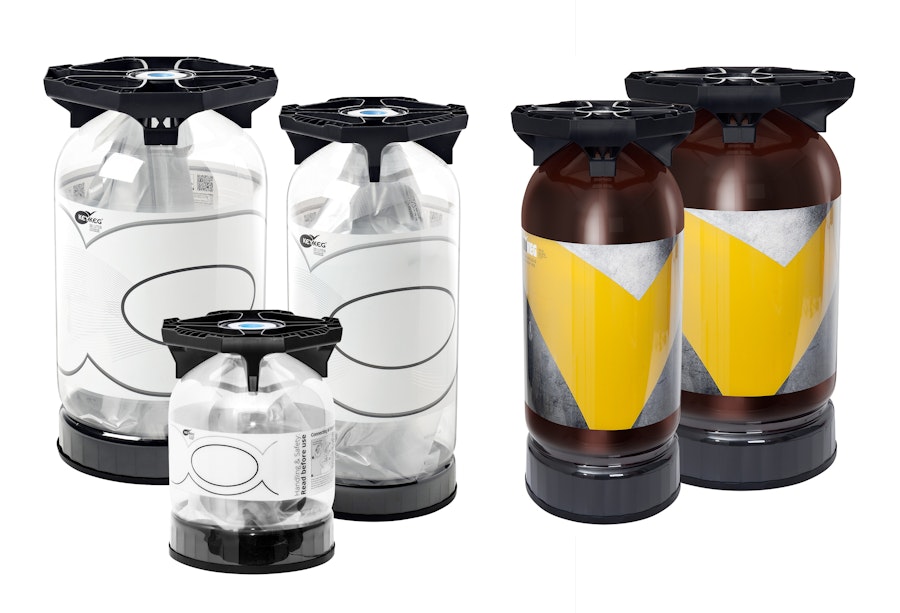 User Experience
Brewers who've converted say their experiences have largely been positive, but not without some bumps in the road. For example, Full Sail Brewing Company in Hood River, Oregon, first started using one-way kegs several years ago in an effort to be a more sustainable company and to get draft beer across the country without having to worry about far-flung cooperage.
"But we ran into several issues, including retailer acceptance, actual recycling, and pouring problems with our on-premise partners," says Brewery Spokeswoman Sandra Evans. "The kegs would auto-vent if disconnected, and shipping and storage had some minor issues, but mostly it was unfamiliarity and the outer shipping box itself. The last issue was freshness, not of the beer, but of the O2 scavenger layer of the PET—as the kegs sat, that became an issue, and at that time the manufacturer had no production in the United States, so we had to manage that carefully, which wasn't too much of a problem for us."
They ended that relationship and have recently started testing out another company to send beer overseas, Evans says.
"That all said, we are still fans—less weight, great beer quality, no deposit, and they recycle like a Coke bottle," she says.
Petainer's Pritchard agrees and says that was important to his company. "[Our] keg is easier to depressurize and disassemble than other PET kegs—the chimes simply unclip from the keg body so that all parts can be recycled as part of the waste stream."
Uptick in Use
There are no official numbers on how many breweries in the United States are using plastic one-way kegs or how much draft volume it represents overall, but there has been a noticeable uptick in recent years as brewers have looked for new ways to get their product to new markets.
And it's not just for sours or wild beers. Lassooy says that brewers are putting every style of beer into the packaging and that coffee roasters, kombucha makers, and even chemical companies are using the product.
When it comes to the beer, Firestone Walker's Crooks says it's absolutely the best solution for their needs. "There's no cross contamination to worry about, and that's most important."
Crooks says that Firestone Walker uses KeyKegs for its export business, but closer to home where it's still less common than the traditional stainless-steel kegs, the brewery spends a lot of time educating bar owners and bartenders on the difference between the two containers and dispense methods.
For some, "it's a completely new idea because they've never had to deal with a beer-in-a-bag situation. For example when you have a foamy beer in a stainless keg, you turn down the CO2; with a KeyKeg you can turn it up. So, we work with them, have videos, and make sure our sales staff is well trained so that they can help out if they get a call or when they're visiting an account."
In addressing some of those concerns, Lassooy says that the company has a training team that regularly works with distributors, bars, and restaurants to educate them on how to properly handle the KeyKegs as well as how to best serve to customers.  "The way the beverage is dispensed is different from stainless," she says. "The beer is inside the bag of the KeyKeg, and the gas is on the outside, and it is never in contact with the beer. For that reason, you can use regular compressed air rather than CO2 or nitro. This means the quality of the beer will stay better than if it were in stainless."
Still, for the unfamiliar, Crooks compares using it for the first time or through any technical issues to "taking a black diamond run on a ski hill" when you've been used to the bunny trails. But, with practice and patience, it works out.
For the KeyKeg, all you need is a special coupler for draft dispense that can hook up to existing systems. Petainer's kegs can be used with universal coupling systems, with flat fittings compatible with Micro Matic A and G systems and well-type fittings compatible with Micro Matic S and D systems.
On the brewery side, Crooks says he can fill directly from the tanks using a special adaptor, minimizing the need for a special filler and other equipment. "This is the best situation for these beers," he says of Barrelworks offerings." There is no cross contamination where we would have to be potentially rechecking another brewery if we were sharing kegs, and it's a way easier format for us to get out there to new places and accounts."