Braxton Brewing is going back to basics.
After hitting a production high of 23,500 barrels in 2019, this brewery in Covington, Kentucky, has experienced declines, ending last year at 18,500 barrels. The hurdles are familiar to many of its midsize peers: the pandemic's blow to draft sales, more competition on chain retail shelves, and fewer die-hard craft-beer drinkers.
Yet 2023 has been a rebound year for the brewery. Thanks in part to a new location in the Cincinnati/Northern Kentucky International Airport and a large contract-brewing client, the Braxton team is aiming to brew close to 30,000 barrels by the end of 2023. The past year, says Braxton cofounder and CEO Jake Rouse, has been about "re-establishing the business" and playing to its core strengths.
"I'm still bullish on local craft," Rouse says. "But I think that you have to really get back to the fundamentals and more importantly, what are the two to three fundamentals you want to get back to?"
For Braxton, he says, those priorities are remaining relevant and increasing penetration in their home market of greater Cincinnati; growing sales in a turbulent market for distributed beer; and doing both those things while making the brewery a better place for employees to work.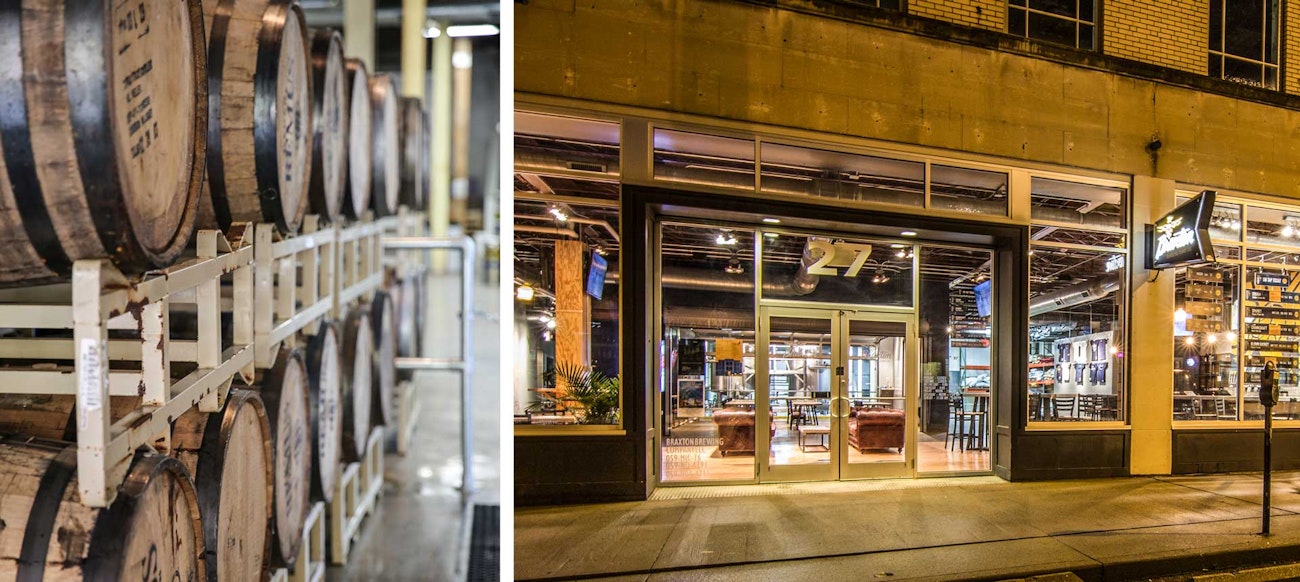 "Less Is More"
Addressing those fundamentals while craft beer is experiencing a slowdown in growth, Rouse says, means taking a "less is more" approach and making tough cuts where necessary.
In the past couple of years, Braxton has completely exited the "beyond beer" space by discontinuing its VIVE hard seltzer line. It has also pared down its sales reps from a peak of seven to two—"one for each side of the [Ohio] River," Rouse says.
Last year, it spun off ownership of its fast-growing Garage Beer Light Lager into a separate company in which Braxton has minority ownership; Braxton now contract brews for Garage Beer, which is growing fast. Garage Beer had sold as much volume in chain retail by mid-July 2023 as it sold in all of 2022. Rouse says the spinoff was necessary to give that brand the attention it needs to continue its success without sacrificing other Braxton brands. However, by continuing to brew the beer on contract, Braxton still benefits from its upward trajectory.
"We've killed a lot of initiatives right now because we want to make sure we're excellent in the four taprooms we have today," he says, adding that the brewery has a goal of growing to 10 taprooms by the end of 2025. It has no intention of expanding distribution beyond the three states it currently services: Ohio, Kentucky, and Indiana.
More delicious and dynamic beer, memorable taproom experiences, and happy employees: It's a return to the foundations of contemporary craft brewing, but it's happening over speed bumps that weren't there before. Thankfully, at least some of Braxton's business customers are appreciative of their focus on the core.
"With them, it's just how consistently good they are," says Chris Breeden, owner of Arnold's Bar and Grill in Cincinnati. "They're not doing crazy stuff like a kiwi coffee double IPA, but you can tell that their quality control is on another level. People know that they're going to get a solid choice every time they pick Braxton, as opposed to rolling the dice with other breweries."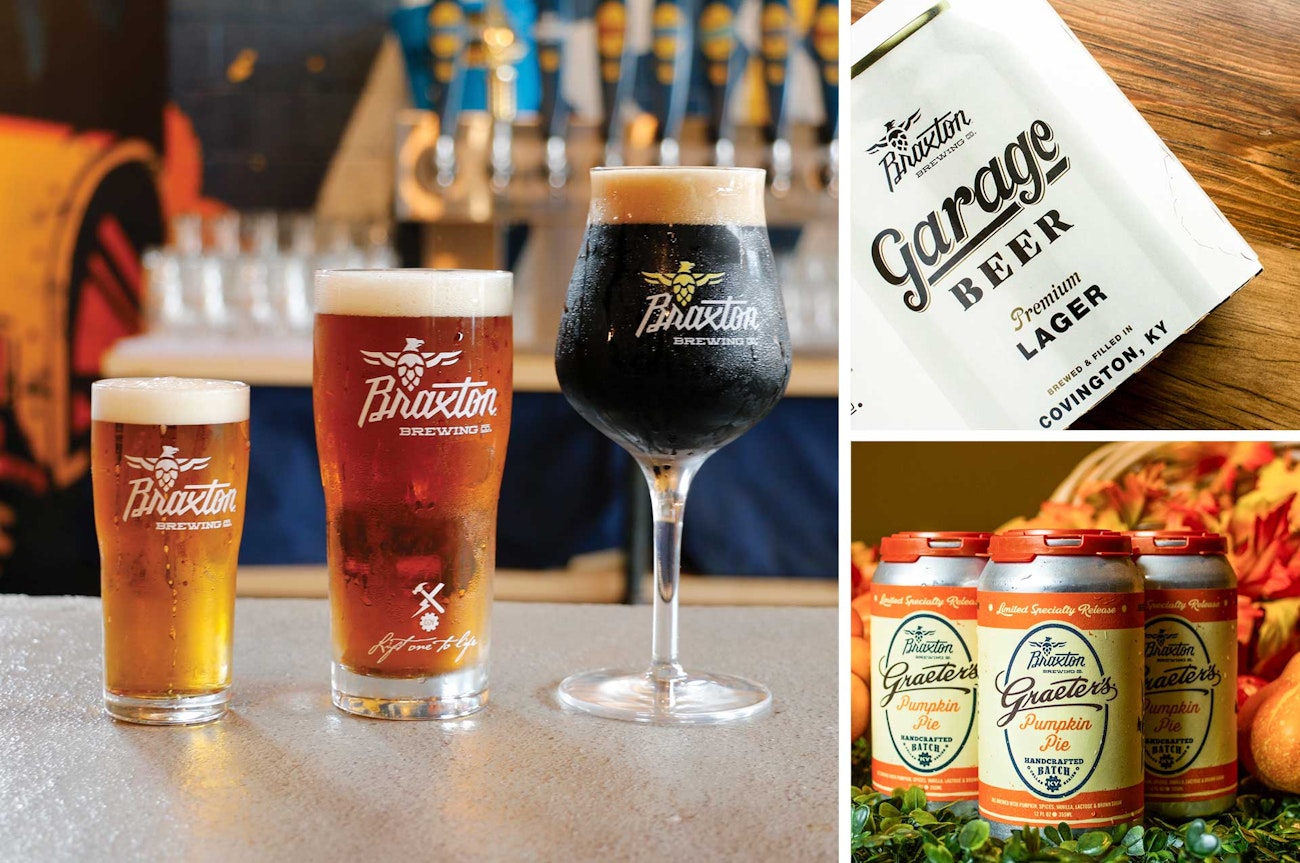 Home Court Advantage
One thing Braxton knows it does well is deliver on the own-premise experience. It has three locations in Cincinnati and Covington, plus a 1,500-square-foot airport brewpub that opened in April. All are distinct experiences by design.
The brewery's Covington headquarters is expansive and boasts a rooftop bar and pizza menu. Its Cincinnati taproom houses a 15-barrel brewhouse and is undergoing a renovation to make it feel more intimate within the city environment. Meanwhile, the Barrel House location in Fort Mitchell, Kentucky, has a small-batch brewery and is an ode to all things barrel-aged, including a hefty bourbon list and at least three barrel-aged beers on tap at all times.
Own-premise sales represent about a third of Braxton's revenue; the other two thirds are split evenly between contract-brewing operations and sales through distribution. The business benefits not only from strong margins in its own locations, but also from the ability to control the customer experience. Even the brewery's airport location isn't a licensing deal or franchise, as airport or stadium locations typically are. It's entirely operated by Braxton.
"We know how to create that customer experience, how to tie beer into that customer experience, and how to control our own destiny," Rouse says.
Those interactions with drinkers have informed the brewery's next move: a taproom in suburban Union, Kentucky, where Rouse and his brother grew up. Braxton has watched its core customers age into a new phase of life—one with more kids and less time spent in line for beer releases—even as the downtown Cincinnati location struggles to return to its pre-pandemic levels of housing occupancy and nightlife traffic. The brewery is going to follow those core customers, opening a 15,000-square-foot beer garden in a shared complex that also includes local favorites Graeter's Ice Cream and Dewey's Pizza.
Braxton is deepening ties to those culinary institutions in liquid form, too: In September, the brewery kicked off a rotating SKU called Cincinnati Favorites, with each iteration inspired by a Cincinnati culinary icon. First up is an Opera Cake Stout inspired by BonBonerie Opera Cream Torte, the bakery's signature cake for 30 years. A future Cincinnati Favorite will be an ice cream–inspired partnership with Graeter's.
The Cincinnati Favorites line serves a dual purpose of reinforcing Braxton as a Cincinnati-first brand while also creating a predictable retail sales structure around special releases. Gone are the days of "in and out" limited drops that moved 1,000 cases across a market in a couple of weeks. "The customer isn't doing that anymore, but there is still a craving for unique beers," Rouse says. "These limited drops need a longer sales cycle. They need to be on the shelf and more available."
In the bigger picture, meanwhile, collaborations with other Cincinnati businesses are practical examples of what it means for Braxton to be "community-driven."
"Community doesn't have to mean charity; it's the cultural events where we live, work, and play," Rouse says. "It's taking some of the biggest institutions, like Graeter's, in this city and teaching them that beer can be fun."
The geographic proximity of the brewery is also important to its sales relationships. Arnold's was the first Ohio bar to carry Braxton's beer, and Breeden says the brewery has been unwavering in its support of him as a partner.
"I know that I can reach out to Jake [Rouse] directly," Breeden says. "They make sure to really work with us one-on-one. We do a beer poster series at Arnold's for Cincinnati Beer Week—they're 18-inch by 24-inch posters designed by well-known local artists—and [Braxton has] commissioned a print every single time."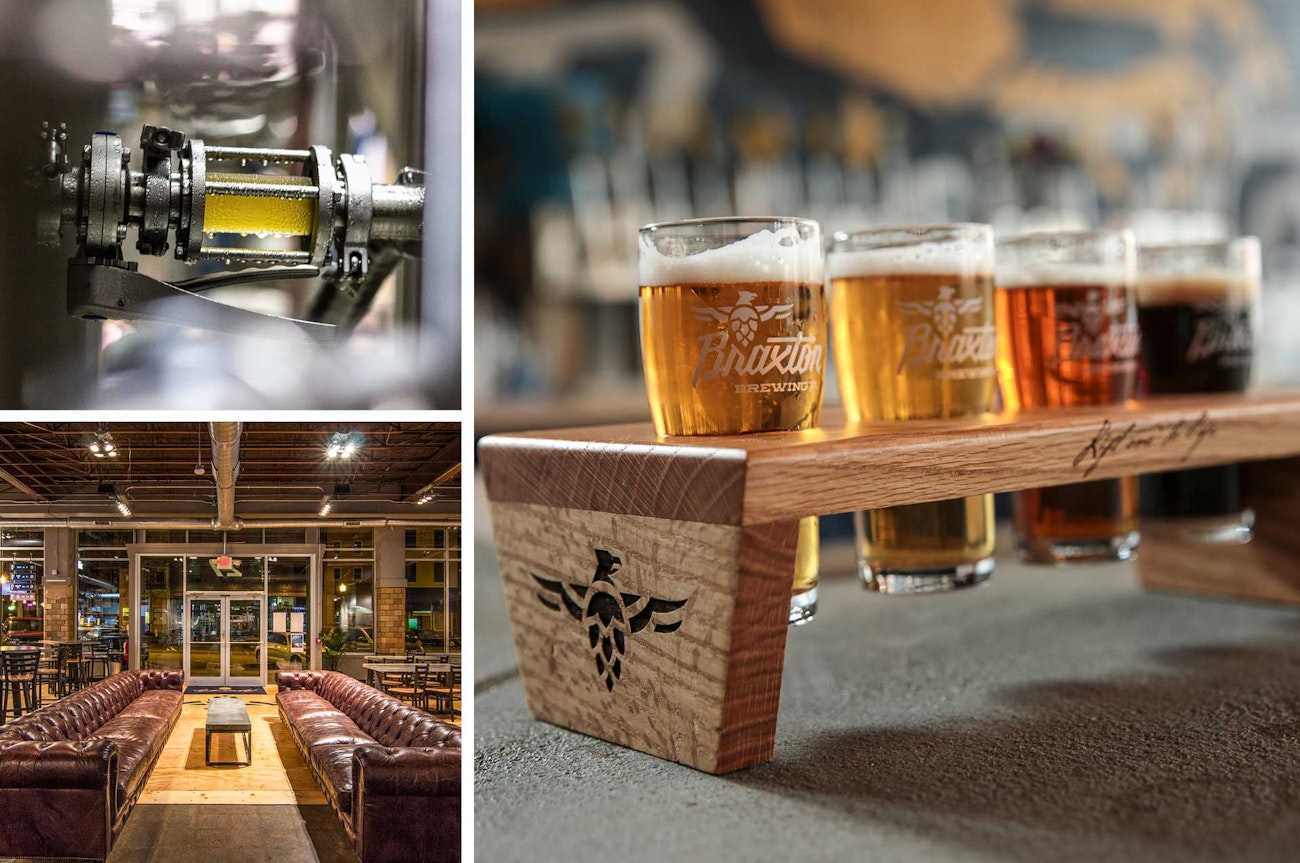 Growing Up, Growing Out
Growth so far has brought an attendant set of problems for Braxton to solve, and Rouse is clear-eyed that opening an additional six locations in the coming two years won't be easy. But the brewery has found solutions that it believes set it up for success.
The first was not deliberate: When Braxton outgrew its original Covington production facility, it purchased a 50,000-square-foot warehouse a couple of miles from the brewery. As the brewery has expanded with additional locations plus a 15-barrel brewhouse in Cincinnati, it has taken advantage of a hub-and-spoke model this warehouse provides. Whether beer is brewed in Covington, Cincinnati, or Fort Mitchell, it all flows into that warehouse before hitting distribution. This can be slightly inefficient at times, but it allows the company to be deliberate about which ideas get brewed where and at what scale.
The second was more deliberate: As the brewery has grown to roughly 100 employees spread across four locations, Rouse realized it needed to be more intentional about creating a cohesive company culture that didn't leave any workers behind. ("One of those locations, at the airport, is literally on an island," he says.) In response, Braxton last year created the Pulse Team, drawing together employees from across departments and locations to advise leadership on the "pulse" of the company culture and employee well-being.
It's brought attention to problems that leadership might otherwise have missed. Kitchen staff at the airport location, for example, were having trouble getting to work in time for their 4:30 a.m. shift start because the city's buses don't run that early. In response, Braxton created a staff Uber account that those cooks can use to get to work reliably.
"Those types of creative thinking are how we're trying to approach this," Rouse says. "Right now, it takes more of that than just pulling out the playbook from the previous eight years."
Leadership also learned that non-brewing employees wanted more opportunities to feel ownership over the actual beer being made at Braxton. This led to the launch of a monthly employee beer program in the taprooms, where non-brewing employees can suggest an idea for a beer and a charitable organization to which proceeds of its sale can be donated.
Rouse acknowledges that Braxton "isn't perfect" when it comes to employee satisfaction, but he says it's more important than ever to attract and retain staff. The pandemic led to a lot of experienced, talented hospitality professionals leaving the industry; if Braxton intends to double its number of taprooms in just two years, it's going to need to create a strong bullpen of managers to lead those new teams. Every taproom visit is also a battle for guests' attention and repeat business, more than it has ever been. Staffing is a challenge even while hospitality is more important than ever.
"You're talking about a lot of the A-players leaving the industry, so we have to get back to finding the people who are smiling when a guest walks in," Rouse says.
The back half of the year is intended to be a period of refocusing and reprioritizing to set Braxton up for a stronger 2024. Guided by his focus on the fundamentals, Rouse says the brewery needs to re-energize its portfolio of beers with calculated, smart innovations. He believes strongly in beyond-beer products, for example, but he also says that Braxton needs to pause and evaluate how it can meaningfully participate in that space rather than chasing what may prove to be passing fads.
"Raw material costs are through the roof," he says. "If we take a stab at a new brand, that's a $100,000 investment that has to work. We're still working through some innovative styles, but it's about making calculated effort where we can."