Those looking for a handy example to illustrate just how fast the U.S. craft-brewing industry has changed might look to DC Brau. When it poured its debut beers in Spring 2011, the Washington, D.C., brewery was the first to revive packaged-beer brewing in the District in more than 50 years. It was one of the earlier craft breweries to embrace cans, following Oskar Blues, and it successfully pushed for local law to allow breweries to open taprooms. At that time, there were fewer than 2,000 breweries in the country.
It bears repeating: This was just a decade ago.
Today, DC Brau inhabits a very different world, both in the D.C. area and nationally. Today's 21-year-old drinker can't imagine a time without an entire wall of local beer at the grocery store and tasting rooms in every part of the city. DC Brau cofounder Brandon Skall says that for the brewery's first years in business, the mere existence of their taproom—or even of D.C.–brewed beer—was a novelty.
Today's landscape, however, requires a new approach to production, sales, and hospitality.
DC Brau has made strategic shifts in all three of those areas since 2019. It launched a successful hard seltzer line called Full Transparency; it created an entirely separate, mainstream brand called Old Time Lager; it became more serious and analytical about its sales and distribution; and it shifted the way it promotes its taproom.
"There was a time five or six years ago when, if you had 'local' and 'craft' in the description of your company, anything you put out was going to sell," Skall says. "Now more than ever, you cannot think like that."
As DC Brau looks ahead to its second decade in business, the brewery is making decisions that it hopes will sustain it in an even more competitive future. Some of those decisions are new products designed to play outside the traditional craft-beer space. Yet underlying the entire plan is a decidedly classic ethos: a local company making consistently good beer.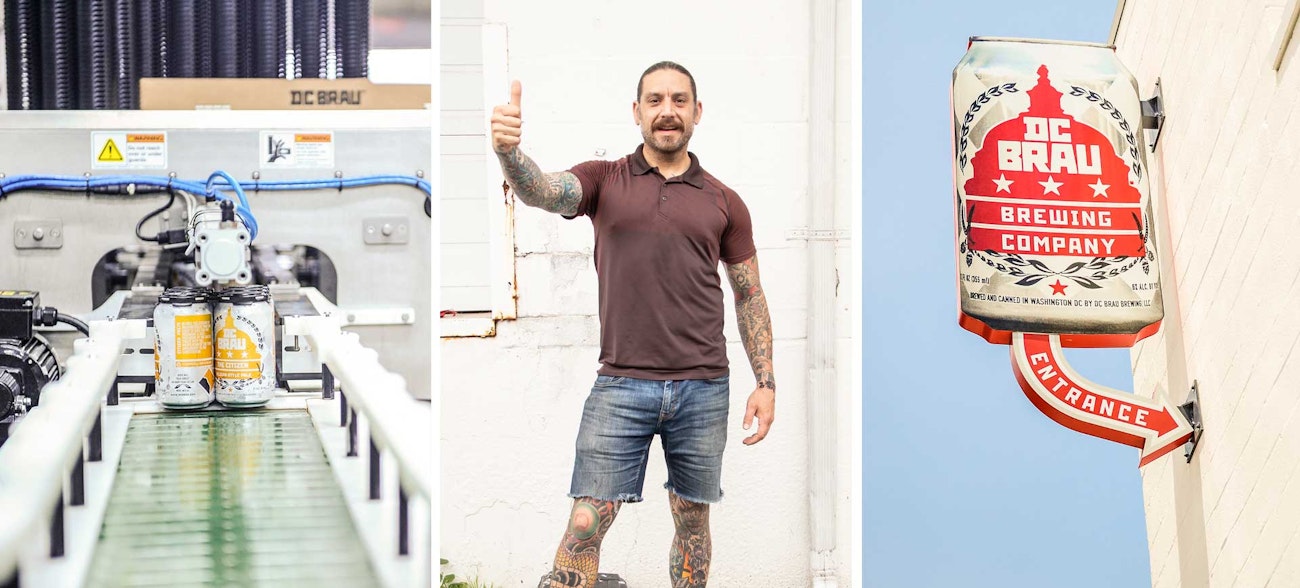 Old Time for Good Times
When Old Time Lager launched in April, its press release and website made no mention of the company behind it. It was born as a standalone brand with D.C. heritage, a "modern interpretation of the Hopfheiser Brewing Company's American light lager from 1935." Months later, Skall is ready to confirm that yes, DC Brau makes this beer.
"It was important for us to create distance between DC Brau and Old Time," Skall says, adding that the company wanted drinkers to perceive Old Time as a domestic brand, not craft at all. That's because—in another sign of the changing competitive landscape—Skall is not seeing younger legal-age drinkers gravitate toward craft beer intuitively; rather, he sees them often opt for tallboys of the domestic beers that craft had railed against for years.
"The negative connotation that these lighter-style beers have had for the majority of time we've been in business has started to break down," Skall says. "I could tell that craft wasn't making that connection with the younger consumer."
The brewery also wanted distributors and retailers to price and display Old Time as a domestic lager. The goal was to see Old Time shelved next to Narragansett, Pabst Blue Ribbon, and Natty Boh; if distributors and retailers lumped it next to craft beers (and then priced it in line with them), it would run counter to the entire project—hence the initial bit of caginess about DC Brau's involvement with the brand.
"We don't want it in the cold box next to DC Brau," Skall says. "That's the last place we want it."
The strategy appears to be working. Fritz Hahn, a reporter who covers bars, drinks, and nightlife for The Washington Post, says he frequently sees Old Time offered at neighborhood bars, and it's rarely, if ever, listed in connection with DC Brau or displayed on craft portions of menus. Most retailers list Old Time as brewed by "The Hopfheiser Brewing Co.," which is both the original brewery that made it and a name to which DC Brau now owns the rights.
Today, Old Time has 350 points of distribution, a number DC Brau hopes to increase for 2023. Skall says he hopes it will become a 5,000-barrel-per-year brand for the brewery, which would represent more than a third of DC Brau's current annual production. He intends to achieve this through wider distribution for the brand, potentially opening sales in multiple states along the East Coast. (Notice, also, that Old Time has no geographic reference built into its name.) The initial rollout for Old Time was slower than what the brewery would expect for, say, a new DC Brau IPA because the brand was untested and didn't carry the DC Brau name. Now, however, Old Time is seeing good velocity in the points of distribution that it does have, and Skall says it has been easy to bring that success story to new retailers.
"It took us a little longer to get to the end of that stage," he says. "Usually, I'm looking at 90 days to get a brand properly seeded. This takes longer, but we're seeing more keg turns and higher case averages."
Achieving wider reach is key to Old Time's viability because to make its margins work, Old Time has to sell at volume. Ideally, it would be priced totally in line with Natty Boh and PBR, Skall says, but total price parity isn't yet possible if DC Brau wants to make any profit on Old Time. It's brewed with two-row barley and flaked corn, and DC Brau simply can't compete with the scale of its much larger competitors.
"At the end of the day, we do have to make money on this beer. … We do take a little bit less of a margin on it than we do with our craft products, but that's okay," he says. "We'll take a lower margin to grow it to something where we're doing enough quantity that it becomes a positive for us."
Old Time follows something of a similar, non–craft-beer playbook to Full Transparency, the line of hard seltzers that DC Brau launched with a distinctly different feel from its beer offerings. Today, Hahn says that Full Transparency is "the default" for bars and restaurants looking to serve a locally made seltzer. It represented 20 percent of DC Brau's overall sales in 2020; today, it's about 12 percent, and Skall says it remains a strong part of the portfolio.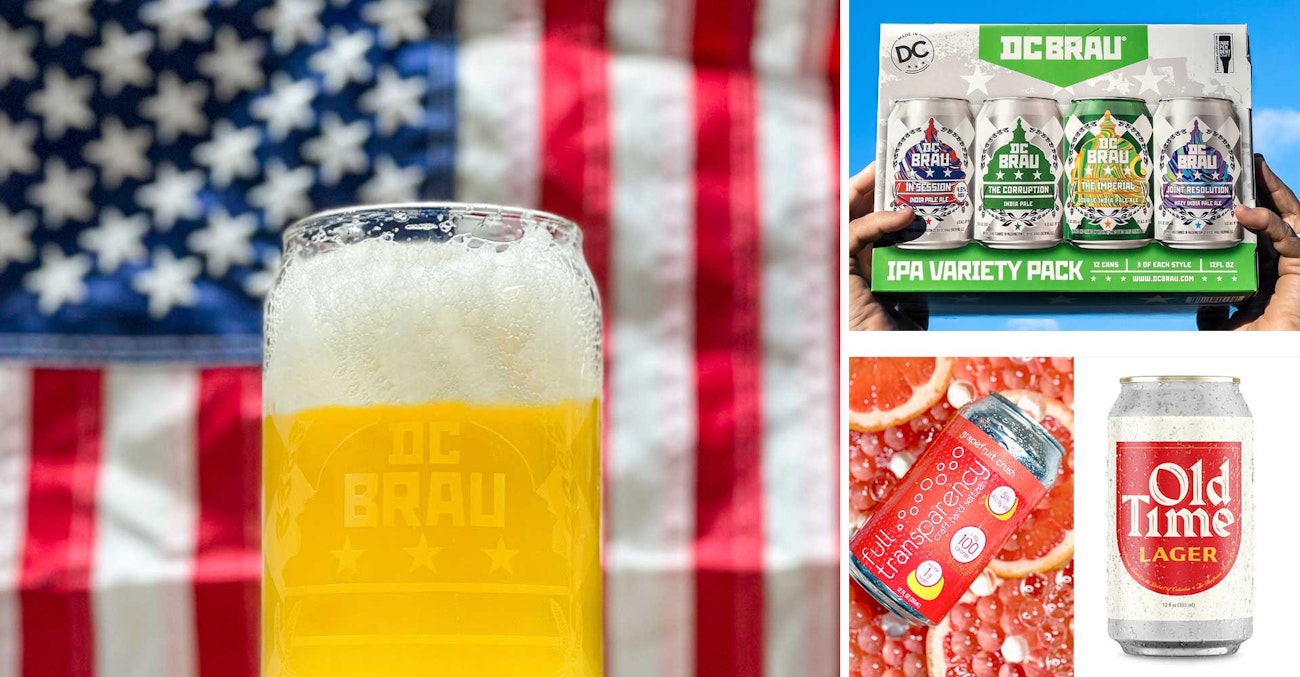 Fire on All Cylinders
DC Brau has always been a heavily distribution-focused brewery, selling about 90 percent of its beer through wholesale. However, there's still no substitute for the marketing power and margins of a taproom. Emerging from two separate closures during the pandemic, the taproom is now a renewed point of attention for the business, with a plan to grow on-site sales while maintaining distribution momentum.
The hurdle is getting people to the space. Located in D.C.'s Northeast, DC Brau doesn't have the Michelin-starred restaurant neighbors that the new Aslin taproom on 14th Street does, for example, or the clutch of breweries and distilleries that are near Other Half's new D.C. location in the Ivy City neighborhood.
"There's a post office, a strip mall, and them," Hahn says of DC Brau's location. "So they've really been trying to give people reasons to visit."
To draw in locals from the nearby neighborhoods of Woodridge, Fort Lincoln, and Mount Rainier, DC Brau constructed a beer garden in its loading dock area, set up a weekly Sunday concert series called Dock Days of Summer, and Skall even went door-to-door with his kids handing out brewery flyers to neighbors. Most importantly, Skall says, he is simply reminding their neighbors that DC Brau is local, and that Skall lives in the same neighborhood. (He also tries to ensure DC Brau has a presence at events such as block parties.)
"There was a time when we were the only taproom in the city, but as more breweries opened, things became more granular and neighborhood-focused," he says. "I don't know if we had the perception of being the neighborhood brewery. So, everything now features that wording of 'neighbor' and 'neighborhood.'"
That doesn't mean DC Brau can take its foot off the gas with distributors, either. More than ever, Skall says, the company relies heavily on data from its wholesalers and technology supplier VIP Technology Solutions to assess not just what is happening in the market, but why. One example: If a brewery sees its sales are up but distribution is down, that means they need more distribution. But if distribution is up and sales are down, that's a velocity problem that might prompt a discussion about the need for more innovation or a branding update.
"All of those metrics are great on their own, but when you put them together, you can get a much [fuller] picture of not just what's going on, but why," Skall says. "And that 'why' is what's really important.
"Pay attention to your sales data. You've got to know what's working and what's not. Even though we're small producers, we need to think like big producers now."