At first glance, Pinthouse Pizza's South Lamar location resembles the type of chain restaurant you find just about everywhere in the United States—a boxy shell stuck out in the parking lot of a shopping center. But glance through the glass window at the far end of the bar, and you'll see their secret weapon— shoehorned into an impossibly small footprint, a 7 bbl brewhouse from Premier churns out about half of the 3,000 barrels of beer produced by this two-location chain.
The brewhouse might be pint-sized, but the brewing team—headed by Director of Brewing Joe Mohrfeld—is a powerhouse. With three medals (gold, silver, and bronze) at the 2018 World Beer Cup, all in hotly contested hoppy categories, plus another three GABF medals over the past few years, they've proven that big things can certainly come from small packages. But even with this success and increasing demand for their beer in Austin and beyond, Mohrfeld remains committed to their founding strategy of staying small and responsive to their customers while using the small systems to their advantage—brewing frequently, creating new customer experiences, and using blended batches to maintain consistency in their bigger brands.
Beer Program
One thing you'll notice when you step over to the bar in a Pinthouse Pizza location is the extensive lineup of guest taps. Each location features forty-five taps of beer, cider, and cold-brew coffee, with seven to ten taps of various Pinthouse beers. When starting out, their small brewhouse was a challenge—they had three 7 bbl fermentors and one 15 bbl and were constantly running out of their own beer. Still, customer response to their beer was very good, and their own beers accounted for about half of all beer sold that first year. As they've been able to invest in additional brewhouse equipment, they've grown more adept at timing production to meet demand, and the ratio now sits at about 25 percent guest beer and 75 percent Pinthouse beer at both locations.
To efficiently serve such high volumes of house beer, Pinthouse kegs very little of their own beer and instead serves directly out of a half dozen serving tanks in a cold box behind the bar.
Mohrfeld has always felt that their beer was at least as good as the guest beers on their list. "A lot of brewpubs serve their own beer at a cheaper price than guest beers. We don't understand that. If we think our beer holds up, why discount it? Now, in some cases, our beer is more expensive than guest beer."
Beer-style mix is one thing that surprised Mohrfeld. At their original Burnet location, sales are pretty even across the various styles they have on tap at any given time. At the South Lamar location, however, their Electric Jellyfish hazy IPA is the runaway best-seller, accounting for 50 to 60 percent of their own beer sold. It outsells the next closest beer three-to-one.
Because most people are there for a meal, Pinthouse's beer service is pint-driven not flight-driven, and the most popular format for customers is the 16 oz pint. Beers under 8 percent are served in 16 oz pours; those over 8 percent get 12 oz pours, and while they'll do them if asked, they don't promote half-pours. They do taster-sized pours that can be organized into flights, but again, they don't push those. Service is friendly but quick, as peak times see a consistent line at the bar. Their goal with beer service is to streamline and reduce glassware storage, and they use three formats—a pub glass, a tulip glass, and snifter-style tasters.
Crowlers have become a significant revenue source for Pinthouse, and like other breweries and brewpubs with popular flagship brands, they now have bar staff pre-fill crowlers in the morning as part of their set-up routine.
"It's a great package for us," says Mohrfeld. "In Austin, so many people are coming to town and want to take beer home with them. We'll see out-of-towners buy a half dozen crowlers at a time. And on a Friday, when we release a new hazy IPA, we'll easily sell 150 to 200 crowlers. We only pre-fill enough to sell each day, so that it's always packaged fresh. But they'll hold up for three months if you keep them cold. We pre-purge and fill from the bottom—full with no headspace. We've pulled cans of Electric Jellyfish at 2–3 months, and they taste great."
"Belching Beaver did TPO checks on their crowlers and found they contained only 30 ppb [of oxygen]. That's better than most commercial packaging lines are capable of, so we're pretty confident in the format."
Mohrfeld says they have no immediate plans to distribute packaged beer. "I know my beer tastes how I want it to every day it's poured across the bar," he says.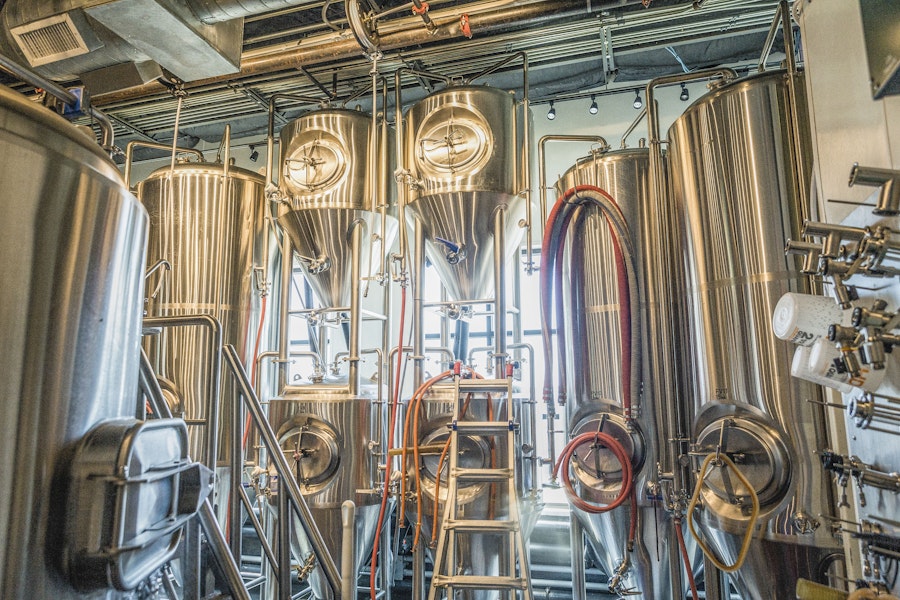 Beer Styles
Style-wise, Mohrfeld has always had a knack for hops—a talent he picked up while working for Fort Collins, Colorado's Odell Brewing. He credits Odell COO Brendan McGivney with instilling in him the importance of knowing your farmer.
"I see a lot of small brewers treat the hops market like it's Amazon," Mohrfeld says. "But what you buy on the spot market might not flavor match to anything else you've been using that year. You're better off figuring out what your flavor profile is and selecting those hops."
"We'll brew 5,000 barrels this year, and 90 percent of what we brew is IPA. I contract hops at 5 lbs per bbl average, but I don't have fifty different hops in my cooler. I focus on varieties I know and love and source them in a quantity that allows me to select them. That may seem trimmed down, but ultimately it gives me more flexibility—I have great-quality hops that give me the option to pull out different flavors in other beers." "If you get really great ingredients and don't get in their way, you can produce a really great beer. I've spent a lot of time communicating with farmers, trying to ensure we get the best hops we can. And I think it shows."
One core approach that Mohrfeld and Pinthouse put into practice with many of their recipes is constantly tinkering and tweaking to improve them or ensure that the impressions of the beers remain consistent for their consumers. Mohrfeld is up front with customers when writing menu descriptions of new batches, pointing out some of the changes that the brewing team is excited about. This also allows them the room to let the beers shift with the hops harvests.
"One of the benefits of being small and direct-to-consumer is that we can let our beers evolve year to year with the agronomic differences," says Mohrfeld. "Like the wine world, if you're excited about a crop or varietal, show it off, and explain to customers if you do see some differences. We've never seen a customer complain if a beer gets better." "We definitely allow our beers to flow with the agronomics. Mosaic was a good example this year [2017]—I selected some Mosaic that I thought was just gorgeous. It was out of step with current Mosaic but reminded me of the first time I smelled Mosaic. The flavor profile of that hop has definitely shifted over the years."
While some brewers create recipes that are steadfast and unchanging through the years, Mohfeld's flexible approach was influenced by a presentation he witnessed in brewing school, where a 40-year veteran sensory scientist at a large macro brewery recounted how their recipes were driven by sensory science and customer expectations. The sensory group would interview customers and ask them about what the beer tasted like. They would aggregate that data and adjust recipes so the beer would continue to taste the way customers expected it to taste.
While Pinthouse doesn't go to the same lengths, they have, over time, gradually reduced the bitterness of Electric Jellyfish, while also working to make the finish crisper. From time to time, they'll learn something from a new beer, and that lesson will be applied to all the hoppy beers in their portfolio. The changes become evident when they pull old recipes out of the vault to re-brew.
"If we go back to a beer a year after we last brewed it, the beer often feels dated all of a sudden," says Mohrfeld. "Other beers we haven't touched since the day we opened, and they still work."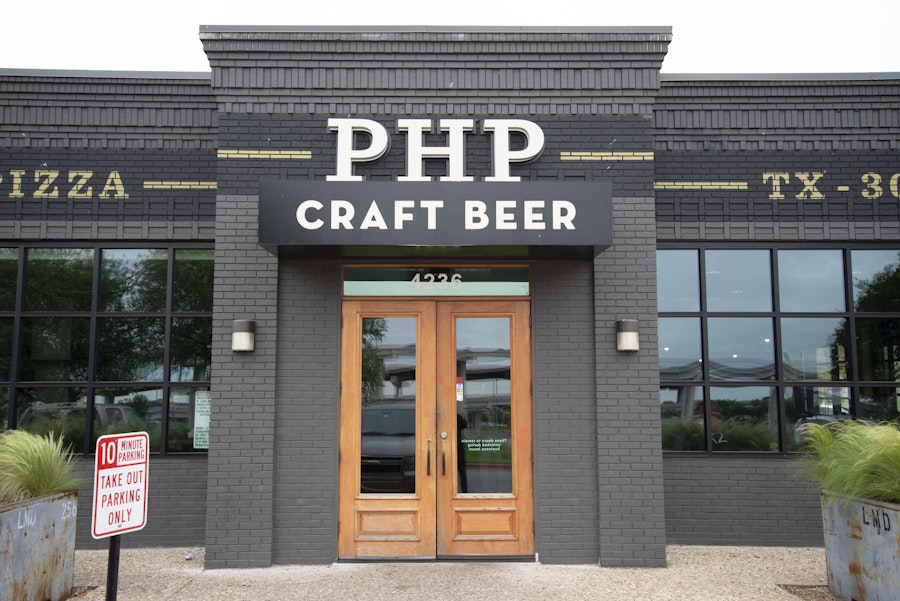 Space Efficiency
One of the biggest challenges brewpubs face is the high cost of real estate in desirable restaurant locations. It's one thing to build a brewery in industrial or flex space with relatively low lease costs per square foot, but brewpub and restaurant developments in high-traffic and high-rent areas have to maximize revenue from every inch. As a result, the brew team is forced to do more with less space.
Mohrfeld views this constraint as an advantage, however. "Our small footprint is a huge part of our success. If we want to make a change to a recipe, we don't have to wait to go through sixty barrels of the current batch to do it again. We apply the production model to our brewpub, and because the brewhouse is small, we just run it more. That allows us to do more with blending and consistency because when we're filling a fermentor [with two or three brews], if we're out of spec on one batch, we can make an adjustment on the next batch. I see some startups launching with 30 bbl brewhouses, but if one of their brews is out of spec, they can't do anything about it."
The Burnet and Lamar locations both feature 7 bbl brewhouses that are slightly oversized. Their tanks range from 5 bbl to 25 bbl, with most being 15 bbl. To get the most out of the tiny brewing spaces, Mohrfeld has stacked the smaller tanks vertically. Dry hopping can be a challenge as roof clearance is tight, but they've made it work.
With their new location in Round Rock, Mohrfeld is going bigger with a 15 bbl brewhouse, which is still rather conservative for a brewing business growing as fast as they are. "It goes back to the production model instilled upon me at Odell," says Mohrfeld. "Equipment sitting idle 90 percent of the time doesn't make sense."
Staff and Training
Of course, trusting staff to make adjustments to successive brews requires training in problem solving, but Mohrfeld prefers to hire staff based on intangibles rather than hiring for experience.
"We look for people with a good work ethic and who fit in with the team. We can train them how to brew. And so far, we haven't had anyone leave."
Pinthouse's small scale gives them another advantage that larger production environments don't have—employee schedules are flexible, and brewers out late for a concert the night before may roll in mid-morning as long as they stay late and finish the required tasks for the day. That allows for a work-life balance that's less common in the brewing world. Because they don't hire only for experience, they're also able to identify talent in the front-of-house staff and offer them advancement into and through the brewhouse. It's one way they can move staff from lower-paying jobs quickly and provide them upward movement. Austin is a desirable place to live, and Pinthouse Pizza is a desirable place to work, so recruiting has not been a challenge.
Pinthouse Pizza's plan is to continue to grow slowly and smartly. Six years in, they've grown by significant percentages every year but are still below the level of demand for their beer—and they'll continue to cautiously expand, but only in ways that allow them to control the quality of the beer they make and the quality of the customer experience. "It's pretty cool that we've been able to grow as fast as we have," says Mohrfeld. "We'll do close to 5,000 bbl this year between our two spaces, in probably 1,000 square feet [total] of brewing space."