Nick Nunns's goals for Trve Brewing were modest at the start—the 3-barrel brewhouse tucked into a nondescript block on South Broadway in Denver was what he could afford, and the urban setting (along with the significant population in the metro area) provided the right atmosphere and clientele for his then-unique vision of a brewery for metalheads. He figured they'd make beer to sell in their taproom and eventually make enough to send around to other like-minded spots in the city, but the goal was always, first and foremost, creating an experience in the taproom.
And what a taproom experience that is—black walls, candles, goat skulls, wall hangings that bear markings of dark rituals, and a soundtrack of sludgy doom metal that would drive away the timid. The experience was most certainly not designed to appeal to everyone, but those who got it usually ended up falling in love with the place and coming back again and again. Creating an experience with a unique (and polarizing) character may have been seen by some as risky, but for Nunns, it was a greater risk to be yet another bland "me, too" brewery in a city full of great breweries.
"If you have sixty or seventy breweries in a city and they're all doing 'something for everybody,' how the fuck do you stand out?" asks Nunns. "How do you become a brewery that people actually want to go to? If [all] seventy breweries here in Denver do the exact same thing, how do you get any fans?
"I'd never wanted to be just another taproom in town. I want to be the one that people are either like, 'Oh fuck, this place is weird and cool, and I love it' or they're like, 'It's scary. I'm going to go now.'"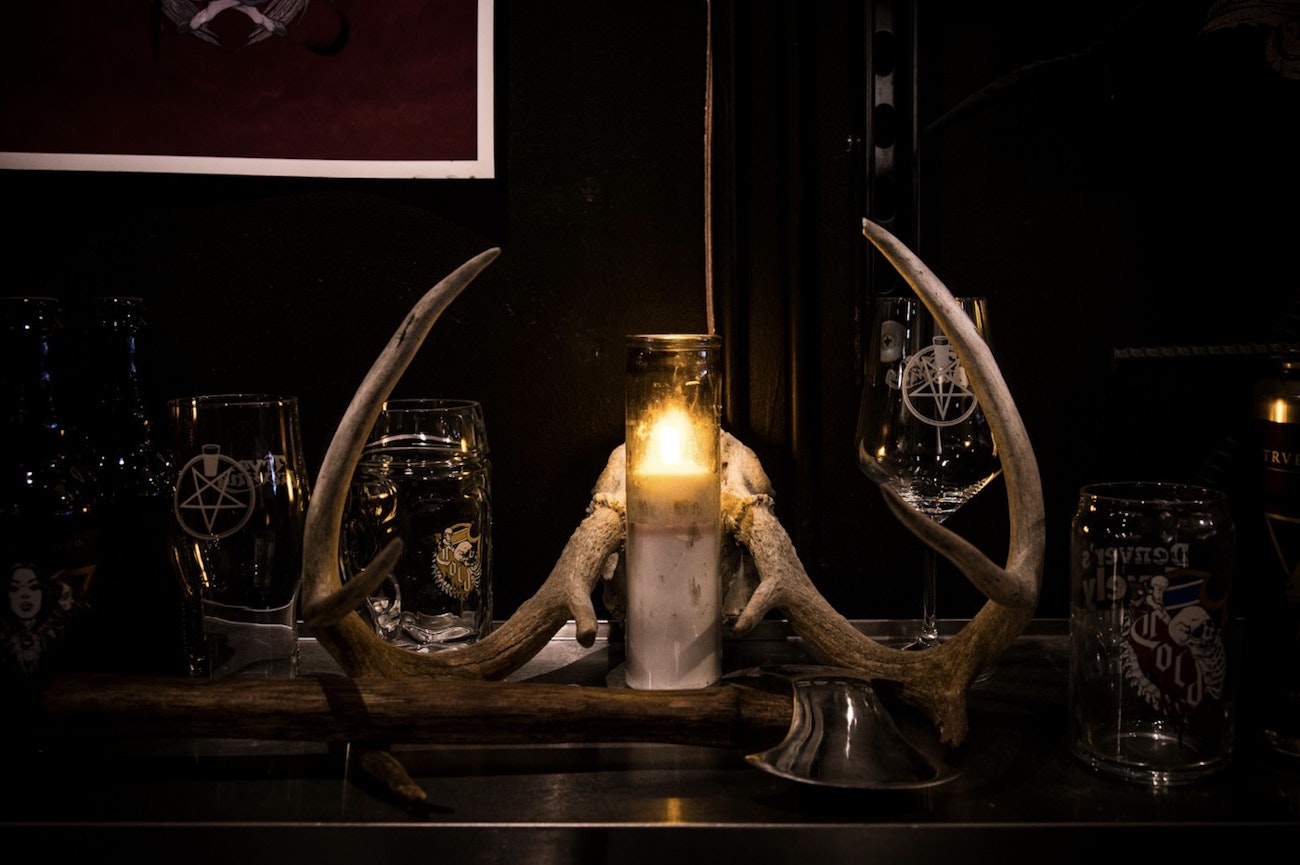 Despite the intimidating interior, Nunns's beer lineup has, from the start, been focused on very sessionable styles from English-style milds to mellow farmhouse ales. The taproom experience Nunns envisioned was about drinking socially at the bar or around the expansive communal table that runs through the space and not sampler trays or stunt beers that lose drinkers' attention as soon as they take that first sip.
With a couple of years under his belt, Nunns tackled their next big capital project— a separate production brewing facility, dubbed the "Acid Temple," that would enable them to not only brew larger batches on a new brewhouse but also house foeders and barrels for their nascent sour-beer program. The facility opened in 2015, and it wasn't long before the brewery had more beer to sell. The 3-barrel system in the taproom still brewed for the taproom only (and continues to, today), but the 10-barrel system at the Acid Temple allowed them to package in a more meaningful way and start distributing beer out of state.
Nunns's approach to out-of-state distribution has since been to take their beer to cities and states with like-minded populations of metalheads, as those beer fans feel a natural affinity to the TRVE brand. They now distribute their sour beer to ten states, primarily on the coasts, with urban populations that embrace the attitude of their brand.
That familiarity with distribution led them to another line of business in 2016, where their desire to bring beer from fellow metalheads Burial Beer Co. in Asheville, North Carolina, to Colorado resulted in the formation of their own micro-distributorship. "The real reason we're doing distro in the first place was thanks to Burial Beer," says Nunns. "They were the impetus behind the whole thing. We did collaborations with them and then wanted to put their beer on tap. And I wanted to figure out how I could make that happen and found out that as long as I got my importer's license and acted as their wholesaler, we could put their beer on tap here. We told Burial, 'Sell us some beer. You guys are going to come out for GABF, you're probably going to want to do some events—send us a whole pallet of something, and we can just sell it around town for you.' So that was the proof of concept—we got the license, got it all ratcheted down, got everything set up, got the beer on trucks out here, shotgunned it across Denver, and it disappeared in a couple of days.
"From that, we started talking to other breweries as we've traveled across the country and asked if they would want to do some collaborative events with us while they're out here [for GABF]. And a lot of them were pretty pumped at that opportunity to work with a brewer instead of working with some faceless distributor—it's much less of an emotional hurdle for a lot of brewers. There's an inherent level of trust that we all have in one another, and they're happy with that."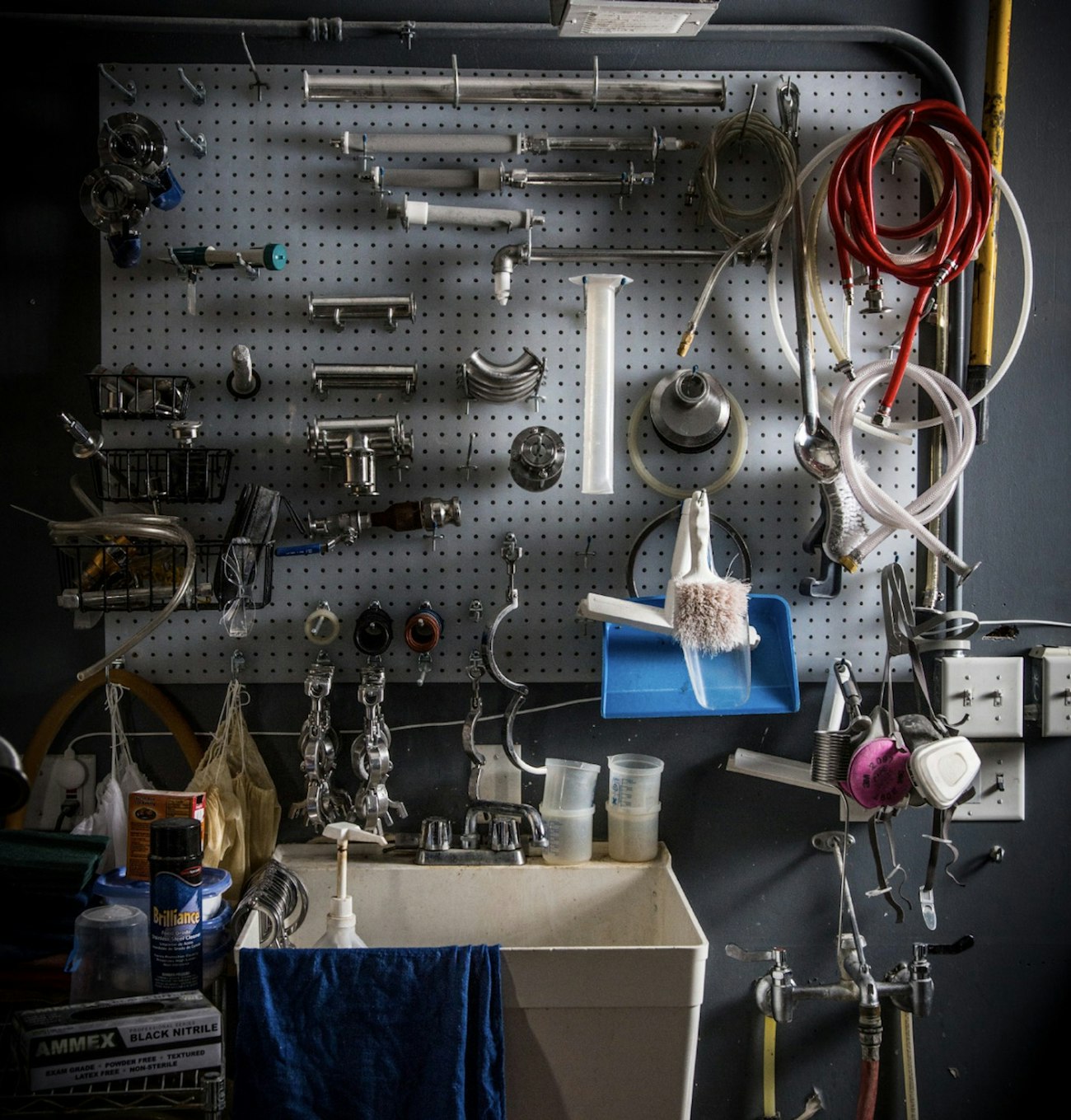 Still, distribution is a small play for fellow brewers and not a major business future for TRVE. They know their limits and are not about to invest in the infrastructure it takes to manage ongoing distribution relationships with breweries that have higher-volume expectations.
"We talk to people who are sometimes fairly big who are like, 'Can you do our distro for us?' And [our answer is,] 'No. You're talking about sending a truckload—you should go talk to CSA [Crooked Stave Artisans] or Elite or somebody else here who's like really big.' We'll take a couple of skids off of a brewery here or there. But ten to twenty skids is a different story. We know where our sweet spot is. We know where we want to be, and we're never disappointed to throw business at some of the other great wholesalers who are here in Colorado."
While TRVE has been able to build their brand through lifestyle affinity and unique style—a bridge that gave them time to get their brewing legs under them in the early days of the business—they realize that in today's market, five years after they started, circumstances have changed significantly. Breweries have much more pressure to perform out of the gate, as today's drinkers are more critical and have more choices than ever before. Today, even making good beer is not enough. Still, Nunns is convinced that his aesthetic approach was not only right but should be the model that more brewers follow.
"In such a mature market, it's not okay just to make a really good beer. It's not enough. You have to do something else. You have to have an angle. If you don't have an angle for your taproom or what your brewery represents or what you're doing, nobody is going to give an absolute fuck about what you're doing. It needs to be different; otherwise, you're going to look just the same as anybody else, and customers are going to go to the place that actually wows them in some way or another whether it be by scaring the pants off them, like we apparently do, or creating some sort of culture that people can latch onto."