Cincinnati's Urban Artifact learned the art of the pivot years before the rest of the world was forced to do it. Not long after opening in 2015, the brewery's leadership learned that the long-fermented, barrel- aged, mixed-culture beers on which they had based their business just weren't selling the way they'd hoped. In fact, those beers were hardly connecting with drinkers at all.
"People didn't like Brett beers," says Bret Kollmann Baker, cofounder and COO of Urban Artifact. "They didn't like Brett-flavored things. We spent a long time perfecting using Brett in our brewery, and now we don't do any of it."
Instead, the brewery doubled down on what drinkers were excited about: fruit. Today, Urban Artifact is one of the country's best-known producers of heavily fruited, kettle-soured beers—and better yet, they're the kind that don't explode on shelves because the fruit ferments out fully. Honing this specialty has propelled the brewery to more than quadrupling its production between 2016 and 2020, finishing last year at 10,200 barrels. Distributed around Ohio, the beer also ships directly to fruit-beer enthusiasts in 10 states, building the brewery's national reputation.
"That popularity certainly extends beyond just a cult following," says David Nilsen, a beer writer, observer of the Ohio beer scene, and certified Cicerone who lives near Dayton. "They are being very strategic with positioning … to where they aren't dependent only on beer geeks to like their beer."
Because of this stylistic focus, the Urban Artifact taproom isn't necessarily the kind of place where the whole neighborhood gathers to watch a baseball game. However, somewhat counterintuitively, zeroing in on one beer specialty has expanded Urban Artifact's customer base to drinkers who wouldn't otherwise be beer fans. Because the beers are so fruit-forward, they appeal to more people in a way that cocktails, kombuchas, or even juices might.
"It's ease of flavor and understanding," Kollman Baker says. "You don't need to know what a raspberry sour ale is to know what it's going to taste like. You've got to know what a Munich helles is, and what those words mean, to know what that taste experience is going to be like. So this barrier to entry is a lot lower, which helps."
Peach, Love, and Understanding
The decision to lead with fruit flavors and tartness was partially informed by sales numbers, partially from taproom feedback, and partially from every brewer's frenemy: Untappd reviews.
The Urban Artifact team jokes that Kollman Baker spends an unhealthy amount of time with Untappd reviews. Yet reading direct customer feedback has taught the brewery not only what customers rate highly, but also how they describe it.
Acidic beers are still uncharted territory for many drinkers, both in terms of flavor and the language attached to the sensory experience. Drinkers sometimes describe a beer as sweet, when in fact they're just picking up on the use of vanilla, for instance. Sometimes they describe the perception of a lot of fruit flavor as sour, even if it's actually adding sweetness to the beer.
"What we've come to learn is that if you say 'sour,' people expect a higher intensity level, whereas if you say 'tart,' they expect more balance, and [then] people are usually more willing to give it a shot," Kollman Baker says. "From a marketing perspective, we've basically pivoted entirely away from the use of 'sour' at all in any of our communications, branding, marketing, and it's all 'tart' now."
For chief brand officer Scott Hand, feedback tools such as Untappd are a way to gauge whether the brewers' intent in creating a specific beer translates to the final product. Because Urban Artifact's success is based on its ability to deliver both exciting and familiar flavors in beer form, the lines of communication need to be clear.
Untappd "is usually a very quick measure of how well we managed expectations of the flavor profile," Hand says. "We are still exploring the boundaries of the niche that we set. … We're moving toward a refinement stage of what balanced fruit beers taste like and are presented as."
So far, drinkers have been enthusiastically along for the ride.
"Even though they are niche and not everyone loves sours, Urban Artifact is always mentioned as one of the best breweries in Cincinnati," says Jason Parnes, co-owner of Higher Gravity Crafthaus, a bottle shop and bar across the street from the brewery. "That's hard to do when you focus on only one style."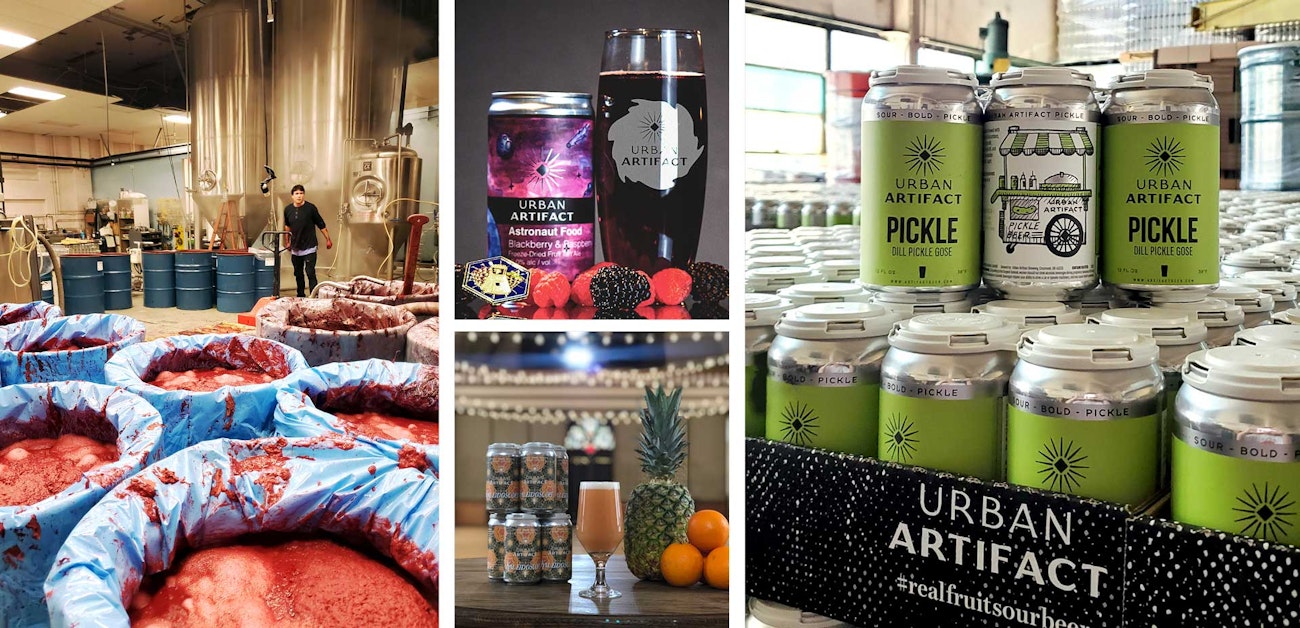 Securing Future Fruit via Contract
Pandemic-era supply chains have not been kind to fruit-focused breweries, and Urban Artifact is no exception. The brewery almost always uses whole fruit for its beers, painstakingly removing small seeds and leaves. That's part of the brewery's value proposition: Premium sour beer no longer means barrel-aging or spontaneous fermentation for Urban Artifact; it means exotic and whole ingredients.
"If we're going to do a high-end fruit beer that's not barrel-aged, then we're going to buy whole fruit," Kollman Baker says.
Thankfully, pricing is beginning to relent from its highs last year, he says, because harvest 2022 is on the horizon. Suppliers are still sitting on fruit from last year's crop, since high prices decreased demand, and now they're finally lowering prices to sell through it. Urban Artifact is seeing prices for a pound of raspberries in the $2.50 range rather than last year's high in the $3.50 range.
To hedge against such price fluctuations in the future, the brewery last fall began leasing land from Pacific Northwest farmers to contract specific fruits exclusively for Urban Artifact. That gives the brewery guaranteed access to difficult-to-find fruit such as golden raspberries, saving it from scrambling on the spot market. Previously, Kollman Baker had considered leasing fields from a nearby farmer in Ohio and growing the brewery's own fruit, but he realized he didn't have the manpower or expertise to make it work at scale.
"Aside from just getting exotic berries and fruit, the lease will really help us establish and build trust with farmers and hopefully enter into more long-term contracts and get guaranteed supply," he says. "If you buy from an aseptic fruit supplier, you don't know what you're getting. … I'm able to get more specific with what varietal fruits I want. It's not just strawberries; it's 'I want evergreen strawberries from the Pacific Northwest,' or 'I want this Turkish variety.'"
In the past, Urban Artifact also has worked with foragers to collect wild pawpaws and brewed with a Brazilian fruit called yellow mombin (also known as hog plum)—possibly the first U.S. brewery to make a beer with that fruit. Tart fruit beer may seem like a narrow lane, but it encompasses a wide spectrum of flavors, aromas, and possibilities—limited only by how many physical fruits brewers can source.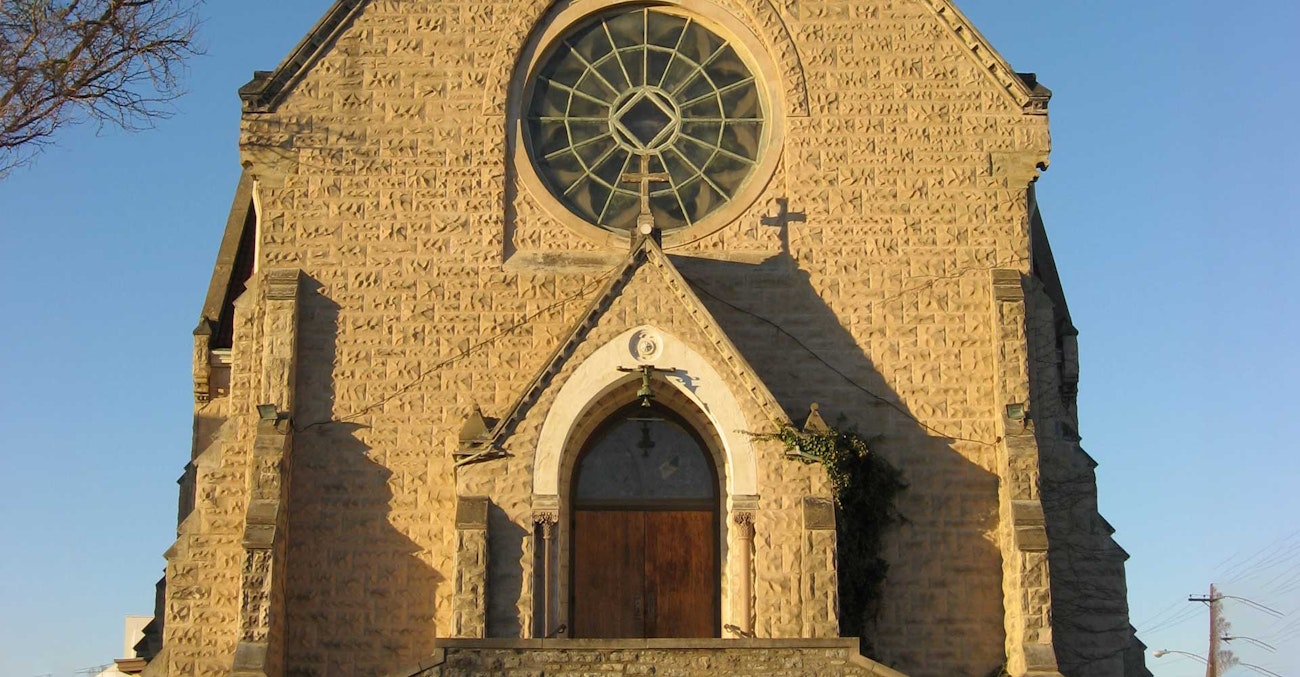 Far and Wide
Tart fruit beer is still a niche, and there are inevitably a limited number of Ohioans who love them—as Urban Artifact knows well. When the brewery opened, hometown favorites Rhinegeist and MadTree already were brewing a wide range of styles. What Urban Artifact aimed to do was brew the best fruit beer not just in town, but in the country—and to bring it to drinkers anywhere who wanted it.
Currently, the brewery ships directly to consumers in 10 states. About half of those DTC sales come from its monthly subscription club, the Small Batch Society. That club has proven to be not only a sales channel; it's also been an outlet for Urban Artifact's brewers to flex their creativity without worrying about whether the beer will sell on shelves through distribution. The subscription club used to include variants on beers that Urban Artifact brewed on a larger sale, but members nudged the brewery toward more exclusive and experimental beers. That suits the brewers just fine, giving them a reason to push the envelope to create club-exclusive beers.
This year, the brewery winnowed its total number of beer releases for distribution in half. Now, the Small Batch Society is giving the brewing team a place to continue experimenting while also satisfying customers who might otherwise miss that variety.
"The small-batch, 10-barrel beers can still help fit that variety that the core Urban Artifact fans are looking for," says Scotty Hunter, CFO and head of sales. "The other thing we're doing is hoping states pass more DTC legislation. … I'll continue to try to push brewers to stop being traditionalists [by thinking] that it will somehow hurt their business."
Hunter and the rest of the team admit they're still fine-tuning their digital marketing efforts to reach more new drinkers outside of Ohio. So far, however, word of mouth has done a lot of the heavy lifting—a testament to how well the brewery has embraced its orientation toward heavily fruited beers. What felt like a necessary pivot has become a strong identity, and one that drinkers can't seem to get enough of.
"They're still Urban Artifact," says Nilsen, the Ohio beer writer. "The people behind it still put their personality into it. They've done a really good job of creating an identity within the market, even while some of the accoutrements of that identity have had to radically shift."
Hear Here!
For more from Bret Kollman Baker on brewing tart fruit beers, listen to Episode 165 of the Craft Beer & Brewing Magazine® podcast.
beerandbrewing.com/podcasts