Twin Oast Brewing is sometimes credited with putting its hometown of Catawba Island, Ohio, on the map. What was once a gas-station-stop town on visitors' way to the boat parties of nearby Put-In-Bay—nicknamed "Key West of the North" among locals—has become a destination in its own right.
Much of that is thanks to the work of the Smith family. Parents Donna and Quin own the 63-acre farm and orchard on which Twin Oast is situated; their son Cory operates the brewery.
Mike Bassett, a family friend of the Smiths whose son operates the small chain of Bassett's Markets in Ottawa County, Ohio, says the brewery's effects on the small town can't be overstated.
"We were out [at Twin Oast] having a beer, maybe two summers ago, when I hear this guy tell his wife, 'We need to buy a house out here so we're closer to this,'" Bassett says. "People are wanting to live here because of that brewery."
The property is what most people will describe first about Twin Oast: rolling green hills; picnic tables surrounded by flowering bushes; an amphitheater for concerts; a pond with a gentle waterfall; the striking pair of turrets made of limestone gathered from the brewery's building site. Those turrets are actually the namesake twin oasts—oasts being a term for English brick, stone, or wood buildings once used for kilning hops.
If it wasn't a brewery, the property would likely be Ohio's most Instagrammable wedding venue. (It does host private events and weddings.) But the setting alone doesn't explain the brewery's popularity; the beer backs it up. Twin Oast expects to sell 1,000 barrels via local distribution this year in addition to what it sells on-site. Combined, the brewery produced 2,600 barrels last year, up from 1,650 in 2019, its first full year of operation. The beers are also earning peer respect: Twin Oast took home a silver medal from the 2021 Great American Beer Festival for its barrel-aged Meet Your Maker imperial stout.
From this pastoral perch on the edge of Lake Erie, Twin Oast quietly sits at the nexus of multiple trendlines within craft beer. It's not just some taps in a warehouse space; the brewery is drawing customers with well-regarded food and a family-​friendly experience. It's maximizing on-site beer sales while slowly expanding local distribution of its core brands—a Berliner weisse, blonde ale, hefeweizen, IPA, and porter. The brewery has an authentic, tangible avenue to speak about local agriculture and seasonality. It's even getting in on the craft-on-craft acquisition action: Twin Oast bought the assets of nearby Catawba Island Brewing in June after that brewery filed Chapter 7 bankruptcy.
The brewery's setting might be the bait, but there's much more to Twin Oast that sets the hook.
"We know we're a tourist area, but we can be a destination brewery, too," Cory Smith says. "We look at New Glarus as a good example of who we'd like to not fully emulate but take some inspiration from. People drive hours out of their way to pick up beer and have a nice time. That's how we built this."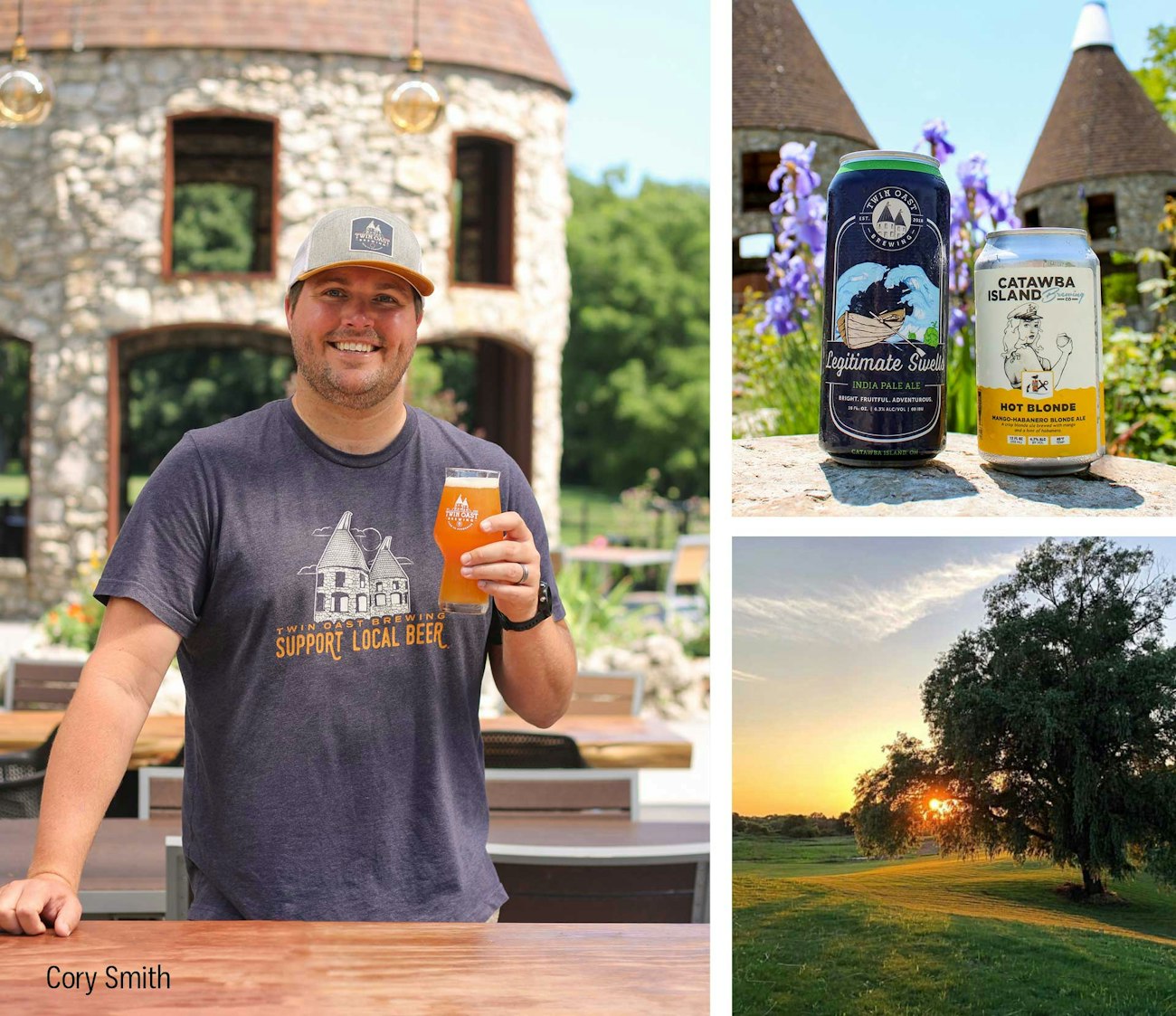 Easing the Seasonal Shift
Like any farm, Twin Oast makes hay while the sun shines. If they get 150 visitors on a winter Saturday—with some enjoying the domed "igloos" for cold-weather outdoor seating—they may get as many as 1,400 on Saturday in summer. "The only negative I can think of to mention," Bassett says, "is that in the summer they're too busy."
Area tourism leads to a summer boost in retail sales, too. On the weekend of July 4, three of Bassett Market's top 10–selling beers were from Twin Oast, and two of those sold better than Bud Light (which came in fifth). As a result, it's all-hands-on-deck in the warmer months, as the bulk of the brewery's on-site business takes place during a three-month span. "I wish it was even six months, not three," Quin says.
Winters are the flip side of that coin. The brewery closes an extra day each week and struggles to find enough hours for its core staff. Donna says the family makes every effort to keep its core staff employed year-round. Every winter, however, one or two members of the kitchen crew leave because they aren't guaranteed enough hours. Twin Oast employs 22 full-time-equivalent employees; that swells to 74 staff in the summer, including seasonal part-time staff.
One of Twin Oast's goals in acquiring Catawba Island's brewery and brand assets is to smooth out these seasonal fluctuations to its business into something less dramatic. (In true small-town fashion, Cory Smith went to high school with Catawba Island founder Mike Roder. The Smiths were also planning to name their brewery Catawba Island until Roder beat them to it by five years.)
Cory says he wants to brew oak-aged, mixed-fermentation beers in the Catawba Island production facility, reducing the risk of contamination to Twin Oast's main beers. Those beers would also be an outlet for the orchard's fruit, something the brewery has yet to fully exploit. Currently, special releases throughout the year—such as Apricatawba in July and the Lava Monster chili beer in early fall—make use of fruit and vegetables grown on-site.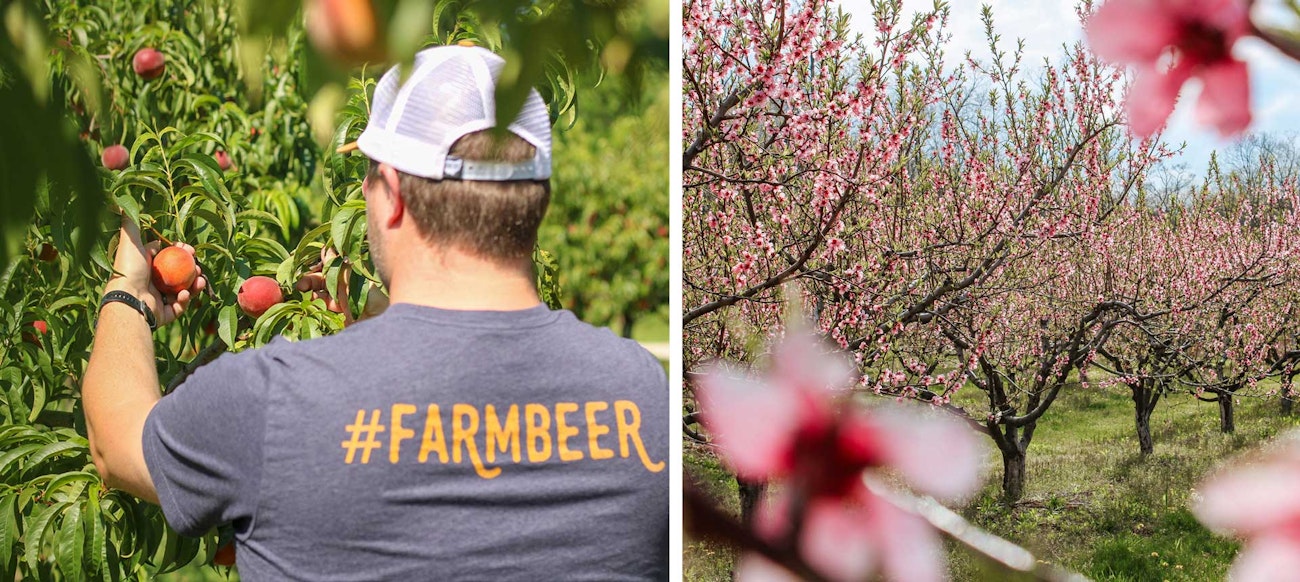 Building the Portfolio
As for the Catawba Island brands, the Smiths say they are considering keeping some of its most popular beers around by brewing them at Twin Oast, adding that production will help fill Twin Oast's tanks through the colder months, when the on-premise is slower. Plus, maintaining Catawba Island as a sibling brand will allow the company to diversify its beers without losing Twin Oast's "farm to fermentor" ethos.
"This brand, with its traditional beers, is not going to allow Cory to do beers with peanut butter and Skittles," Quin says. "But the Catawba Island brand would maybe give us an outlet for funky stuff that isn't agriculturally related."
Twin Oast's core styles aren't what anyone would call trendy. Generally, though, the beers' reputation for consistency and quality makes them fridge staples rather than fodder for Instagram posts. As a result, they're strong sellers year-round, says Ed Thompkins, the beer and wine buyer for Heinen's, a chain of 19 grocery stores in the greater Cleveland area (plus four in Chicago, although those don't carry Twin Oast).
"People go because the brewery's beautiful," Thompkins says. "I've had people ask me, 'Wait, is that really the brewery?' when they see a photo—but if the beer isn't good, they wouldn't buy it in stores. Twin Oast is able to leverage the experience of the brewery with the quality of the beer. They're not an IPA house solely, or only barrel-aged beers. Their hefeweizen is one of the best hefes in the area."
The Smiths say they're still in the process of setting sales and production goals for the Catawba Island brand, and they're weighing whether to open a Catawba Island taproom in a new location. But Cory calls the move to acquire those brands low risk, in that they already had distribution placements that set a sales baseline. He says distributors told him that Catawba Island wasn't able to keep up with demand, and that production was inconsistent. Cory figures that if Twin Oast can consistently supply those accounts with high-quality versions of Catawba Isand's bestsellers, the brand will remain steady or grow. If a particular Catawba Island beer doesn't succeed, brewers can try something new without any change to how drinkers perceive Twin Oast.
All signs point to Twin Oast keeping the two brands separate. It's something the family already has experience with, having owned and operated Port Clinton's Gideon Owen Wine Company since 2019 after purchasing Mon Ami Winery and rebranding it.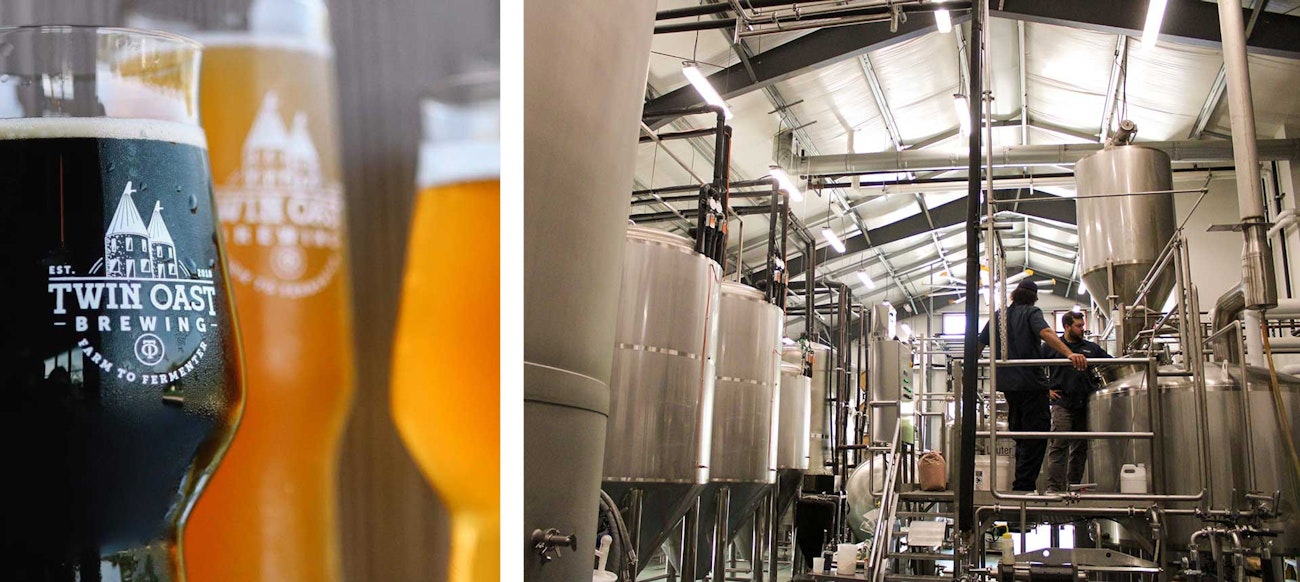 Local Hero
Despite acquiring another brand and increasing production, Twin Oast has no plans to expand its distribution out of state. The Smiths see ample opportunity to grow relationships and sales deeper in their immediate vicinity and in the greater Cleveland and Toledo markets. In the former, especially, Twin Oast is proud to be one of the first or only craft beers that some locals drink.
"This area doesn't have a lot of breweries, and it's not really a beer mecca," Cory says. "There are many people who come in and their first question is, 'What's your closest thing to a Bud Light?'"
While growing production modestly, the brewery hopes to maintain its reputation as a family-run, homegrown business that's deeply tied to its area. (In fact, Quin lived on Catawba Island at different times throughout his childhood.) Retailers say the brewery puts in the work to support its beers in the market through sampling events as well as a collaboration beer with Heinen's Market. The brewery has released 200 cases of the collab IPA, called Red, White & Hazy, for the past two July Fourths. It's available exclusively at Heinen's and at the brewery.
"We know that on the Fourth of July weekend, people will buy that beer in our stores and will take it to a party where other people will ask, 'Where did you get it?' And there's only one answer," Thompkins says. "That customer advocacy is incredibly important."
Locals take note of the Smiths' work in attracting visitors to Port Clinton year-round. In December, their Gideon Owen Wine Company hosts an outdoor, European-style holiday market that the family hopes to continue expanding. Twin Oast also has previously—snow permitting—hosted a Winter Olympics event in February featuring quirky events such as an anything-but-a-sled race and snowball shotput. The event always has a charitable component; one year, it benefited Eriesponsible, a Catawba Island–based nonprofit dedicated to the health of Lake Erie.
"That family is a very special family," Bassett says. "They're brilliant at what they do. They're very well thought of, and they participate in the community. They're always asking, 'What can we do?'"
An annual August music festival called Quinstock typifies the family's creativity and embrace of its neighbors. What began as a family birthday party for Quin's "midlife crisis" in 2008 expanded—once the family launched the brewery—into a Woodstock-themed festival open to the public that draws hundreds of people every year.
"It kind of spiraled out of control to become an annual block party," Cory says. "Before that, it was just our family and stupid little inside jokes. It takes on a different life when you have the public involved."